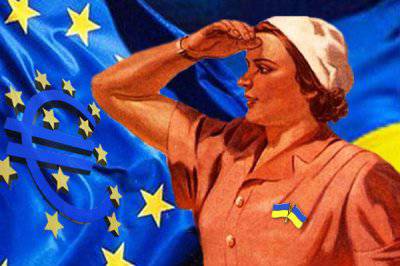 When you watch all this
history
on the "European integration of Ukraine", the Olympic calmness of President V.Putin catches the eye. The emotional questions of journalists with undisguised overtones: "Russia is losing Ukraine!" Are followed by impartial and short answers, like: this is a matter of sovereign Ukraine, we respect any decisions of an independent state, and take only the necessary measures to protect the market of the Customs Union. And that's all.
There is no information campaign of Moscow to "hold Ukraine", although there are more than enough arguments for it, given the crisis state of the European Union and the forecasts of serious analysts about its possible disintegration. Only Sergei Glazyev comes forward with warnings to Ukraine about the grave economic consequences of a close rapprochement with Europe, but he is, as it were, supposed by his "Eurasian" status.
Western clakers are trying to pass these meager replicas of Putin for "Moscow's pressure on Ukraine to make a European choice," but they have nothing to back up this empty phrase. It seems most discouraged by the Ukrainian president.
V. Yanukovych. He, and his friends in Donetsk, were apparently waiting for persuasion and extraordinary proposals from Putin to continue his "tricky policy": "a tender body in two queens sucks." In this case, and prepared, perhaps, an emergency stop in the form of Yulia Tymoshenko sitting in a prison, who is still sitting, despite the fact that Europe exposes her release as an indispensable condition for the association. But there were no offers to Ukraine.
True, Putin said that almost a billion dollar loan to Ukraine was issued recently not without his participation. But disappointed Yanukovych responded to this, in fact, with a provocation. The supply of Russian gas is not paid by Ukraine since August, and also in the amount of almost a billion dollars.
What do we see next? D. Medvedev makes another "Chinese warning" that civilized countries must fulfill contracts. Yanukovych, on the other hand, harasses the leadership of Odessa, and arrests seven years ago of Odessa's deputy Igor Markov, leader of the Rodina party, who only dared to oppose the hasty course of European integration and for alliance with Russia, on charges of hooliganism (!). An absurd act, especially in the run-up to the "historical choice", if not to consider his goal, finally, to provoke a sharp reaction from Moscow.
However, there is still no significant reaction. In distant Syria, Moscow speaks much more than about political repression in close Ukraine, whose victims are pro-Russian politicians. Imagine that a pro-Western politician of Ukraine would undergo such arrest, what would be the reaction of the free Western press and Western leaders? ...
How to regard all this? Alexei Pushkov, our well-known political scientist, said the other day that the headquarters for European integration of Ukraine is ... the US embassy in Ukraine. The initiators of the association of Ukraine and other Eastern European countries with the EU, as is known, are Poland and Sweden. It is a bit strange, since these countries are not EU leaders at all, but they are loyal US satellite countries, Poland is called like that even by something like the American "Trojan horse" in Europe.
"Old Europe," especially Germany, has long disliked "Young Europeans", but Atlantic discipline dominates, and they have to listen to the opinion of their recruits, who are backed by Americans. True, they do it without enthusiasm, put forward ridiculous conditions, such as the indispensable release of Tymoshenko.
Because it's clear: no European prosperity for Ukraine shines, and for Germany, first of all, this is another "sick person" in Europe and a new financial pain. That's why she needs another Greece? And Ukraine is much more than Greece. And the main thing is almost Russia. And this is the most important thing in this whole story.
If the customer of the Euro-Ukraine project is the States, then what is their purpose? Or do we believe in America's selfless desire to raise the welfare of Ukraine? (Recall the fate of Georgia, the American "beacon of democracy", nevertheless attacked South Ossetia.) For the USA, Ukraine, let's be frank, is just a springboard next to Russia. A springboard - he is a springboard, designed to fulfill the mission entrusted to him. Which one
Imagine that Russia will have, for example, destabilization of the whole country, and even historically related to it ... Who will benefit from this and who will lose? As we remember, the American theory of "controlled chaos" is designed to create such situations, and there is reason to believe that it is the real strategy of promoting American democracy throughout the world. It seems that Ukraine has become another goal of this US policy, and if not to set fire to Russia, then create a lot of problems for it, and catch the fish itself in the turbid water formed.
Such an awl in the bag, of course, cannot be concealed, everybody understands this, especially in Ukraine, where Kharkiv public figure Viktor Medvedchuk recently publicly stated that the association of Ukraine with the EU would lead to a "catastrophic fall in people's living standards." But the destabilization of the whole country in the center of Europe is not needed and Europe, especially Germany. In the end, the main German gas supplies come from Russia.
If we turn to recent history, then under Yushchenko, Ukraine was very persistently trying to draw into NATO, and also the United States. Then Putin was very alarmed, led active diplomacy, and Yushchenko's Ukraine was not accepted into NATO. And "no" to Ukraine, Germany said. There is reason to believe that this time Germany will say "no" to the association of Ukraine with the EU, by virtue of the above. This explains the "Ukrainian" silence of Putin, and Merkel.
In general, the entire development of the political situation, especially "after Snowden", speaks of a strengthening Moscow-Berlin axis. It was Germany, as it turned out, that worries the USA in Europe most of all, Germany and most acutely reacted to the "global wiretap" of the USA, and is preparing an official hearing on this matter. Recently, a Bundestag deputy visited Moscow, where he met with Snowden for his testimony to the German authorities. Snowden agreed ...