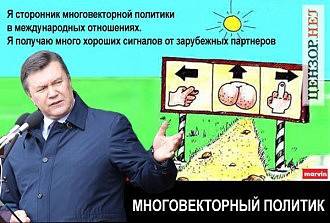 Every day is getting closer and closer to November 28. On this day, the Eastern Partnership Summit (summit) will take place in Vilnius, where the signing of an association agreement between Ukraine and the European Union is expected. For several months now, all the media in Ukraine have been persistently convincing their fellow citizens that this is a great blessing for the country and the Ukrainians.
Is it too categorical?
Back in 2005, a publicist book "The Great Last Chance" was published by a Russian writer of Ukrainian origin (born 20 in May 1948 of the year in Kamenetz-Podolsky) - Mikhail Weller.
I will not retell its content (anyone can read this bestseller on the Internet), but, among other things, Michael Weller prophesies the imminent death of Europe.
I will give briefly the main arguments of Weller:
1) Depopulation. Nowhere is there not only a 2,15 child for a woman for simple reproduction, but in general - from 1,7 somewhere has gone down to 1,15. Germans, French, English, Swiss, Italians, Austrians - each of these peoples is a few hundred thousand people less per year. EUROPEANS FASTENED.
2) Ethnic replacement. Africans, Asians, Arabs, Turks, Latin Americans — they travel to Europe legally and illegally, they send countless relatives from their homeland to Europe, and they turn the quarters of municipal housing allocated to them into slums. Behind them - their thousand-year-old ethnic psychology and mentality, their ideas about life and justice - and the arrogance of people of a simple and clear culture, where, if you were not given a face for arrogance, are weak and despicable, you can not be afraid. So, there will be less and less Europeans - but there will be more and more Afro-Asians among them.
3) Guest workers. The Europeans do not want to work on hard, dirty, under-prestigious jobs, if guest workers can be put on them, and sit on social benefits themselves. Migrant workers are already needed by Europe for the maintenance of their work by pensioners and social workers. There are more dependents, and fewer children and workers. EUROPE SUBMITTED ON GASTARBITTERS, AS ON DRUGS. Already do not get down. Otherwise, the standard of living will fall.
4) Transfer production to cheap countries. The third world is rising, creating its working class and technical intelligentsia - and Europe is getting sweet and relaxed. When the countries of the Third World will learn to negotiate among themselves - to turn off the tap Europe will become a matter of technology. The one who works and creates - sooner or later realizes and ultimatum will declare his rights to the lion's share of good and power. Otherwise
stories
can not be.
5) Europeans are sick. Medicine, social security and humanism played a bad joke with them. Sick babies used to die. Now they live and give sick offspring. A handsome man in Western Europe is the exception rather than the rule.
6) Permissiveness and corruption. Officially allowed same-sex marriage. It is allowed to give up children in such families. Freedom of sex from any age, pornography, nudist beaches are allowed.
7) Art. Class art corresponds to the phase of civilization. Adherents of all varieties of modernism are infuriated by the argument that any fool can do that. THE EPOCH ART IS THE SOUL OF THE EPOCH. In Europe it is the soul of a sick freak.
8) Europeans do not want anything. They want a status quo. So it was like now. Only a little calmer, more satisfying, more comfortable. Good to everyone - more. And excitement - less.
9) Humanism. The absence of the death penalty. What a joy for murderers! What happiness for maniacs! What a relief for heroin dealers! Did the humanists win? In Europe, there are not those who built it and not according to those laws. Our civilization is built by harsh people according to harsh laws. According to the current laws, people with the current psychology could not have created a European civilization. What are the Romans, what are the Germans, what are the Gauls? Voluptuous cowardly shit, not the people. All the way the murderers were killed. And today "the state should not."
10) Weakness of spirit. EUROPE WEAK SPIRIT AGAINST THE EAST. And who is weak in spirit - he has already lost. And in twenty years, every second European will be black and yellow-Islamic. Crime will grow and subjugate power. Drugs and AIDS will be quite a lot. And many Afro-Asians are in power - otherwise racism. Fuel will be insanely expensive. No discipline, but complete anarchy. Life expectancy will fall, and the number of patients will grow. And the third world for the pennies to stop the whites will stop, prices will equalize, the profitability of production will drop dramatically. Another twenty years maximum, and the global economic crisis will shake Europe, ruin businessmen, throw workers on the street, leave socialists without the gratuitous wealth. The knot of contradictions in Europe is getting tighter every day. Degenerate people. Many old people and patients with freaks. Few healthy workers. Anti-reproductive sexual morality. Prohibition of active self-defense of nations against racism, xenophobia, aggressiveness, fascism ...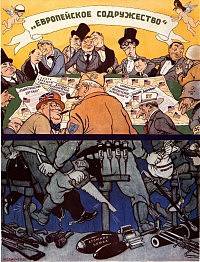 Mikhail Weller, in my opinion, predicted a very correct development of events in Europe and can only be blamed for the fact that in the 2005 year, promising the Global Crisis in Europe in twenty years, he was a little mistaken. The crisis crept unnoticed already in the 2008 year and today, just eight years after the "Weller's forecast", it (the crisis) calmly cracks down on Greece, Portugal, Bulgaria, Romania ... We will keep silent about Ukraine.
More recently, I was caught by the material of Valery Lyubchenko, the chief editor of the portal Politica-ua.com, with the title "Isn't the" garbage "agreement whether Ukraine will sign the EU with the EU tomorrow?"
The author worked for several years in Poland and decided to talk on the EU topic not with the Warsaw people, but with those who live far from their capital and Brussels exactly in the "paradise" where Ukraine is going today.
Interlocutor Lyubchenko asked not to call the city in which she lives, her first and last name, fearing for her fate.
Mrs. Theresa Kovalskaya's morning begins at five o'clock in the morning, since she needs not only to prepare her husband for breakfast, but also to wrap a pack of cigarettes for him to work. To herself, she makes a roll-up during the day. It is necessary to smoke all sorts of nastiness, since the cheapest pack of cigarettes in the store costs around zł of 11 (28 hryvnia). And they already said that tobacco prices will rise again and will continue to grow. " Almost all of her friends smoke cigarettes.
Before joining the EU, the minimum wage in Poland was about 600 zł, today it is at the level of 1180 zł (1 Polish zloty is approximately equal to 2 hrn. 60 cop.) For ten years, the minimum wage has increased only twice. At the same time, the price of the cheapest cigarettes rose from zł of 4 to 11. Food prices are also rising every day. When Poland was not yet in the EU, gasoline was worth 1,5 zlotys, and today on the outskirts of Warsaw the price of 95 is that - 5,19 zlotys! Half of its value is the taxes that the Polish government forces to wind up Brussels.
After joining the EU, the price of electricity also increased. For enterprises, the excise tax on electricity has increased tenfold, and for individuals it has become five times higher than the minimum EU rate! "Kovalskaya" believes that at the expense of the Poles, who have better withstood the blow of the world economic crisis, the European Union is trying to solve its problems in Greece, Portugal, and Spain. Apparently, Ukrainians need the European Union just for this! There was one scapegoat - Poland, and now Ukraine will be added.
Next, the Polish girl told Lyubchenko that she had to quit her job in order to care for her sick mother and for this, as a guardian, the state paid a pension in the amount of 500 zł (1300 hrn.). In addition, her mother needs very expensive medicines, for which her family has no money, and she also needs to pay 700 zł every month for housing, water, gas and electricity. Kovalskaya herself has advanced sinusitis, her husband has a chronic disease, but there is simply no money for treatment.
Work in Poland is the most scarce commodity. Her friend's son is an engineer. After graduating from the academy, he sells accessories to mobile phones, and many of his colleagues consider him lucky. Her sister-in-law works as a cleaner, receiving three-quarters of the minimum wage. But she is afraid to complain to anyone, because she instantly loses her job.
Over the past decade, another scheme has been developed in Poland-protected standards by the employer for deceiving its employees. These are the so-called "garbage contracts" or "Labor agreements". They do not protect the human right to work and are not considered in court, for they are civil contracts under which people become completely dependent on their slave owner. Therefore, it is this "Labor Agreement" that is the most beloved among unscrupulous employers in Poland today, and there are a majority of such here. A worker who has signed such an "Agreement" does not have the right to leave, a sick-list, etc., but receives as much money as the employer will deign to pay him.
She lives in a house that is over a hundred years old. There is no bathroom. The toilet is located on the landing. To arrange a bathroom in the apartment, you need to pay about 2000 zloty officials for obtaining permission, but there is no such money in her family. To all the difficulties, added the cost of raising utilities for garbage collection. In addition, before taking out the garbage in the yard, it must be decomposed into three tanks (bio-waste, industrial waste and glass). And before you take out this garbage in containers to the street, the waste must be well washed and dried. Otherwise - a solid fine.
In Poland, you can not just take the bait and free to go fishing. First you need to become a member of the Union of Fishermen. Pay a membership fee (PLN zł for a year) and pass the exam to get a fisherman's certificate.
In order to get a piece of land for the garden, to grow some fruits and vegetables for your family, you need to finish the gardener's courses, pay a certain fee and wait for a free garden to appear in the registry of the Union of gardeners. And it will appear only when this Union takes away land from those who do not comply with the norms of planting, vegetables, fruits, flowers, etc. determined by them, the Union. That is, you are not the owner of "your" garden.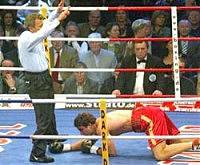 In Poland, in order to sell the result of your work, you need to have a whole bag of various certificates and permits. From the very beginning, it is necessary to register your economic activity, otherwise it is a crime. Such registration is necessarily associated with a variety of payments, except for income tax. Income tax a person pays only if it is received. But there are monthly taxes that the entrepreneur is obliged to pay, despite even his losses. This is social security (710 zł). Plus health insurance (261 zł), plus labor fund (54 zł). Together, this is 1025 zł (or 2665 hryvnia). And nobody cares whether you have them or not ...
Finishing his material, the author writes that this is not all that little Poles wanted to transfer to Ukraine from little Ukrainians.
To listen to them. After all, the fate of not one person, but of the whole nation is decided. But today, the behavior of Ukrainian President Viktor Yanukovych resembles the behavior of heavyweight boxer Wladimir Klitschko (25 in March, 1976, Height - 198, see Weight - 109,6 kg), who at the beginning of his professional career, missed the blow, rushed forward, inflicting indiscriminate blows on the enemy, forgetting about protection, until in 2003 he ran into South African boxer Corrie Sanders (January 7 1966, Height - 193 cm, Weight - 102 kg).
Unconditional favorite battle experts considered Klitschko. And the famous commentator Vladimir Gendlin argued that the "age-related" Sanders does not pose a danger to Klitschko. And, indeed, Corrie, with an already noticeable belly, lost to Vladimir, an athlete who resembled Apollo.
But Corrie, for all his limitations in the boxing technique and leaving much to be desired for better physical fitness, had undoubted advantages.
He had the strongest blow and "killer instinct", that is, the ability to kill the enemy, previously shocked by a strong hit, was left-handed and did not feel the slightest reverence for the achievements of Wladimir Klitschko in professional boxing.
8 March 2003 of the Year in Germany, in Hannover, this fight took place. As a result, in the second round, Sanders defeated Klitschko by technical knockout.
The result of that fight became a tub of cold water on the heads of boxing fans in general and Klitschko fans in particular.
Viktor Yanukovych, stubbornly rushing into Europe and also like Klitschko 2003 of the year, forgets about protection. And the European Union periodically delivers Yanukovych weighty blows that reach the goal. And the last such blow is an unconditional demand to free Yulia Tymoshenko, who is languishing in the "dungeons of the Kharkiv railway hospital," which is unacceptable for Yanukovych, because then you can more likely say that Viktor Fedorovich will have to languish in dungeons and most likely not "in hospital. " But the most important thing is that in the so-called. "Union of equal European states" Yanukovych forcibly engages the whole country, not wanting to listen to the opinion of the people.
By the way. In 2001, Matthew Brzezinski's book Casino Moscow was published. The author of the book is the nephew of the famous American political scientist Zbigniew Brzezinski. The author has devoted an entire chapter to Yulia Tymoshenko, calling her "A woman worth 11 billion dollars". According to Brzezinski, as a result of Lazarenko's patronage, "Tymoshenko gained control over almost percent of Ukraine's gross domestic product, 20, and this is an enviable position that no private company in the world can boast of."
Popular wisdom says "Seven times measure - cut once." "Before you go in, think about how to get out." "Learn wisdom on the mistakes of others" ...
The Communist Party of Ukraine once again proposes to the leadership of the country to insist on the fate of the people and on their own fate before drawing Ukraine into an adventure with the euro association.