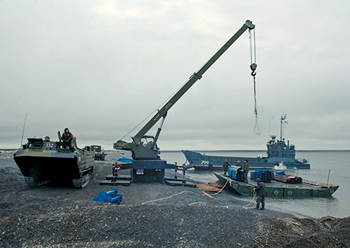 After a 30-year hiatus, the first aircraft of the Russian Military Transport
aviation
Last Tuesday landed at the Temp airport on Kotelny Island (the archipelago of the Novosibirsk Islands) in the Arctic zone. It was the An-72 with a working group of the Ministry of Defense of the Russian Federation on board, headed by the First Deputy Minister of Defense of the Russian Federation Army General Arkady Bakhin. "The airfield accepted normally, the strip is ready and allows you to receive aircraft of this class. At present, work is continuing to increase the bandwidth for receiving other types of aircraft, "Bakhin reported to Russian Defense Minister Sergei Shoigu during a video conference between the Situational Center of the Ministry of Defense in Moscow and the Arctic island.
The deputy minister also said that the formation of the Temp command air station was completed on the archipelago in the zone of passage of the Northern Sea Route. Over the course of a month and a half, an enormous amount of work has been done to restore the previously existing airfield on Kotelny Island. About 8,5 thousand tons of cargo were delivered there, the site was leveled, a technical support area was created. At present, the construction of a modular residential complex has been completed, the power system check and adjustment of the filtration, water treatment and hot water supply systems are in the final stages - the work is left for three to four days.
"You have another task, no less important, is reconnaissance and preparation of plans for 2014 for the final completion of the construction of all our facilities there and the deployment of our units," said the head of the Defense Ministry to Bakhin. Recall that in September the ships of the North
fleet
they delivered to the Kotelny special detachment of about 150 people, 40 pieces of equipment, as well as special equipment for creating an air commandant's office on the island and carrying out restoration work on the runway. Aeronautical and technical support for aviation flights has been established, as has now been practically confirmed, the airfield receives An-72 and An-74 class aircraft. After lengthening the runway of the airdrome, it will be possible to receive heavy aircraft Il-76 and Antei and ensure year-round operation of the airdrome. This will significantly increase the grouping of forces and assets on the islands. And with an urgent need to quickly build it up dozens of times.