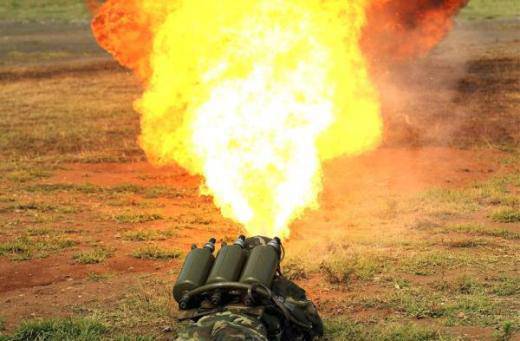 Chinese ground forces are among the few that still use jet flamethrowers. If in most countries of the world they have long been abandoned, then the Chinese fighters are not planning to remove their "fire dragons" from service.
The Chinese 58 type flamethrower was created on the basis of the LPO-50 flamethrower, the production license of which was transferred to the PRC during the period of close military cooperation between the two countries.
"Burning out the training goal"
The flamethrower is designed to defeat manpower and light cars and armored vehicles. For example, for the "burning out" of infantry from dugouts and trenches. It is believed that the use of jet flame throwers also has a great psychological effect. In fact, the kind of fiery jet that is about to cover you is not for the faint of heart.
The curb weight of the flamethrower is about 23 kg. The total volume of fire mixture in three bottles is more than 10 liters. The volume of one shot - 3,4 liters. The flamethrower can make only three shots. The range of use in direct shot about fifty meters. When firing a mounted trajectory - up to 70 m. Exhausted cylinders can be reloaded in 10 minutes.
There is a separate flamethrower company with 27 flamethrowers in each general military compound.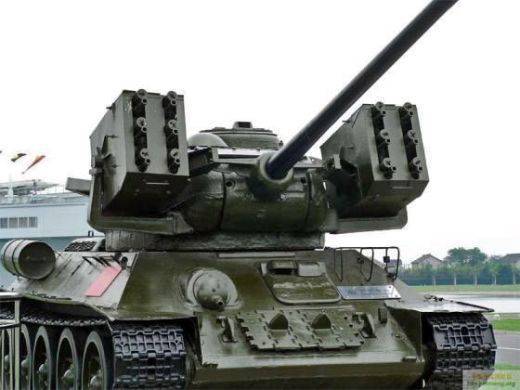 Chinese flamethrower tank
The Chinese were armed with a heavy mobile 172-kg infantry flamethrower, a clone of the Soviet TPO-50M, which could hit at a maximum range of up to 180 meters.
The Chinese tried to install these flamethrowers on medium
Tanks
Type 58 (the so-called T-34-85). But, unlike the Soviet flamethrower tanks, this installation was quite vulnerable and did not receive wide distribution.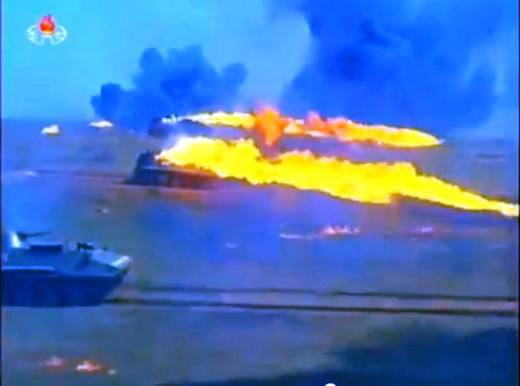 Training Battle flamethrowers DPRK
According to some reports, Chinese flamethrowers Type 58 are also still used in the North Korean army. Korean flamethrowers have mastered the use of their
weapons
through the loopholes of armored personnel carriers. According to experts, this reception from the outside looks very impressive, but its effectiveness cannot be considered sufficient.