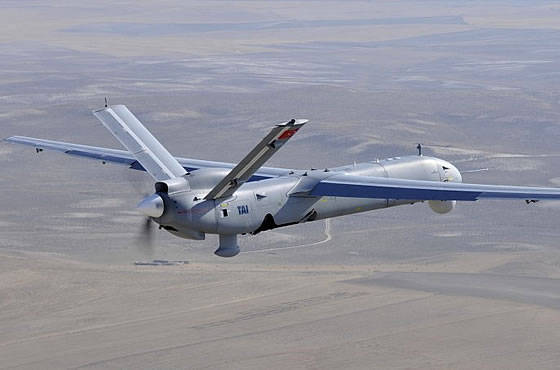 The Turkish Defense Industry Secretariat (SSM) has signed with the national company Turkic Aerospace Industries (TAI - Turkish Aerospace Industries) the first contract for the mass production of Anka 10 UAV.
According to Tuday Zaman, which refers to the SSM statement, the agreement was signed on October 25. TAI is the main contractor of the program, in which several Turkish companies participate. Delivery of UAVs and ground control systems, according to the terms of the contract, should begin in the 2016 year and be completed before the end of the 2018 year.
Anka is a long duration medium UAV (MALE), intended for reconnaissance, observation and target designation at any time of day and in adverse meteorological conditions.
The Turkish Defense Industry Secretariat signed a contract with TAI for the development and production of the Anka UAV in December 2004. As part of the project, the company was to produce three prototype UAVs, as well as ground control systems. The total cost of development is estimated at 107 million dollars.
The first flight of the Anka UAV took place on December 31 2010. Acceptance tests of the UAV ended in January of this year. After they were completed, TAI and SSM began negotiations to conclude a contract for the supply of a set of ten UAVs as part of the initial mass production.
According to available information, the fuselage of the Anka UAV is made of composite materials. Wingspan is 17,3 m, length - 8 m, maximum take-off weight - 1600 kg, weight of payload - 200 kg, practical ceiling - 30 thousand feet (9150 m).
The UAV is equipped with a four-cylinder four-stroke diesel engine "Centurion 2.0S" hp 155 power. and develops cruising speed of 110-135 knots. The maximum flight duration is 24 h, the range is 200 km.
The device is equipped with an automated take-off and landing system (ATOLS), an anti-icing system, and can carry a wide range of payloads, including electro-optical and infrared systems, synthetic aperture radar, equipment for radio intelligence. In the future, it is planned to equip the unmanned aerial vehicle with a satellite communications system of national development. It is not excluded the equipment of UAVs weapons systems.