Scientists Carlos Hernandez and Quentin Salter, who are involved in the design and creation of a prototype shipborne laser gun, showed journalists what the naval injector of a free naval free electron (FEL) US Navy can do. The injector, which is essentially the heart of the FEL (it is designed to pump a laser beam), showed record power, having worked on a voltage of 500 kilovolts of 6 hours. According to one of the scientists, Quentin Salter, they themselves were surprised by an unexpected success. He also stressed that these successful tests will significantly speed up the creation of a prototype shipborne laser gun. The US military and scientists have been working on this prototype for 6 for years, and now they are very close to success.
Although earlier than 2020, free electron lasers will not appear on ships. To date, the prototype produces a beam power 14 kW. For combat use need at least power 100 kW. The voltage reached in 18 kV reached on February 500 means that the development time will be reduced, and the laser mortality rate will increase significantly.
Carlos Hernandez gave a short lecture to journalists, explaining visually on the injector model the principle of operation of a free electron laser.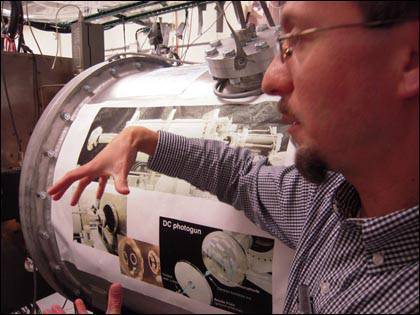 Carlos Hernandez explains the principle of operation of a free electron laser next to the injector model
By exciting certain types of atoms, photon radiation can be obtained. If you reflect it on excited atoms, even more photons will appear. The second batch of photons, unlike, for example, from a light bulb, the light from which goes in all directions, can be directed in one direction and have a certain wavelength. However, a free electron laser has a unique feature: it does not use an amplifying medium, only a stream of electrons that pass through a number of ordinary or superconducting magnets. This accelerator generates a beam operating at several wavelengths. In practice, this will allow the FEL beam, passing through the smoke-filled battlefield or the sea-air saturated with water vapor, not to lose its energy. Also, to increase the power of the laser gun beam, it will be sufficient to simply increase the number of electrons emanating from the injector.
For a long time, the Jefferson Laboratory staff worked on a 73 unit with a 300-kV injector and a power input of 200 kW. But now, thanks to the success achieved by Salter and Hernandez, the US Navy is likely to get a more powerful than expected prototype gun. This will allow more testing of the laser, including exploring the possibilities of using the new
weapons
in the fight against ships and missile defense.
Experienced American combat laser FEL produces today the most powerful beam in the world, it can cut up to 6 meters of steel per second. If the US military manages to achieve the intended goal of the project (beam power in 1 MW), the gun can cut more than 600 m steel per second. In theory, this requires just more electrons, the successful testing of scientists Hernandez and Salter showed that this is quite real. The problem of dimensions is also successfully solved. The prototype of the gun is being developed by Boeing, it should be ready for the 2012 year, and the 2015 × 15 × 6 can be built for 3. These dimensions can be used even for small frigate ships.
The only open question is the supply of megawatt weapons, since ships with a non-nuclear power plant will not be able to provide the necessary power. But this problem is already being solved. A combat megawatt FEL, if successfully created, will allow you to effectively deal with hypersonic anti-ship missiles, airplanes and small ships, to hit ground targets. And all this at an unattainable distance for modern artillery 300 kilometers.