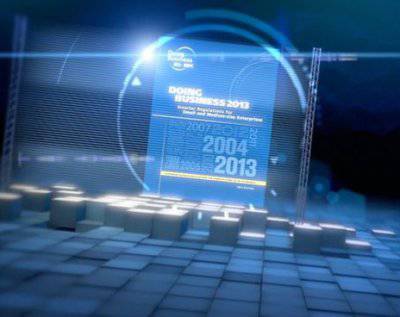 The various ratings of countries in terms of the attractiveness of a business and the simplicity of its conduct can be treated differently. Some of these ratings are accustomed to fully trust, others try not to pay any attention to them. "Fifty-fifty" Russian businessmen and business analysts reacted to the reports that Russia in the Doing Business rating rose by two dozen points at once, taking 92-place. This rating is assigned on the basis of studies of various economic indicators of states related to how easy it is to conduct trade operations and conduct business in a particular state.
92-place in Russia - this is the exact middle of the rating. The first place throughout the time of publication of the results (since 2005 of the year) is confidently occupied by Singapore. The top three also include Hong Kong and New Zealand. According to a recent report, Georgia ranks the highest place among all countries of the former USSR in terms of ease of doing business. The worst showed among the former Soviet republics in Turkmenistan and, interestingly, in Ukraine. But Ukraine in the last year also managed to rise in the ranking by a fairly large number of points. Now it occupies the place that Russia occupied last year on the rating table - 112.
What indicators are taken into account when placing countries "according to ranking". First of all, it is taken into account how easy it is to open a business in the country, and how quickly you can get a permit for the construction and connection of new business-related buildings to communications. In addition, a serious account is taken of the possibilities of credit policy, the protection of investment mechanisms, the possibility of international trade, tax policy, and the diversity of business ideas.
Ratings of this type usually affect the state of world markets. This time, there were no special jumps in rates and quotes, except for the fall in oil prices by about 1% per day. Is this related to the published rating or not?
Quotes within the country today are influenced by many factors, including the presence of realizable entrepreneurial ideas.