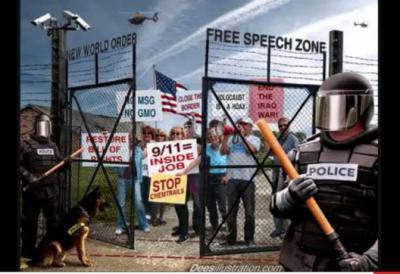 - Victor Pavlovich, in your book "The Socialist States of America" you wrote that during your life in the United States you refused to pay income tax there. Tell me about it, please.
- This epic began in 1998, when I lived in the USA for seven years (I emigrated at the age of 20 with my parents). I searched the Internet for something under American law — I don't remember exactly what. Accidentally saw a link to the topic "The whole truth about taxes." For the sake of curiosity, he passed through it and ... discovered for himself a new universe, without exaggeration! It turned out that I did not know anything about the US tax system, but did certain things simply because everyone does that. At that time, I could not even think that everyone is doing it not because it is necessary, but because it is so accepted. And this, as they say in Odessa, two big differences! And it turned out that not everything that is accepted is right.
As a result, it turned out that the US tax system initially envisioned a taxation scheme: "Americans - abroad, foreigners - in America". That is, according to tax laws, incomes of citizens and residents of the United States are not subject to income tax (except for engaging in certain activities like selling alcohol,
weapons
etc.). But how can this be? After all, income tax is the basis of the US state budget!
I studied this topic for quite a long time and meticulously, even went to another state for special seminars. It turned out that for the maintenance of the state - in its original form - there are more than enough taxes stipulated in the legislation, plus import duties and various excises. But since today the state apparatus has grown like a cancer, it has to be sucked out of the population by hook or by crook. But one thing was important: according to the Tax Code, I, as a US citizen, are not subject to income tax in America, and therefore I simply stopped paying it.
The tax authorities still send to my former address bills for astronomical sums and try to convince me that I owe them something. Interestingly, they really think they will get something from me? I was at two hearings in the California State Tax Service, and the omnipotent tax authorities turned these hearings into a circus, because they had no idea what and how to present me — apparently, deciding that they could intimidate me with just one of their looks and some pieces of paper. I came to the hearing prepared, primarily legally, and without any lawyer. So they didn't come out with a swoop. And since 2001, I have disappeared altogether from the tax "radar", which also makes them nervous - how can that be? There was a taxpayer and suddenly disappeared. It does not happen!
In general, they can't really show anything to me, and they, I think, have time left until the end of this year, after which the statute of limitations will expire. Therefore, they have now dramatically increased their activity: they even began to call from somewhere to find out my Skype number. And they don't care that it is against the law, because they have the right to contact me only by mail and only making out requests in a strictly certain way. But since they do not bother with such "trifles" as the observance of the laws, they receive no answers from me either. And from this nervous even more. They do not like savvy citizens, they do not like very much!
Tax Racket
- Why did the entire population of the United States not refuse to pay income tax?
- First, they are afraid. Secondly, from ignorance. Third, not all. There after all there is still a mass of subtleties. For example, if a person filled out a declaration and indicated there zeros from which he pays nothing, then he may be attracted for fraud, since the tax has information about his salary, and he provides deliberately false information and puts his signature under it. Others, for example, consider income tax to be unconstitutional and for this reason they refuse to pay it, putting their signature under the name of what document - they can also be attracted.
However, I have nothing against the law, I pay all the taxes that are taxed by law. The state has data on my income - yes, and please! And now show me where in the Tax Code it says that I have to pay something from this amount? There's no such thing! There is no article in the Tax Code that would oblige a US citizen to pay a tax on this (as well as fill out a tax return, thereby, by the way, testifying against himself to a certain extent). Moreover, by the recognition of the tax itself, up to 20% "taxpayers" are no longer, since they stopped paying taxes. Only this information, of course, will never be announced on TV.
After all, they are the main thing - to intimidate.
"In the book, you give examples of political correctness in the United States that look like sheer insanity." What, in your opinion, is the dominance of political correctness in the United States?
- First, a little
stories
. Political correctness as a concept originated in 1980's and stipulated that certain ideas, expressions and behaviors that were absolutely legal at that time should be prohibited either by special regulations or by public opinion. People publicly accused of political incorrectness became the object of persecution of the masses or even of the authorities. The rational explanation of political correctness was to prevent grievances. To this end, it was proposed to prohibit forms of behavior or expression that could offend certain segments of the population: homosexuals, women, non-skinned, disabled, stupid, fat and scary.
Thus, it became indecent to call things by their proper names. Another infringement of freedom of speech. But touchy and sensitive minorities could now dictate their conditions. To summarize the whole theory of political correctness can be a simple statement: the white male person is the cause of all the troubles on the planet, and he is not only the source of all evil, but must constantly feel guilty, ashamed of his origin and all the sins committed by his white ancestors history of civilization.
The whole absurdity of the situation is that the white man who created this great civilization, in fact, becomes completely powerless. And after decades of this "program", which has now spread to almost all other countries of the world, a definite conclusion can be made: this is not by chance. Although it gives a conspiracy, but I am sure that political correctness is a deliberate policy of pursuing the white population of the planet.
State terrorism
- Tell us about your version of the September 11 2001 attack.
- I must say that I do not have my version. I do not know what exactly happened there, but I know exactly what did NOT happen. There was no what the official report says. In my book, 11 of September: A View of the Murder, I will examine in detail every element of the events of that tragic day. Data analysis shows that the Arab terrorists and bin Laden were not involved here in any way. However, by today it should be obvious to any sensible person. One can only guess about who is the organizer of the "Arab" concept of what happened, but, most likely, the US special services and their allies did this.
Skyscrapers were destroyed by controlled industrial demolition, according to all the rules. One of the "directors" was billionaire Larry Silverstein, who took the giant jackpot on this business. He became a new leaseholder for the 23 twins on July 2001, just seven weeks before the tragic date. He paid 99 billion dollars for 3,2 for renting two towers, but insured them for 7,2 billion dollars, and only in his name that the owner-lessor does not receive compensation in case of force majeure, including terrorism .
The aircraft were military, disguised as civilians, and remotely controlled, most likely with guidance to the "beacon." No plane crashed into the Pentagon, and the plane did not fall in Pennsylvania either. But after September, 11 was followed by a series of instantaneous measures, both domestically and abroad. In the USA, this is the adoption of draconian laws, which essentially established a totalitarian regime in the country. In foreign policy - the green light of the war in Afghanistan and Iraq, as well as carte blanche for any terrorist operations in the Middle East.
- Why do you think that the US is realizing the interests of Israel in the Middle East?
- It's no secret that the United States has always provided financial, military and diplomatic assistance to Israel. Israeli Prime Minister Ariel Sharon, in a statement to his 3 Cabinet of Ministers on October 2001, expressed this idea in plain text, without any embarrassment: "We, the Jewish people, rule America, and the Americans know it." The famous American analyst Zbigniew Brzezinski in his book "Another Chance. The three presidents and the crisis of the American superpower "writes:" By 2006, even for the Bush administration, it should have been clear that neither the United States, nor Israel, alone or together, have the power to crush and remake the Middle East completely as they wanted would. This region is too large, its people are less and less intimidated and more and more enveloped by hatred, anger and despair. More and more people are ready to participate in organized resistance or reckless terror. And the more the United States and Israel react to this by expanding and raising the level of their counter-violence, the more they will be involved in a long and expanding war.
This erroneous US position is fraught with two long-term hazards. First, the United States will eventually lose all its Arab friends. Secondly, Israel will be drawn into a prolonged asymmetrical military confrontation, nullifying its technological military advantage and exposing it to mortal risk. Moreover, given the domestic political realities of America, such risks are pushing the United States to increase military participation in the region in order to be able to contain more distant threats to Israel in the future. "
I will cite another very curious quotation, the author of which, unfortunately, is unknown to me. In a conversation about politics, one American official complains to another: "We have no friends in the Middle East except Israel." The interlocutor answered him: "Before the advent of Israel, we had no enemies in the Middle East."
"In your book, you give an interesting definition of anti-Semitism:" In today's United States, anti-Semites do not call those who do not like Jews, but those who are not loved by Jews. " Tell us about anti-Semitism in the United States and Russia.
- First, let's define the concept of anti-Semitism. Over time, I realized that it is extremely subjective. And the fact that for one is anti-Semitism, for the other is not. In addition, one person is able to turn any insult, even a targeted, insult into a joke, and the other will take any non-reference to him personally and will look for anti-Semites under his bed. And sometimes even find them. I definitely belong to the first type of people. I'm generally quite difficult to offend. I remember a few years ago, after the release of my book, one reporter with a pronounced "fifth point", as they used to say, walked behind me for quite a long time with some kind of "shocking" material that I longed to demonstrate in private. When, finally, she found me alone, she picked up words for a long time before she shocked me. And what is the result? Her whole "shock" was that she showed me pictures of some garages where the swastikas were painted. I could not stop laughing. Not because of the drawn swastikas, of course, but how she tried to teach me this. Eka nevidal! However, her reaction to my reaction was very predictable: she retired offended, and I never saw her again. I guess she just belonged to the second type of people. Any half-knowledge of the Jewish theme such characters instantly turn into a deep personal insult and begin to shout about anti-Semitism.
In light of this, it is quite difficult to answer your so major question. If we talk about domestic anti-Semitism, in Russia it is now much less than in the USSR. And if, as a child, I often heard the epithets "Yid" and "Yidonok" in my address, and even from adults, and even at that time my father repeatedly indicated in a straightforward way his origin, now I don't see or hear anything like that. . In the USA, I have never felt domestic anti-Semitism as such. However, once again I will make a reservation: everything depends on personal perception. I know people who, having simply heard the word "Jew", begin to prepare for the pogroms.
However, there is still anti-Semitism at the state level, and this is already a purely political tool that cunning politicians use as a lever of pressure. Incidentally, the definition of an anti-Semite mentioned by you is in this framework - this is the one whom Jews do not like. Indeed, in politics, getting the label of an anti-Semite is much worse than a label of a racist. The source for labeling such labels is the attitude towards the Holocaust, which, in fact, has become the main factor changing the whole geopolitics of Europe in the 20th century. It says something about something. And not only geopolitics. How many lives were broken by those meticulous researchers who tried to delve a little into the history of the Holocaust, without even questioning him, but merely investigating some dubious moments of this story. And if you start to doubt, you will get the full program! In Germany, there is even a criminal article for denying the Holocaust. This should also lead to certain thoughts. Well, let me give you the most recent example of the American political prisoner Edgar Steele, a well-known friend of mine, who was planted on 50 years in a crudely contrived case, but in fact for his glaring politiciousness, in which his brilliant book, including an anti-Zionist trend, played an important role - Defensive racism. I would really like to publish it in Russia, I even began to translate it, but publishers are still afraid ...
For myself, I made a definite conclusion. Smoke without fire does not happen, and if in childhood, when I was called a Yid muzzle and beaten on it, I believed the fairy tales about the fact that it was all from envy, they say, the Jews are so smart, now I understand what kind of nonsense it is. As a representative of Jewish nationality, I have to admit that, along with many of my deceived tribesmen, I am an unwitting victim of big politics and those who exercise it, including themselves among the elect. In this regard, the realization of the simple truth that there is a colossal difference between the Jews and the Jews gives the answer to many questions.
- What is your forecast for the development of the United States? Will the free circulation of weapons be canceled?
- The United States has long gone to socialism. I, in my book, published in 2006, gave a forecast that the last US president will be a Negro, after which the country will cease to exist in its usual form. However, in its usual form it has long been gone, and only the most naive continue to believe in its democracy, freedom and justice. There is neither one nor the other, nor the third. There is a totalitarian system, "a peaceful concentration camp," according to my friend's apt expression. Where everything is in a rigid framework, where a pattern of success is written for you in advance, cynically called the "American dream", which must be met in order to be successful, otherwise you will remain not understood at least. As for the free circulation of weapons, in the last decade the trend is just the opposite - the liberalization of laws in different states, which inspires some optimism. And although Barack Obama is doing everything to stop this process, I think this will not happen in the near future. Perhaps this is the last thread, thanks to which America still holds. And to chop off this thread is not so easy. I do not know what should happen to the Americans voluntarily waive their right to arms. There must be some great and catastrophic event that will lead to the writing of a new constitution. And this may well lead to a revolution ...
In Russia and the USA
- What did you do in the USA and what are you doing in Russia now?
- In the USA I graduated from the University with a degree in Computer Science, worked as a programmer. In fact, with a high degree of probability, this is all that I could do there with varying degrees of independence (meaning freelancing). I earned very good money there, but not everything in life is measured in money, as it turned out. In Russia, I was able to realize all my abilities to a much greater extent. I worked as a sports photographer, a journalist, now I took up a completely new business for me - a metal-cutting tool for CNC machines. Just because it is interesting to me and it is much easier to enter a new area for yourself. If something works out for me, then I don't need confirming diplomas, unlike the USA. Here I am appreciated for my skills and abilities. Plus, I continue to work on computers and programming - there are always customers. I also work in a scientific journal, translating articles from English into Russian and from Russian into English. For the same journal I am making materials, interviewing scientists. I had a chance to visit places where I myself would never have got, for example, in the very heart of the Russian fundamental science — the Petersburg Institute of Nuclear Physics, the Kurchatov Institute, etc. In general, my life here is very interesting and rich.
- How do you feel about the Russian community abroad?
- This is quite a sore point. Somehow it is considered that emigration is a brain drain. However, the Russian community abroad gives a completely different picture, and it turns out that this leak is not a brain at all, but a completely different substance, which leaks about 90%. And only 10% - brains. The Russian community abroad is a sect, which for the most part consists of notorious characters engaged in self-suggestion. After all, no one has canceled the ancient truth that tourism should not be confused with emigration. When the first impression and euphoria subside, when in this boiler one has to boil, facing all sides of everyday life, here the most interesting begins. Suddenly, many flaws of Western society surface, invisible to the tourist. And in this sect, people begin to engage in self-suggestion, convincing themselves of the superiority of Western life over Russian, of the correctness of their departure from Russia. The emigrant media serve as support for this - they carefully search for the horrors in Russia, inflate them and present them to the emigrants so that they in no way doubt the correctness of the choice made. And if a doubter appears in this sect, then they begin to poison him. Not without a bit of pride, I note that it is unlikely that so much mud was ever poured on one single immigrant as on your humble servant. And all I needed to do was to write one small article in which I expressed my purely subjective views on the "new homeland". And even when I left the United States, scraps of emigrant mud continued to fly after me for several years. In fairness, I note that the order of 10% of immigrants - people are normal and adequate, and it was they who formed my social circle. I have very good and close friends left in America, as well as my own brother and father, whom I greatly miss.
- Why did you decide to refuse to travel to the United States?
- My most recent trip to the USA in 2004 had an unexpected (though unexpected?) Turn. I believe that as a result of my successful confrontation with the tax authorities of the state and the country, complete disappearance from the "radar" of Big Brother, as well as the creation of a site that was visited enough in due time, where I almost did not call for a new American revolution, I got the authorities to note . In April, 2004, I flew to Seattle and was one of the first to be at the passport control window. But instead of quickly stamping my passport with a smile and words of welcome, I was sent to the office for additional verification. The clerk took my passport and retired for 40 minutes. All attempts to find out what exactly they are checking there, were not crowned with success. In the end, I received a passport, took the luggage and went to the exit. However, I was again wrapped in a check - this time for baggage screening.
Security spokesman John Veres, who, with his manners and appearance, could well have claimed one of the senior positions in the Gestapo, began checking baggage. All content was posted on the conveyor belt and inspected with passion. Every thing was taken to the light of God, looked through and carefully probed, except that the tooth did not try. The photo album, including negatives, was viewed almost completely. Inspection of things was accompanied by idiotic questions that had to be answered seriously, since the Gestapo's sense of humor is not welcome. Then Veres and his assistant unzipped the lining of the suitcase and began to rattle his metal frame. I did not know whether to cry or laugh: scenes from the theater of the absurd unfolded one after another. To say that this procedure was humiliating is to say nothing. Veres was obviously looking for a fault. And - about happiness - I found it! I was taking with me an external removable hard disk where backup copies of my work files were stored. Veres expressed a desire to see the contents of the disc. I did not mind, especially since I had nothing to hide.
After a full hour of searching, it turned out that there was no computer at the airport where you could see the contents of the disk. Well, of course, it's impossible to find a computer with a USB port these days! I have no doubt that this was only a plausible excuse to withdraw my disk from me. Reason for withdrawal? "We suspect that you have something illegal there." Here it is, the new principle of "presumption of guilt of property" in action! The right to swing was absolutely pointless. I had no doubt that they would definitely find something on the disk.
Finally, they gave me a receipt for removing the disk, wrote down the address where to send it if there was nothing suspicious on it, and left me alone. I mentally said goodbye to the disc. I was more worried about something else - would I have time to leave the country before the hunt began? I was lucky - government bodies in America were very cumbersome. Only two months later, they told me that illegal materials had been found on the disk, in connection with which my case has now been transferred to the prosecutor's office and they are looking forward to me in the United States. Just in case, two of the FBI in search of my modest person descended on my former spouse in Los Angeles, which frightened her in earnest. So, out of the blue, a case was concocted against me. For five years I have been trying to cope with the situation. The American side was silent. The ice was broken only in the summer of 2008, the border service informed me that it closed the case and transferred it to the immigration and customs law enforcement service. I sent a request, and at the beginning of May 2009, the official answer came to me: my case is closed. Scared - and will be? Or lured? Wait and see…