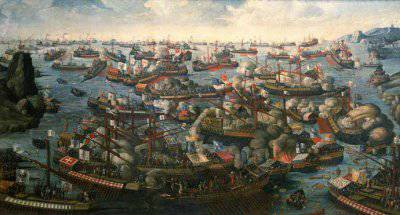 Today, Venice for many seems to be a great place for tourism and the acquisition of impressive souvenirs. One of these souvenirs - Murano glass vases. Anyone can
buy murano glass here
by clicking on the link.
But Venice was not always a peaceful city, associated with the measured life of its inhabitants. For more than a thousand years, Venice was perceived by many as a powerful state, which managed to declare itself not only famous trade contacts with the most diverse countries of the world, but also bloody wars. We are talking about the wars that led the Venetian Republic at the peak of its power and wars that predetermined the decline of this European state, which began its
history
more than thirteen centuries ago.
One of those states with which the Venetians waged wars for many centuries with varying success was the Ottoman Empire. It is believed that the first military conflicts between the Ottoman Empire and Venice manifested themselves after the Ottoman Empire gained the necessary strength to prevent European trade caravans from passing through the straits controlled by the Ottomans without hindrance. Up to this point, Venice successfully traded with the Ottoman sultans, which suited both parties.
The first conflict broke out after the Turkish (Ottoman) fleet carried out an attack on the settlement Negreponte (Euboea) - now the territory of the Greek state. In order to prevent the Ottomans from gaining control of the island, the Venetian galleys headed for the liberation of Negrepont. Pietro Loredan, commander of the Venetian
fleet
In 1416, the Ottomans inflicted a crushing defeat, capturing the Turkish fleet from Gallipoli. The Turks recovered from defeat after 5 years and declared war on the Venetian Republic, in which the latter was defeated, unable to fight with the Ottomans, with the Milanese army. The eight-year war claimed the lives of about 7000 Venetians and their Byzantine allies, little is known about the losses of the Ottoman Empire for the reason that the authorities of the empire tried to carefully hide their losses.
In the entire history of the Venetian Republic, she fought eight times with the Ottomans. The last war between these countries ended in 1718 and was marked by the fact that the Venetians finally lost control in the waters of the Aegean Sea. In 1797, the Republic of Venice ceased to exist.