According to Turkish media, the Department of Defense Industry (Savunma Sanayii Müsteşarlığı - SSM) of the Turkish Ministry of Defense decided to extend the validity period of proposals for the tender of the Ministry of Defense for the purchase of medium-range and long-range air defense missile systems (Turkish Long Range Air And Missile Defense System). Thus, the decision taken by SSM 31 in September on the selection of the Chinese HQ-2014 air defense system, submitted to the competition by the Chinese foreign trade association China Precision Machinery Export-Import Corporation (CPMIEC), was actually disavowed and the tender was essentially restarted.
This decision was made under strong pressure from the United States and Turkey's European NATO allies, who expressed their extreme displeasure with the choice of the Chinese system. The SSM letter sent to three companies participating in the tender informs about the extension of the competition and the possibility for participants to make new proposals. The participants of the extended tender, in addition to CPMIEC with the HQ-9 proposal, will again be the alliance of the American corporations Raytheon and Lockheed Martin with the Patriot air defense system (combination of PAC-2 GMT and PAC-3) and the European Eurosam consortium with SAMP / T air defense system (with Aster 30 Block 1). Rosoboronexport OJSC with the proposal of the Antey-300 C-2500ВМ AIRS will no longer participate in the tender.
Turkish Foreign Minister Ahmet Davutoglu told 27 in October that "the door remains open for American and European companies in the tender." "Procurement is not yet a decided deal. If American and European companies offer the best conditions, we will continue to negotiate with them. We will consider everything to achieve our goal," the minister said. "The Russian company just dropped out. The other two are still on the table. Co-production is mandatory. And we have concerns. Why should we avoid co-production?" - said Ahmet Davutoglu.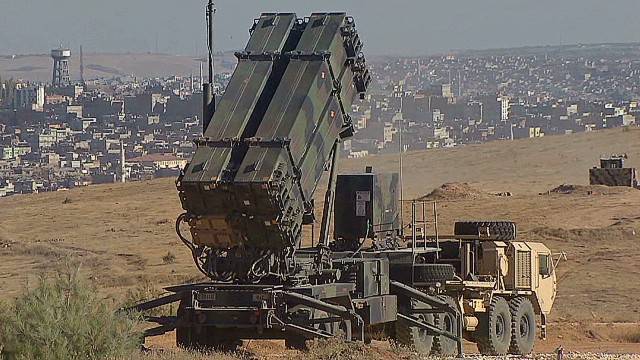 The US Patriot PAC-3 ZRS, deployed in Turkey near the border with Syria since the beginning of 2013,