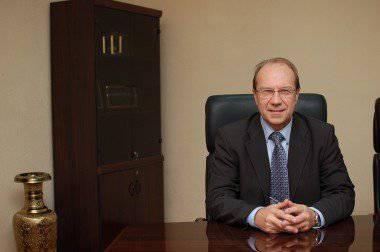 The reason for our meeting with the Deputy Director General of FBUN State Research Center for Virology and Biotechnology "Vector" for research, Doctor of Biological Sciences Alexander Petrovich Agafonov was the documentary Zaraza shown on the TVC channel. Its authors tried to figure out why American biolabs are appearing around the perimeter of Russian borders, what is being done there, and how can this affect us?
It was not by chance that the filmmakers applied for comments exactly on our "Vector": the best domestic specialists work here. We started the conversation with Alexander Petrovich from the very beginning. Namely:
- The emergence of an epidemic is always an event that causes concern not only for individuals, but even for entire countries. Where do new viral infections come from?
- According to modern ideas about 3000 types of viruses are known. But the forecast of experts is as follows: we have not yet discovered a hundredth part of all viruses on the planet. That is, in theory, it can be expected that now on Earth there are about 300 000 viruses. Some of them we just do not notice - they can infect plants, monkeys, birds, crocodiles, someone else, but not a person. But the second group of viruses - those that can go to humans. And this is how new infections appear that have never been heard of before ...
For example, a virus exists in some group of animals — and either by contacting such an animal, or trying to domesticate it, take it to the zoo, or simply expanding the human's living environment, it comes in contact with the animal or traces of its vital activity. And a situation arises when the virus finds a new host that suits it with all the necessary parameters for distribution. This is how it happened in 2003, with the SARS coronavirus, which is known to most people as SARS. He just passed on to the man from animals - and the exact same situation is now with another coronavirus - MERS, this is the same as SARS, the coronavirus, and nothing was known about it either. He manifested in the Arabian Peninsula. Suggest that he could go to the man from the camel. Now it causes mortality in about 50% of cases. But how did it come about? Where did you come from? No one can answer these questions yet.
- There is an opinion that dangerous viruses can be created artificially. Is it possible
- This point of view exists. But, you know, it reminds me of the theory of panspermia, which claims that life on Earth could not have originated on its own - it was brought here from space. There are always several options, but I have such a belief that at the present stage the virus does not need to wait for the creation of some kind of artificial variant. From one cell of the human body - and their 300 trillions! - the virus can give offspring in 100 millions! Imagine how many options exist? For every 10 of thousands of viruses, you always have one mutant, so there are a lot of them - millions ...
- How to find out that a new virus has appeared? What methods can this be determined?
- It is possible to determine when a person becomes ill ... Only empirical methods work here, and no others. It is impossible to identify a new virus until it manifests itself! We can find him, but only in the footsteps he leaves. Accordingly, any serious illness must be monitored. We are obliged to monitor all severe and lethal cases by order of Rospotrebnadzor. Suddenly in some place a new virus appeared? We explore all this with the help of appropriate methods and tools.
- Recently biolabs appeared in the former Soviet republics. As a rule, they are located near our borders - this was recently told in the television film Zaraza. Tell me, what exactly is such a laboratory?

- The laboratory is a complex of premises that allows you to work with viruses of varying degrees of danger. There are four degrees of danger. The first is the highest. These are viruses that cause a high degree of mortality - up to 90%. There are no means of treatment against them now. These are, for example, the Marburg virus and the Ebola virus, which cause hemorrhagic fevers. Drugs against them are just beginning to undergo clinical trials. Viruses of the second group of pathogenicity are also distinguished by high mortality. Mortality reaches 30%, but here we already have some means of prevention and treatment. The third and fourth groups are already less pathogenic for humans (for example, measles and influenza). They are widespread, but do not cause serious consequences in terms of mortality.
- And all these four categories can be investigated in the laboratory?
- Creates engineering and technical equipment of the laboratory. And most importantly? The most important thing is that everyone who lives around does not feel that they are working with viruses. And that they may pose at least some threat. Accordingly, no one can be allowed inside. One side. And we can not allow the virus to come out - on the other hand. If you remember, 20 years ago there were such rumors that, they say, tomatoes were covered with mold. And the cucumbers turned yellow due to the fact that some kind of leak occurred on the "Vector" ... Rumors of this kind periodically appear, although they have no connection with real life. I repeat once again: the most important principle of our work is that in no case should people suffer!
- Why are there not so many such centers and laboratories?
- Well, this is expensive. The creation of such a complex and its equipment in accordance with modern requirements costs a lot of money. They need to be invested first in the creation of the laboratory itself, and then the laboratory should constantly receive them in order to maintain the structure and to ensure the solution of problems, for which, strictly speaking, everything was built.
- The USA creates similar biolabs near the borders of the Russian Federation - in Kazakhstan, Azerbaijan; in Ukraine, three laboratories appeared at once. Why build them in other countries?

- I think that the geographical principle prevails here - to be closer to the place where there are viruses of interest. In general, there is a monitoring system — tracking all viruses that pose a danger. Accordingly, the wider your network, the more laboratories, the more chances you have for this dangerous virus to detect, study changes in its distribution boundaries, and track changes in its properties. In this sense, the emergence of new laboratories is a positive phenomenon. I want to note that we work in the system of the World Health Organization, which coordinates the world's response to the appearance of viruses. If it were not for coordination of work within the framework of WHO, then each country would try to cope with the problem alone. You know, scientists have a good tradition - they always share their knowledge with colleagues. And if any case is found that needs attention, for example, we immediately report to the Federal Service for Health and Consumer Rights and WHO, to our colleagues in neighboring countries: be attentive! This danger may arise from you!
- Is it fundamentally who exactly conducts the research: civilian specialists or the military?
- Specialists prepare the same way, but the tasks that they solve, of course, may differ. As for civilian specialists, they carry out research, which I have already mentioned earlier. And what problems solve the military, we do not know. We have no information on this.
- The very fact of finding the biolabs of another state near the borders of Russia carries with it a potential danger?

- I'm not sure about that. You see, in the modern world, in general, it does not matter where the laboratory is located. It is important what is done there, and how it will be used later! And in Australia, this laboratory is located, or in Europe, or somewhere in the middle of Asia - there is no difference. Imagine the situation. Invite the person into the meeting room; he did not breathe there for long - and everything is ready: the virus can go where you want it to go. That is, the problem is not the location of the biolaboratory - the problem is that everything is done under the control of WHO. This is the guarantee that everything will be for the good. Let me remind you that there is a convention on the prohibition of chemical and bacteriological
weapons
adopted in 1972 year. It limits certain types of work.
- Vektor specialists have been preparing for many years to achieve a high professional level, including in matters of security. Can we be sure that the proper level of safety at such biological laboratories is maintained?
- It takes at least five years to train a highly qualified specialist who is ready to solve complex problems. First, the specialist who comes to work with us must have a good basic education related to biological science. Then he will take four-month courses with us, where he will receive the necessary practical skills for working with viruses. In the future, this specialist will work in tandem with a more experienced researcher for at least three years, until he has access to independent work. At the same time, it goes without saying that the person did not allow for emergencies, is psychologically stable, with careful alcohol, and so on. There are many demands and all of them are justified.
- That is, there is a whole system ...
- Yes, this is a system, and it has been built up over the years, tested by time. Only a person who is prepared with this system can work with dangerous viruses. This is the case with Vector, but we don't know how in the laboratories you are talking about. But I think the approaches are the same. In any case, according to the literature, we know that Americans also impose strict requirements on specialists allowed to work with dangerous viruses.
- Do many centers in Russia deal with viruses?
- We have several serious research centers. For example, the Institute of Virology. D.Ivanovskogo in Moscow or the Research Institute of Influenza in St. Petersburg. Without false modesty, however, I note that among all the centers dealing with viruses, our "Vector" is the most self-sufficient. In our Center, you can engage in the study of any viruses, using any laboratory animals; the "Vector" has a large collection of viruses, as well as one of the largest collections of cell cultures. He can do all kinds of virological research - and this is a big advantage. We have all the necessary space, materials, engineering system, staff of researchers. We can go all the way from the idea to its practical implementation. There has always been a problem to connect science with production. And on the "Vector" such cooperation was originally envisaged. "Vector" and appeared, having the status of a scientific production association. An example of a quick realization of an idea is the creation of Reaferon, which is well-known in our country today. Recently in
stories
There was a stage in our country when no one needed science, then there was no need for production. Then - neither one nor the other. And now you need everything! And we are ready to work in this direction. Another example: enzyme immunoassay test systems that make it possible to quickly diagnose a disease. Today, Russia practically does not buy them because, among other things, the development of Vektor has formed the basis of diagnostic kits produced in Russia, and at present the demand for them is fully satisfied. And he, I note, is not small ...
- A lot of us write about African swine fever. What it is? Is it dangerous for humans?
- Everyone knows that we can work quickly and efficiently. There are proposals to work with African swine fever. Together with specialists from veterinary centers, this problem can be solved. I'll say right away that it is absolutely not dangerous for humans, but in pigs the mortality rate reaches 100%. When at least one pig is found to have this virus, then all animals on the farm (as well as all pigs within 20 km radius.) Are destroyed and burned.
Feeders, partitions, inventory, and so on are burned - otherwise it is simply impossible. Yes, by the way, after everything is burned, the rooms themselves are also treated with chlorine on a mandatory basis. How to deal with it? Let's start with the fact that there are viruses that live only in humans. For example, it is measles. You can make a medicine and after a general vaccination to forget about the disease. This is exactly what happened with smallpox - it disappeared completely. But there are infections that live, for example, in rats ...
- They all clearly do not vaccinate!
- There are two ways: either to destroy all rats, or to vaccinate them. Both are equally impossible. At this stage, we can only fight. The most effective means of struggle is the vaccine. Well, and about quarantine can not be forgotten.
- It turns out that "Vector" is, figuratively speaking, at the forefront ...
- There are two main infectious agents that cause diseases: either viruses or bacteria. With the advent of antibiotics, we can say that the situation with bacteria has become much simpler. At least until the state when everything is under control. But there is no such universal remedy against viruses. Every time you have to re-fight with each specific virus. Most likely, such a universal remedy will not be found, although we will, of course, create a certain set. So far in the course narrowly specialized drugs. For example, against the flu. And they work very well. But there are many areas of work, which means that it takes time to deal with dangerous viruses, efforts are needed, costs are needed. Predict the result in advance is impossible. Look: against tick-borne encephalitis and measles, the vaccine was created fairly quickly, but 30 has been created against HIV for years ... The virus has the ability to change very quickly; while he is faster than us. After all, one person may receive a million new variants of the virus. And you need to fight them - this is an urgent task. And, we can say that this is a requirement of the national security of our country.
- Does the exchange of information with other countries?
- Mandatory, but only through the WHO system. For example, we recently received two strains of influenza viruses (subtype H7N9) and the MERS coronavirus: without the virus itself, it is very difficult to make a cure. And the task of WHO is to provide centers such as Vector with samples of viruses that need to be fought.
- Russia can conduct full-scale programs, but what about the independent states - the former Soviet republics?
- Everything is determined by what goal the state sets. It is difficult to convince the Minister of Health of a poor country that he must allocate millions of dollars to the laboratory when children go hungry and the civil war is on ... A question that we are often asked is also related to this: do we need to do all the vaccines ourselves? Maybe it is better to buy abroad? Probably, you can buy, but the task set for the Russian developers to produce all vaccines for the national vaccination calendar, I think, is very correct in essence. National security is our priority. And it's absolutely clear that a country like Russia should have powerful virology centers, such as Vector.
Judging by the fact that the mortality of pigs from African plague reaches 100%, and many regions of Russia and Ukraine have become regions of its spread, it can be assumed that this is a deliberate biological sabotage directed against the meat-processing industry in these countries. It is possible that in this way someone is trying to eliminate their competitors. So, hello, WTO with the EU together ...