From publications in the Russian-language press, it can be concluded that the cartridge 9х39 is the best invention of the century, and a potential adversary has nothing to oppose.
Unfortunately, this is not so: the developer of ammunition from this very enemy is much more than in the whole of the former USSR. And these people in many cases know their business very well.
Therefore, I wanted to make a small review of potential subsonic ammunition that can be used by the Americans (except for standard army 5.56x45 or 7.62x51).
Firstly, they have ammunition that can be used in standard AR-15 / M4 / M16 / HK416 rifles by simply changing the apper.
Stand alone here
.300 AAC Blackout (300BLK)
: it was created as a cartridge, giving great advantages to the soldier, rather than the standard 5.56x45. In fact, this cartridge 7.62x35.
It is quite versatile. With a relatively light 125gr bullet (8 g), it starts at a speed of about 675m / s and a muzzle energy of the order of 1850 joules, recalling the ballistics of the cartridge 7.62x39.
In the case of the use of a heavy subsonic bullet weighing 220gr (14 g), it starts at a speed of 310m / s and a muzzle energy of the order of 670 J.
This cartridge was created by pereobzhimom cartridge sleeves 221 Fireball or .223 Rem, followed by trimming to a length of 35 mm. The simplicity of the operation allows it to be carried out at home, and the use of a standard cartridge sleeve 5.56x45 or .223 allows the use of standard magazines and standard rifle bolts.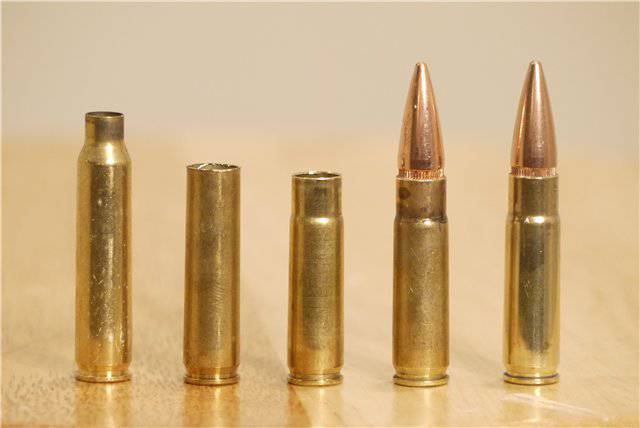 Moreover, the use of a standard caliber allows the use of any .308 caliber bullets, from armor-piercing to the most exotic.
The high ballistic ratio of heavy bullets of the .308 caliber of the same Hornady 208Gr A-Max or Lapua B416 200Gr or similar type allows at least the same effective shooting as the US caliber 7.62x39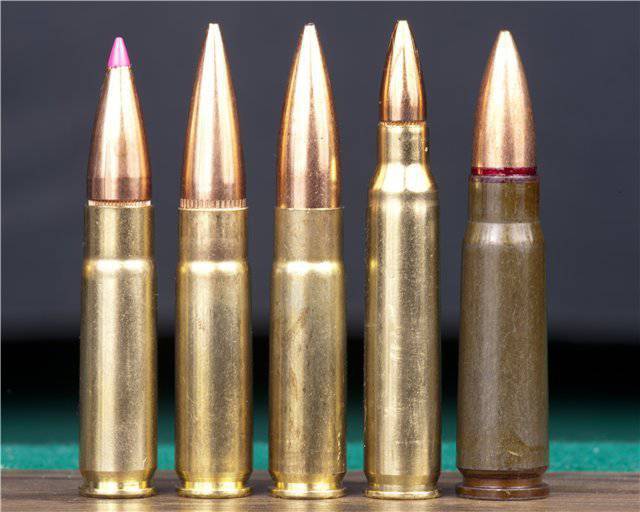 In addition, this cartridge allows the use of much more slaughter bullets than the standard US bullet.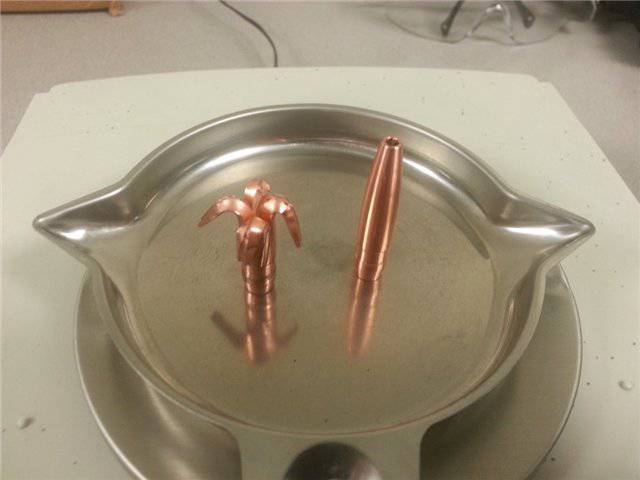 Here, for example, is an American device for quietly shooting opponents in the .300Whisper caliber, which is almost identical to .300Blackout: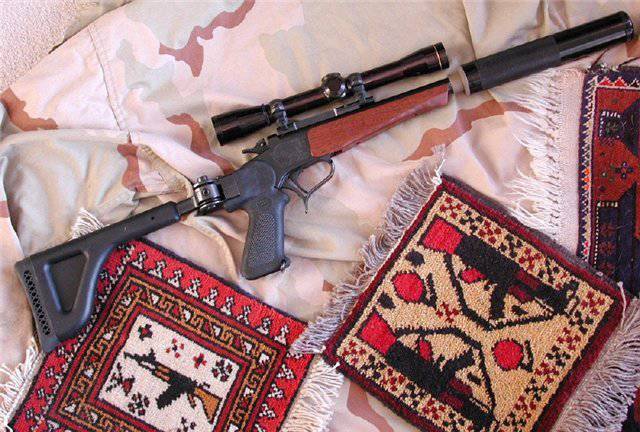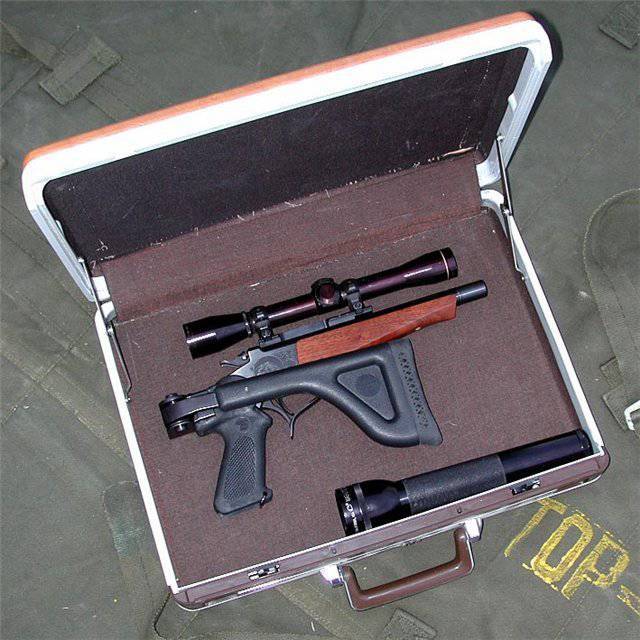 In addition, a direct competitor 9x39 is a cartridge
.338 Specter
- in the metric system it can be called 8.7х32mm. The sleeve of this cartridge is created by pereobzhim and trimming the sleeve of the cartridge 10mm Mag.
This cartridge can use both fairly light bullets weighing 10,4 g at a speed of 550m / c, and bullets weighing 19,4 g at a speed of 315m / c, which greatly exceeds the weight of bullets of 9x39 cartridges.
Bullets that can be used in this cartridge may have a significantly better ballistic coefficient. Therefore, it is possible to count on a more accurate and long-range shooting.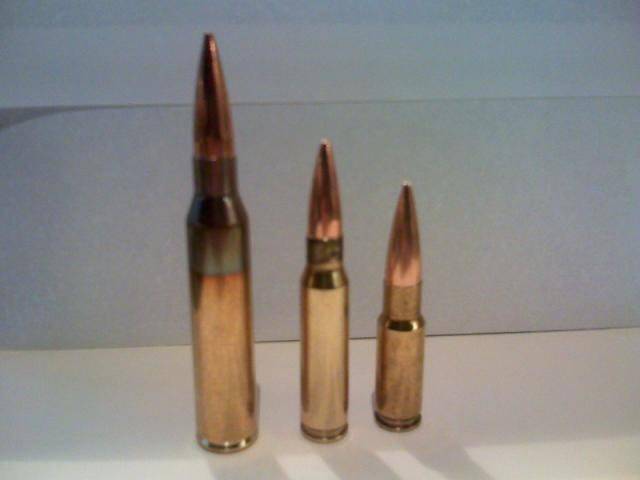 (.338LM, .308Win, .338Spectre)
Well, and besides this, there is a cartridge
.458SOCOM
, which has no analogues in the lineup of cartridges of the former USSR.
A rifle with a barrel of standard length in 16 "fires a bullet weighing 19 g at a speed of 655m / c with muzzle energy of the order of 3500J. In the case of a subsonic cartridge, such a rifle sends a bullet with a weight of 39 g at speed of 305m / s and muzzle energy of 1800J (against 650-850J from SP-5).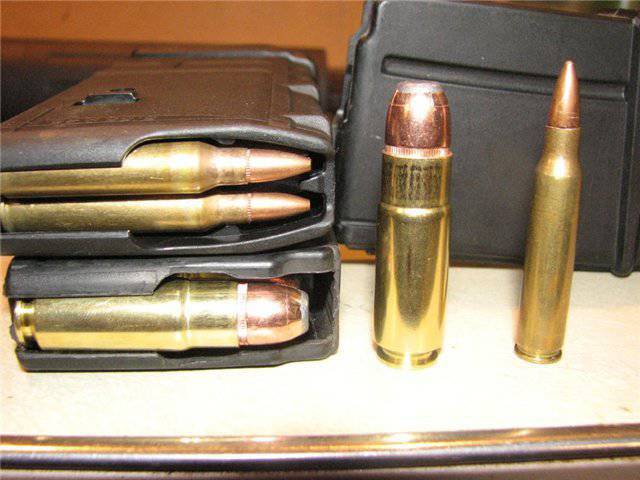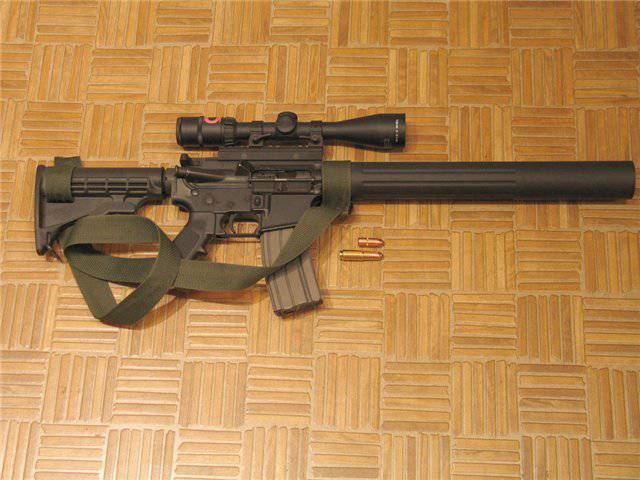 In addition, the Americans have not forgotten and large-caliber cartridges for long-range and silent shooting.
Now they have a cartridge
.510 Whisper
(on a par with many others). This cartridge, as well as the Russian 12.7х54, is based on the cartridge case of the .338Lapua Magnum cartridge, with the difference that the sleeve was cut to 48mm instead of 54mm in the Russian cartridge.
When firing a Sako TRG-S rifle assembled in this caliber over a distance of 600 yards (550), accuracy was achieved in 1MOA (roughly speaking, 13 cm).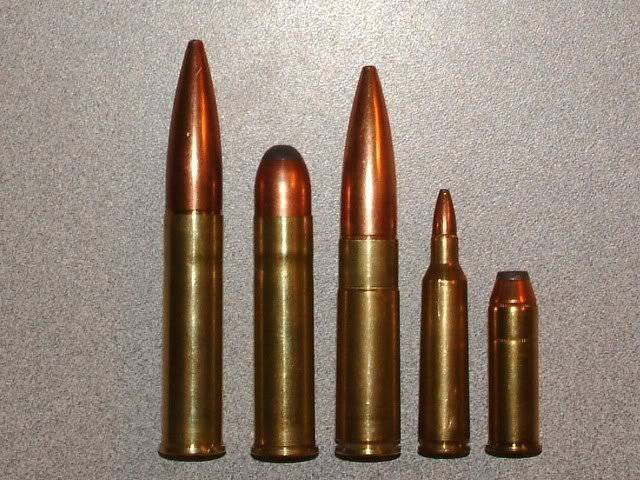 centered in comparison with Russian 12.7х54