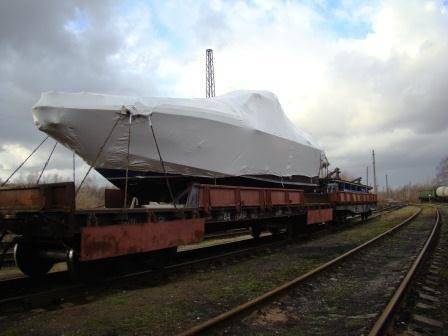 October 25 2013, JSC Yaroslavl Shipbuilding Plant (UK CJSC VPFINSUDPROM) sent by rail a boat to secure the 12260 Yastreb project (head number 610) intended for the Federal Security Service of the Russian Federation.
This is the fourth boat of the 12260 "Yastreb" project, built by Yaroslavl shipbuilders for the needs of the Federal Security Service of the Russian Federation strictly in accordance with the terms of the state contract. After the control exit to sea, the vessel will be transferred to the UFSB in the Kaliningrad region.
The boat of the 12260 "Yastreb" project, developed by the Almaz Central Marine Design Bureau, is small in size and unpretentious in operation, it has excellent navigability, high speed and maneuverability, good living conditions for the crew. Water cannons, selected as a propulsion unit, allow the boat to leave the wall lagging, turn around 360 degrees, slow down sharply.
Serially built boats of the YSZ project of the 12260 project during the period of operation showed themselves from the best side both in driving performance and in terms of their reliability and economy. The design and strength of the hull of the boat "Yastreb" have been tested in difficult operation on rivers with shallow depths, in conditions of frequent mooring to the shore with a partial exit of the bow to the shore, as well as sailing at high speeds in the presence of snag.
The boat complies with the Russian Maritime Register of Shipping.
The purpose of the Yastreb boat is to carry out an inspection service and patrol waters in the coastal zone of marine territorial waters.
The main characteristics of the vessel:
Overall length - 13 m;
Overall width - 3,4 m;
Board height midships - 2,1 m;
Full displacement - 11,3 t;
Speed ​​- 41 knots .;
The range with the largest reserves is no less than 300 miles;
Autonomy - 24 hours;
Crew - 2 people;
Passenger capacity - 4 people.