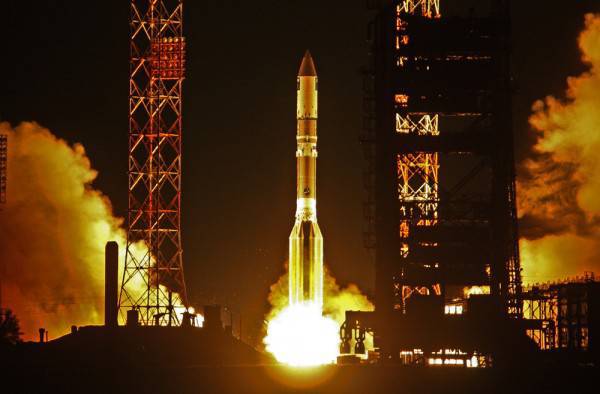 The Proton-M launch vehicle, the launch of which was postponed twice, put the American communications satellite Sirius FM-6 into the calculated orbit. This was reported in Roscosmos.
"Proton" launched on the eve of about 22: 08 MSK from the Baikonur cosmodrome. At the estimated time - in 07: 19 Moscow time Saturday - the satellite separated from the upper stage "Breeze-M" and went into orbit. "Thus, the Russian part of the program for its launching into orbit is completed," RIA quotes.
News
"representative of Roscosmos.
The launch date of the Sirius FM-6 was postponed twice. At first, October 20 was postponed for a day, and then indefinitely. As noted in Roscosmos, this was done at the request of the Americans due to problems at the reception station in South Africa.
Sirius satellite was launched under a contract with International Launch Services Inc. (ILS), which has the exclusive right to marketing and commercial operation of the Protons. Sirius FM-6 is owned by satellite operator Sirius XM Radio (Satellite CD Radio, Inc).
Satellites of this type will operate in geostationary orbit. It is capable of emitting twice as powerful a signal as its predecessors and, thus, will become the largest and most powerful spacecraft of the company. The coverage area of ​​Sirius is the territory of North America. The lifetime of the satellite is more than 15 years.
The current launch of "Proton" is the second since the accident of a carrier of this type, which took place on July 2. Recall, July 2 rocket was supposed to put into orbit three GLONASS satellites. However, at the tenth second of the flight, the rocket changed its trajectory, caught fire, fell on the territory of the Baikonur cosmodrome and exploded.
A special commission investigating the catastrophe concluded that the angular velocity sensors were installed incorrectly on the Proton. Following the investigation, three employees, including the deputy head of the Khrunichev Center, lost their posts, and Prime Minister Dmitry Medvedev announced the head of Roskosmos, Vladimir Popovkin, a reprimand for improper performance of duties.