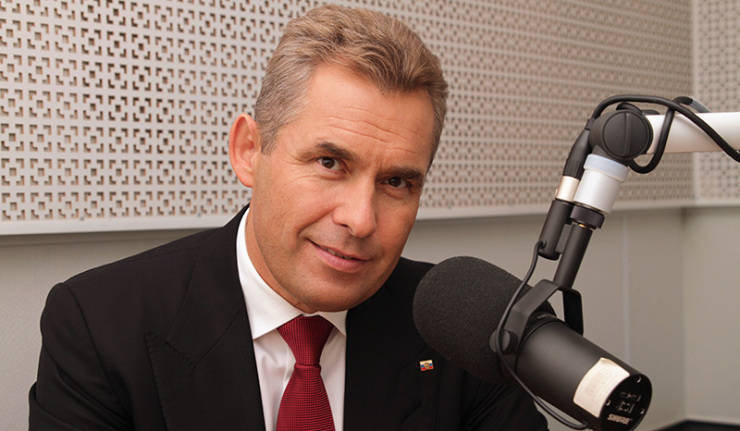 In the course of the consultations held in Moscow, Russia and the United States managed to understand each other's positions on the adoption of Russian children by Americans and come closer to a constructive solution of existing problems, Pavel Astakhov, the ombudsman under the President of the Russian Federation, told the Voice of Russia.
Russia and the United States held consultations in Moscow on consular issues and adoption issues, said Pavel Astakhov, the Commissioner under the President of the Russian Federation for the Rights of the Child. The parties discussed the issues of ensuring access of Russian consuls to Russian children adopted by Americans, as well as problems of adoption of Russian children by close relatives, US citizens or persons with Russian and American citizenship.
Pavel Astakhov, the Commissioner under the President of the Russian Federation for the Rights of the Child, spoke in more detail about the consultations to the Voice of Russia.
- Consultations have ended?
- Yes, they have already completed. It would seem that a technical issue related to consular assistance, consular work, unfortunately, sometimes takes on a political connotation. Child protection issues are very acute between our states.
I took the liberty to say the opening remarks, in connection with these consultations, to turn to the American delegation. First of all, I would like the dialogue to continue. It was successfully started in June, when we traveled with the delegation of the Ministry of Foreign Affairs, I headed the delegation to the US State Department.
Negotiations were difficult, I want to consolidate the success achieved. I think we heard and understood each other for the first time. And most importantly, we realized that there are no "Russian Americans" or "American Russians" who were adopted and live in America, but there are our common children and common problems that cannot be ignored, which need to be opened and solved together, not politicizing these issues, but, conversely, translating them into the legal mainstream.
We need to expand humanitarian cooperation, not argue over political issues. Unfortunately, in Russia and in America there are odious politicians who are trying to speculate on this. In the United States in the next election race, regular senators, congressmen are trying to announce that they will cancel the adopted law, we are starting to say that we are almost cannibals, we are depriving children of the future.
These questions should be a thing of the past, we need to look wider at the problem. Wider, because they are not decided by the categories "today" and "tomorrow", but by the categories "our ancestors" and "our future." So it is necessary to think and stop the division into "ours", "yours", "you are to us", "we are to you." We are not a donor country to only give away children. No, we are a serious, great country, we are redefining in the new way, setting priorities, solving the issues of child protection. This we told to the Americans.
- Tell me, were any specific cases of children discussed, or was the conversation in general?
- Consultations are more general in nature, they do not deal with specific cases, although we continue to recall specific cases. We presented a list of questions that are of interest to us in specific cases - these are questions on the affairs of children who are in the proceedings of the courts or the investigating authorities.
This is a question about the notorious ranch, to which we still have not received an answer. These are answers to requests from the General Prosecutor's Office (17 requests, not all of which have been answered), this is the access of the Russian consuls to the United States — all of these questions are known to the American side.
But the consultations did not discuss specific cases, people and children, but the principles for the consuls' access to families. Americans are concerned about the issue of adoption by people with dual citizenship, the issue of adoption by relatives who have American citizenship, that is, more general issues of a consular nature.
But, nevertheless, we always remind that there are debts on reports, answers, including the General Prosecutor's Office. Americans confirm, they say, yes, we know, we do, we will respond, we will provide information. How soon will this happen? Let's hope that soon enough.
- Did you manage to agree on something, were steps taken for further work?
- We certainly manage to negotiate, we hear each other, because the questions are counter: we are concerned about some, they are others. Whether we want it or not, we have to negotiate, and I see a lot of progress in this. We finally understood that it is impossible to focus on a very narrow topic of adoption - you give us children, and we will take it and we will not report to you. No, this is no longer happening, and in the future this will no longer be.
The Americans have come to terms with this, at least that is the official position of Washington. As for the prospects, they are the widest. We talked about the need to expand humanitarian contacts, education, cultural exchange, and treatment. Why do we only rely on the question of adoption for treatment? We can at the expense of the state - and we do it - send children, including to America, for rehabilitation, for rest. It has always been, these contacts should be expanded, and the Americans agree that humanitarian contacts should be expanded.
- Now consular workers have the right of access to Russian children adopted by Americans?
- Yes, they certainly do. The cooperation agreement on international adoption between Russia and the United States will end in providing reports and replies to January 1 2014 requests. But even before this agreement, almost 20 years, there was a procedure for communication of consular representatives, workers with our children, who until our majority retained our citizenship.
This principle operates within the framework of the Vienna Convention 1963 on Consular Relations. Our consular officers have the right to access our citizens, children who live in the United States. This again has to be reminded, unfortunately, because for Americans there is a holy of holies - the secret of private life, a personal, family secret, which not everyone is ready to break, obeying international rules, laws and treaties that America has signed. Every time you have to explain. Reluctantly, but still go forward.
- Do Russian-American relations on the issue of adoption improve, are steps outlined to normalize this process?
- Of course, we have moved into the sphere of technical coordination of issues. We left politics, thank God. This was achieved through difficult negotiations. But it was important for us to get away from politics. Do not interfere with everything in a pile, do not blame us for the fact that we, such-and-such, have passed a law, which, in fact, should be adopted by any normal developed state that cares for its children and places responsibility for each child on itself . This is a normal condition.
How can this not understand the Americans? They not only bring up their children, but also take many children from other countries, they take care of the children. At least demonstrate it. How this happens in practice, we know.
We did not conduct an investigation, but American journalists who identified a network for the exchange of adopted children. But these are their problems, which in some part also concern us, because our children fall into these networks. A normal state will not allow its children to enter this international market.
We are trying to explain that Russia is different now. This is not the Russia that was 20 years ago, kneeling, in debt, with a destroyed infrastructure, with a social sphere that was not provided for. Priorities have changed, there will be no going back, we only go forward.
We try to remind that it is our right to pass those laws that we consider necessary, which we are able to execute and will fulfill. The facts we are talking about are obvious. Even according to the notorious list, allegedly children who were adopted by the Americans could not leave Russia. This is not the case. All children who were adopted by Americans before 1 in January 2013, went abroad.
Remember how many disputes there were - to let out, not to let out. The position voiced by the president - and I fundamentally stood in this position - the court decision was made, no need to appeal it, you need to let the children out. But with 1 January - sorry, new rules, new law. We live in the future, not the past.