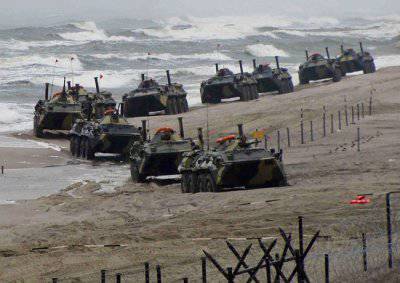 A visiting meeting of the military-industrial commission on the basis of the Baltic was held in the Kaliningrad region fleetduring which attention was drawn to the difficult situation with the technical equipment of the marine corps: the lack of modern communications and intelligence, including unmanned aerial vehicles and robotic systems.
There are difficulties with command and control systems, with ammunition, shooting
weapons
, means of landing and combat equipment of the personnel of the assault and reconnaissance subunits, Deputy Vladimir Bessonov, a member of the State Duma's defense committee, told Izvestiya.
"It is necessary that the marines not be financed according to the residual principle, but as it should," explained Vladimir Komoedov, chairman of the State Duma's defense committee. - We have no floating
tank
For example, they were, but already out of date. Nothing has been developed, we need new floating armored personnel carriers and a lot of everything else. "
Following the meeting, a report and a letter to the Minister of Defense were prepared, with a request to pay special attention to equipping the troops with modern weapons, military and special equipment. At the same time, at the moment, the state armament program for 2011-2020 has not provided for targeted purchases of military equipment for naval units and formations of the Navy. In accordance with the presidential decree, the share of modern VVST samples for the 2015 year should be at least 30%, and for the 2020 year - at least 70%.
According to Konstantin Sivkov, the first vice-president of the Academy of Geopolitical Problems, the army needs new models of armored vehicles, and modernization of old BMPs is not excluded.
"First of all, this is armored vehicles. Now the main fleet is the T80 BV tank of the previous generation 82 of the year of development, at this stage we can still agree with it, but in the future it needs to be improved. The fleet of vehicles of infantry fighting vehicles is mainly represented by the 2 infantry fighting vehicle, there is even an 1 infantry fighting vehicle in operation. Therefore, it is necessary to talk about the re-equipment of combat vehicles - the BMP-3 and the BMP-4, "said Sivkov. In addition, the expert noted that the naval infantry and artillery equipment must also be updated. "The rocket artillery system of the marines needs to be updated, now it is the Gvozdika, a 152-mm howitzer. We need a more powerful artillery system such as MSTA-S, "said Sivkov.
He also noted that it was necessary to modernize landing ships of Polish construction, designed at the beginning of 70, and also to lay new ships, but not such as the Mistral - according to Sivkov, they are not able to perform all the combat missions.