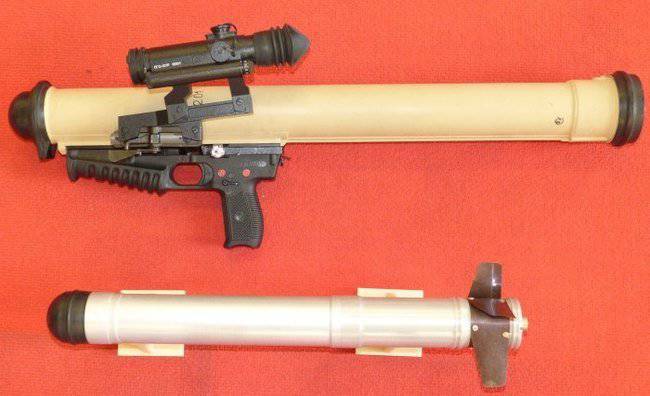 The Instrument Engineering Design Bureau (KBP) has developed a new grenade launcher with a thermobaric warhead "Bour". It was shown at the company's booth as part of the 17 international exhibition of state security "Interpolitex-2013".
Caliber 62 mm
Type of jet
Weight 4.8 kg in combat position
Effective range ~ 650 meters
The Boer rocket launcher is designed and manufactured by the Instrument Engineering Design Bureau (KBP) as a light infantry
weapons
support Currently, the Boer rocket launcher is being tested in the Russian army and other law enforcement agencies, and is also offered for export.
The Boer rocket launcher consists of two main components - a reusable fire control unit and rocket-propelled grenades in disposable transport and launch containers (TLC).
The fire control unit is made in the form of a plastic case with a pistol grip and a small forearm. It contains a trigger and safety mechanisms and mount for TPK with a grenade. On the left side of the block body there is a bracket for mounting various sights (the standard scope of the PGO-BUR rifle is standard, installation of night and IR sights is also possible).
Rocket launchers for the Boer grenade launcher are currently available in two equipment versions - high-explosive / thermobaric (with a charge of air-fuel explosive, with TNT equivalent of about 6 kg) and high-explosive. Curb weight TPK with a grenade - 3.5 kg. Each grenade at the factory is packaged in a plastic transport and launch container (TPK), hermetically sealed from the ends with rubber caps. The covers are knocked out automatically at the moment of the shot. For firing TPK with a grenade joins the control unit of shooting. After the shot, the empty TPK is removed from the block and ejected. On the grenade trajectory stabilized drop-down tail stabilizers of spring steel. The effective range of shooting reaches 650 meters, the maximum - over 900. The characteristics of the rocket engine allow it to be safe for the shooter to fire at rooms of at least 30 cubic meters (which is approximately equivalent to a living room of 16 sq. M).