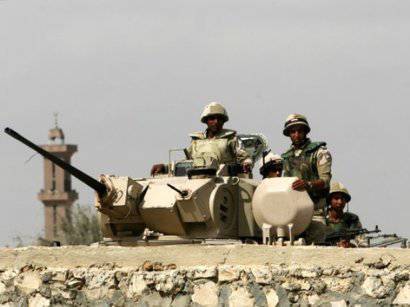 The military who came to power in Egypt is extremely interested in acquiring large quantities.
weapons
Russia, after the United States suspended a number of defense supplies to Cairo, writes the British press.
The Egyptian military would like to get combat aircraft from Russia capable of operating at low altitudes, modern anti-tank missile systems. They are also interested in modernizing the Soviet
tanks
, which are in service with the Egyptian army, ITAR-TASS reports with reference to the Sunday Times.
The newspaper reports that "at the beginning of this month, US Presidential Administration Barack Obama's administration halted shipments of Egyptian Apache attack helicopters, Harpoon anti-ship cruise missiles, F-16 aircraft and tank spare parts to Egypt." At the same time, Washington refused to transfer 260 million dollars in financial assistance to the Egyptian armed forces.
"A vacuum has arisen in the strategic policy of Egypt, which opens up the possibility for Russia to fill it," quotes the publication of the influential Egyptian analyst Moatah Abdel Fattah. In turn, Foreign Ministry spokesman ARE Badr Abdel Ati said that "our policy after 30 June is to create equal relations and partnerships, rather than maintaining unequal relations between the donor and the recipient."
3 July 2013, after lengthy protests in Egypt against the country's president, Mohammed Mursi, Egyptian Defense Minister Abdul Fatah Al-Sisi announced the overthrow of the president and the suspension of the Constitution. Mursi was placed under house arrest, and then was officially detained in connection with the presentation of a number of charges. More than 300 members of the Muslim Brotherhood Party were arrested in Cairo. Acting President was appointed chairman of the country's Constitutional Court Adly Mansur.
After the coup, the US and the EU suspended military-technical assistance to Egpit. Until recently, the annual military aid from the United States to Egypt amounted to 1,3 billion dollars.