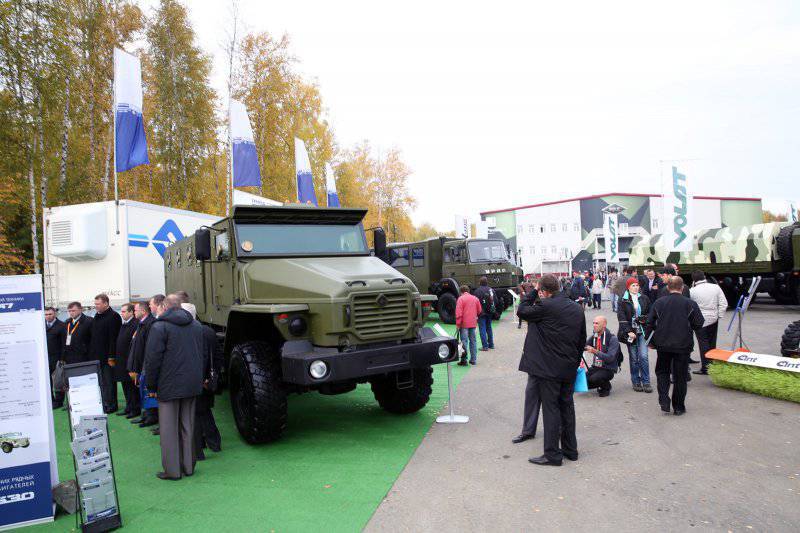 The Ural plant in 2014 will transfer the first batch of eight new Ural-4320ВВ armored vehicles to the internal troops of the Ministry of Internal Affairs, said Viktor Surkov, the leading design engineer of the plant.
Words Surkov leads channel "Rain" with reference to "Interfax".
A sample of an armored car was presented at the Interpolitex-2013 international exhibition in Moscow. In November, will begin troop testing machines.
According to Surkov, the 18-ton vehicle is designed to transport troops of internal troops "in heightened danger" to 18. Armor cars withstand explosions of up to two kilograms of explosives. The armored car has two side doors of control modules, a side door of the armored compartment on the right side and two swing doors at the back. If necessary, the crew of the car can be blocked from the inside and firing from the loopholes, as well as from the two upper compartments.
The cost of each car was 10 million rubles. The machine can reach speeds of up to 90 kilometers per hour, its power reserve will be 1100 kilometers.
As stated by the deputy commander of the Vityaz special forces center Konstantin Bystrov, "because of the large size and limited sector of shelling, this car is unlikely to be used in a combat situation, directly in battle, but it is suitable for dispersing unauthorized rallies and various kinds of actions of the bullying crowd perfect".
In the LiveJournal of the Ural automobile plant at the end of September, it was noted that the Ural-4320-BB armored vehicle for internal troops had already passed a state acceptance.
The delegation of the leaders of the internal troops of the Ministry of Internal Affairs of the Russian Federation headed by deputy commander-in-chief for armament Lieutenant-General Sergey Yerygin familiarized with the novelty.
The blog noted that this car was designed specifically for the needs of the Interior Ministry troops. It will be used to transport personnel, and has a high degree of protection for military personnel from firearms.
weapons
and other damaging factors. In some cases, he quite successfully replaces the familiar BTR. At the same time, unlike an armored personnel carrier, the "Ural" is a certified vehicle and a full participant in road traffic, which does not require special escort of the traffic police.
The security officials were very pleased with the experience.