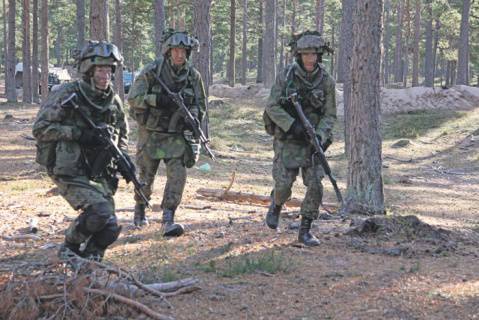 "All Finnish parliamentary parties have reached agreement on military reform." The group of Russian journalists, including the executive editor of NVO, who visited Suomi in the country at the invitation of the Ministry of Foreign Affairs of Finland, told the chairman of the committee on the defense of the Finnish Parliament Mr. Jussi Niynestö about this.
Interestingly, the chairman of the Defense Committee and his deputy, former Minister of Defense Mr. Tom Pakkalen, representing the True Finns opposition party, agree with the plans of the government and the Ministry of Defense to drastically reduce the national defense forces of their country. At the same time, the number of reservists who are drafted into the army in the event of a critical situation should be reduced to 2015 from 540 to 250 thousand, and the number of peacetime reservists will be only 18 thousand. At the same time, the headquarters of military districts will be reduced and eliminated (there are four of them in Finland today, just like in our country, in parts of the world - Zapadny, Severny, Vostochny and Yuzhny), regional commands of defense The Army, Navy and Air Force will be reduced and many other headquarters. For example, the headquarters of the defense territory of the Turku Archipelago or the headquarters of the naval defense of the Gulf of Finland in Kirkkonummi. The main headquarters of the defense forces will be 25 people, in the Ground Forces 2300, in the Navy 4500, in the Air Force 1400, and in the Defense Academy, which includes two more training units, the Egersky Regiment (we were told about it in No. 2050 from 19 – 7 Jun) and the Land Defense School, 13 people.
These numbers we called Colonel Kim Mattssson, deputy head of the strategic planning of the Ministry of Defense of Finland. According to him, despite the reduction in personnel, the country's defense spending will rise to the level of 2009 of the year, when the military's annual budget amounted to 110 million euros, to 130 million euros in 2015 year. At the same time, three principles of Suomi's defense policy remain unchanged: ensuring state defense, universal military duty and non-alignment with military alliances.
Although Helsinki is still involved in the NATO operation in Afghanistan as part of the Partnership for Peace, a contingent of 156 troops is there now, as part of the commitments of the European Union, Finnish guys are present in Kosovo - 21 people, and also take part in UN peacekeeping operations . In Lebanon today there are 182 Finnish military observers.
And although the priority for the Finnish army, of course, is to defend their own country, helping various authorities in various crisis situations, participation in the international military crisis management is the most important task for the military Suomi. And it is clear why. No army can exist without combat experience, and its soldiers and officers in Finland can only be obtained today in international peacekeeping operations. Colonel Mattssson showed us slides on the main areas of military reform in Finnish. They began with a kind of "diamond", in the center of which were the main tasks of ensuring the safety of the population, society and the sovereignty of the state. Only one of the facets of this "diamond" belonged to the National Defense Forces. The rest entrusted this task to state leadership, the department of foreign affairs, ensuring internal security, the existence and viability of the population, the psychological resilience of society to crises, economic development and improvement of infrastructure. "Our ministry," said the colonel, "is the smallest in this series, but the tasks before us are very serious."