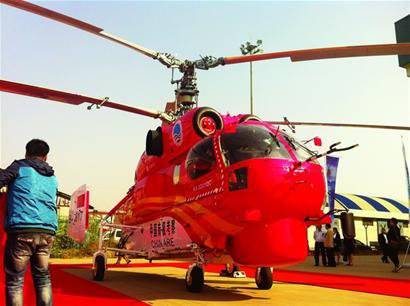 As reported on the web resource aviaforum.ru, on October 9, 2013 the State Oceanic Administration of China (State Oceanic Administration, the term State Maritime Administration of the People's Republic of China is also used in Russian-language literature) was built on its order at the Russian Kumertausky OJSC
aviation
production enterprise (KUMAPP) Ka-32A11BC multi-purpose helicopter. The helicopter (serial number 523324159836, serial number 98-36) was delivered to Qingdao (Liutin Airport) by IL-76 transport plane of the Russian Emergencies Ministry on September 26, 2013. The cost of acquiring this helicopter for the State China's oceanographic control amounted to about 100 million yuan (about 530 million rubles).
This Ka-32А11ВС helicopter received the Chinese civilian registration B-7817 and was acquired by the Chinese side specifically to replace the similar Ka-32А11ВС helicopter (registered with B-7810, serial number 98-16) of the 2009 supply of the year based on the Chinese architect, who was injected by the architect. and crashed in Antarctica 8 December 2011 of the year (as reported by our blog). The new B-7817 helicopter is also intended to be stationed on the indicated Xuě Lóng ship (the Soviet 10621 project of the type "Ivan Papanin", completed for China at the Kherson shipyard in 1993 year) owned by the Arctic Ocean and Antarctic Administration of the State Oceanographic management of the PRC. Already on November 8, a new helicopter with this vessel will be sent to the 30 Chinese Antarctic Expedition.
This helicopter became the third Ka-32A, delivered by KumAPP in the People's Republic of China in the year 2013. Earlier this year, one helicopter of this type (serial number 98-39, Chinese registration B-7822) was received by the Chinese company Jiangsu Huayu General Aviation Co. Ltd. (Nanjing), and the other (serial number 98-39, Chinese hull number 15063) is the fire brigade of the People's Armed Police of the Inner Mongolia Autonomous Region in Ordos County (Hohhot).