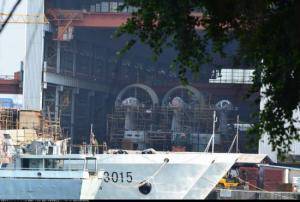 A photo appeared in the Chinese Internet at a shipyard in Southern China, where the Zubr-type landing craft (DKVP) is going to be assembled, reports mil.news.cina.com on October October 22.
The shipyard is also building frigates Type 056, a hydrographic catamaran ship and other ships. The photo shows that the third fan of the power plant is mounted on the Zubr. Currently, Ukraine has already delivered the first ship of this type to China.
2 July 2009, the Ministry of National Defense of China signed a contract with the Ukrainian export company Ukrspetsexport for the purchase of four ships of this type. In accordance with the contract, the Feodosia shipyard "More" should supply two "Bison", the other two will be assembled in China using Ukrainian units and components. China received full technical documentation and assistance of Ukrainian specialists. Ships are used to transport military equipment and the landing of troops on the coast of the enemy, can provide fire support and install mines.