Sokolov Dmitry Sergeevich. Year of birth 1992. Born in Krasnoyarsk. He lived in the city of Dolgoprudny, Moscow Region. Missing 2 July 2012, in the city of Moscow. Dmitry did not return home from Arabic courses that he attended in the Moscow area Chertanovo (according to other sources - in Otradnoe). He was wearing a dark T-shirt, worn jeans, blue sneakers, he had a black backpack behind Dmitry's back and had a passport with him.
The announcement of this type was distributed by Dmitry Sokolov's relatives through the TV show "Wait for me". The information was transferred to law enforcement agencies and representatives of the FSB of Russia. According to the grandfather of the young man, after seven months from the Federal Security Service, an answer came that the search for Dmitry was stopped, quote: "due to the absence of a corpse."
A year and three months later, an explosion took place in Volgograd in the bus number XXUMX. According to investigators, the 29-year-old native of the republic of Dagestan, Naida Asiyalova, who at that time was the so-called civil wife of 30-year-old Dmitry Sokolov, who could become one of the accomplices of the bloody terrorist act in the hero city, committed a self-detonation.
The aforementioned grandfather of Dmitry Sokolov, who was interviewed by journalists from Komsomolskaya Pravda, said that his grandson and Asiyalov had met through the Internet, and rather quickly after the "electronic" meeting, Naida Asiyalova was in Moscow. By the way, it was not the first time in the capital. Here, according to LifeNews, she married Turkish citizen Murad Celik in the middle of 2000, who worked for a Moscow-based commercial company, but after the crisis 2008 decided to return home, but didn't invite her husband to that serves for divorce. It was after this that Asiyalova decided to wear a hijab, which, by the way, her relatives did not approve (at least, they say so today). The foster mother, Ravzat Asiyalova, claims that she tried to dissuade Naidu from wearing the hijab, but that from such conversations only went deeper into herself. According to the adoptive mother, Ravzat and Naida Asiyalov did not communicate with each other since 2009.
It is noteworthy that Asiyalova's relatives declare that their daughter, as they say, plunged into Wahhabism after they began contacts with 18-year-old Dmitry Sokolov. The relatives of Dmitry Sokolov are sure that it was Asiyalova who influenced the young man.
Anyway, during the Internet contacts of young people with 10-year differences in age and from completely different social and ethnic groups, they found common topics for conversation. And, apparently, the themes were directly related to the activities of radical pseudo-Muslim organizations in Russia. Sokolov's visit to "Arabic language courses" fits into these "common interests".
In the 2010 year, 18-year-old Dmitry entered into marriage (no official marriage registration data were found) with 28-year-old Naida. It is noteworthy that the aforementioned Ravzat Asiyalova (Naida Asiyalova's adoptive mother, who blew herself up in the Volgograd bus), states that she learned about her new son-in-law not from her daughter, but from the FSB officers. Special services came to her to find out if she had time to see her new relative. Ravzat Asiyalova and Dmitry Sokolov, according to the first, did not have time to see ...
It would seem to be ordinary information, but upon closer examination of the ordinary it does not seem at all. After all, if you believe the words of the terrorist's mother, then it turns out that several years before the Volgograd terrorist attack, the FSB officers managed to take Dmitry Sokolov into the development, and, accordingly, his "young wife". And if so, then, it turns out that Sokolov had to attend "Arabic language courses" and conduct his contacts with Asiyalova and other "comrades" under the hood of the special services. If so, how can one explain the information that soon Sokolov together with Asiyalova went to Dagestan, where he also managed to undergo training in a subversive case in the militant camp. As they say, special services, hello ...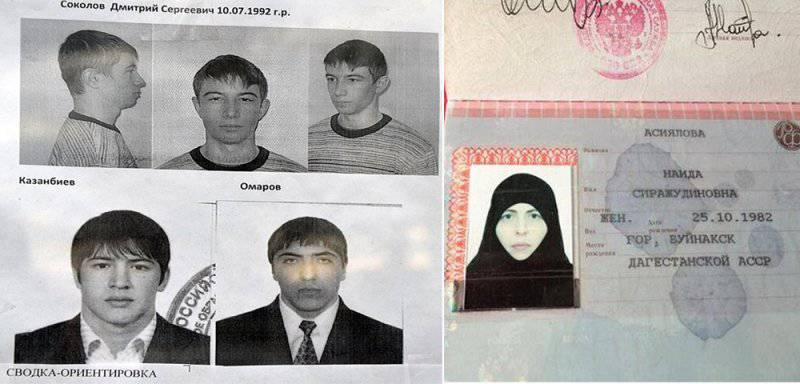 Now the official representatives of the special services and other law enforcement agencies are given the information that they, quotation: "managed to identify the accomplices of a suicide bomber". Surely ... In the accomplices, of course, Dmitry Sokolov is listed. Another two are Ruslan Kazanbiev (1988 of birth) and Kurbat Omarov (also 1988 of birth). These young people are accused of not only organizing the Volgograd terrorist act, but also other criminal acts: double murder at the gas station of Makhachkala, murder of an employee of the Center for Combating Extremism Kurban Akhmetov and undermining the Alaska-30 post in the capital of Dagestan. The murder of a law enforcement officer and the undermining of the post using suicide bombers took place in 2012 year.
Let's return to the interview with grandfather Dmitry Sokolov. The man says that his grandson grew up in a military family, was rather closed for the reason that his parents worked a lot and could not give Dmitry a lot of attention. He did not have time to make school friends, as his father was often transferred from one part to another (from one city to another). At the same time, Dmitri's relatives say that they do not see in a young man who is capable of leading the organization of terrorist acts. The same grandfather notes:
Imagine, in one year a kid who had previously worked as a loader in a store, suddenly became the leader of a gang, an experienced shooter - this is impossible! It needs to learn over the years. He is most likely a minor performer. Maybe he collected the nails there, the explosives, the courier was no more. I think that he was zombied and framed. And he accepted Islam not on his own will. It may turn out to be pure water, maybe it is held somewhere and used. Why, there, stupid, young, no life experience. I am an optimist and I hope that everything will end well. But of course, if at least one article proves to be true that he was in a gang, then, of course, it would not work out just like that ... The term will serve. You must answer for your deeds and actions ...
Whether he became an experienced demolition man or a courier, whether he was framed or he was framed is not so important today. It is important that Dmitry Sokolov is a young man who grew up in an average Russian family, in which there were no problems with food, with shelter, with work, or with financial means for a tolerable life. It is also important that the Russian young man, literally under his nose, not only among his relatives, but also representatives of law enforcement agencies, even a few years before the start of terrorist activity, began visiting questionable centers, which can be called pseudo-Muslim. It is difficult to assume that Dmitry did it against his will. And if on its own, then again, why did its development as a member of terrorist groups actually take place openly? - a clear omission of not only relatives, but also law enforcement officers.
In general, everyone knew everything: both places to visit and "train", and a circle of Internet contacts (judging by grandfather's interview), and "who, whom and with whom", but the militants didn't prevent such knowledge about them from sending on the light of completely innocent people. What does it mean? This means that there are quite a few such Sokolov-Jabbar and Asiyalovs with photos pasted in the passport around the country. Where is the guarantee that today someone else has not gone to the next "Arabic courses"? In general, someone in the special services should at least reduce the number of stars on their shoulder straps. Once again - at a minimum, but only with this, and still being forced to explain to the relatives of the victims, and what do these law enforcement agencies do at that moment when people, especially those who do not hide their terrorist intentions, move freely around the country with fake passports, tied up with TNT sticks .