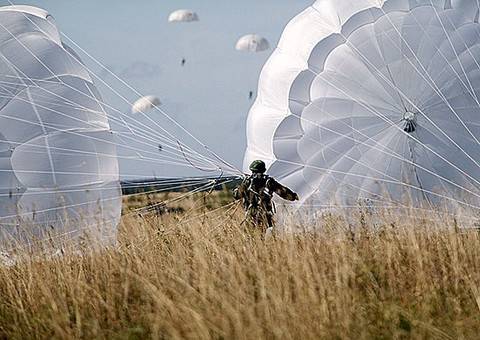 The experimental model of the modified parachute landing system (PDS) D-10P for jumping from a height of 50 m and above will be presented by the holding "
Aviation
equipment "at the exhibition" Interpolitech-2013 ". This was stated by the CEO of the holding Maxim Kuzyuk, reports RIA
News
.
According to him, the system is designed to perform tasks in extreme weather conditions and is an improved version of the serial parachute system for the Airborne Forces D-10. It uses forced automatic opening of the parachute when leaving the aircraft. The new parachute system in action will be demonstrated by the first-class parachutist tester Vladimir Nesterov, who has over 12 thousand jumps.
Development of the D-10P system began in 2011. Last year, it was successfully tested with mannequins and people. The developers have made it possible to quickly convert the serial PDS D-10 to the D-10P system and vice versa. Special units of the Russian and foreign ministries of defense, internal affairs and emergency situations can become potential customers of a promising system.
The XVII International Exhibition of State Security Means Interpolitex-2013 will be held in Moscow from 22 to 25 in October. The demonstration program, under which the new D-10P system will be demonstrated, will be held on October 26 at the Geodesy research institute test site in Krasnoarmeisk, Moscow Region.