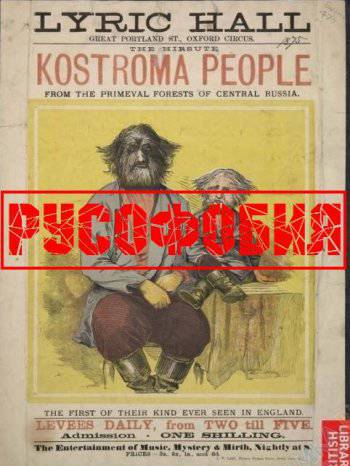 The conversation of the publicist-enlightener A.Strele with the famous economist Vazgen Avagyan.
- Vazgen Liparitovich, first give your definition of Russophobia ...
- Russophobia is not a political or nationalistic phenomenon. It is not associated with a particular party or a specific ethnic choice. First of all, Russophobia is a political shell of wildness and ignorance. Therefore, Russophobia can be both Russian and non-Russian, and Russian and non-Russian can also love Russia. This is about the quality of education. Russophobia is the lot of aggressive savagery, militant ignorance, who rebel against culture and awaken the beast in man.
Take, for example, language. Russian language is as close as possible to Paleo-Sanskrit, to the great language of Indo-European civilization. Modern European languages ​​were born from the mixing of this language with the adverbs of the natives of ancient Europe. The natives did not enrich these languages ​​of Europe, but on the contrary, they primitivized them. They are objectively poorer in Russian in terms of meanings and shades of words, vocabulary, phonetics, grammatical system, etc. For word formation, European languages ​​use more primitive methods, in them word formative mechanisms are undeveloped and defective. This gives rise to a kind of inferiority complex among the speakers of European languages, which develops into a thirst for revenge on inaccessible flourishing complexity, and is reborn from people with deceitful mind into Russophobia.
"But the language is not the reason for Russophobia ..."
- Of course, no, this is just a narrow, but very telling example. The Russians are the bearers of that civilizational principle, which the Europeans have already largely lost, and that is why the Russians attract the fury of savages. It's all very simple: the more wildness - the more and rage. The most primitive Europeans are the most russophobes. If monkeys could understand the national question, they would be the most exemplary Russophobes on the planet. Because a parody of a person always internally believes that on the contrary, a person is a parody of her ...
-As an economist, what do you think about the role of Russians in the global economy?
- There is such a thing as "economic collapse." It is difficult, but I will explain to you with simple examples. For example, if every day a horse's ration is reduced by a few grams, then some time there will be savings in feed, and the horse will not feel anything. But as a result of this line the horse will die, once or sooner or later, i.e. the system collapses, collapses. Another well-known example: if you put a frog in a pan with cold water and slowly bring the water to a boil, the frog will not feel anything: it will not even try to jump out - it will just gradually boil and die.
In economics, there are trends that must inevitably end in a collapse if something does not interrupt them. This is the Western European civilization, and so is the Asian mode of production. If you give them the potential to develop unhindered for a long time, then they will collapse inevitably. The bottom line is that you can not compress the object to infinity, there will come a point where any object will break. You can not expand the object to infinity - any object will break once during expansion.
So, both Western European capitalism and the Asian mode of production can exist only if something holds them back, hinders the realization of inner potencies to the end. And it so happened that these are ideas coming from Russia. I often told the Swedes, for example - do you understand that all your wonderful life became possible only because we are, the Soviet Union? At the same time I was cunning ...
-Did you not believe in the role of the USSR as a threat to predators and a counterbalance to the devastating practices in the West?
-No, I just believed and believe in it. And what is there to believe, when now everything is very clear - there is no USSR, and there is no merry and carefree life in the West. I was cunning in a friend - calling the life of the Swedes wonderful ...
Is she not like that?
-This is the life of geeks and freaks. A hungry person, hitting their mushroom kingdom, will for some time eat up and not think about anything. But we had enough satiety in our USSR too. However, a tightly stuffed stomach does not prevent a person from becoming a complete geek.
Here is a purely school example. Swedish course "Modern Family". The first paragraph that the teachers teach is a story about a family that lived in a "civil" marriage (Swedish "sambo", even a special word was invented, bastard!). Sambo gave birth to children and separated. Now they have other Sambo partners, also with children, and complete confusion, which is called the "modern Swedish family." But this is only the beginning. Next - an interview with a homosexual father who, together with his lesbian mother, artificially conceived a child and is now raising him.
The son lives one week with his dad and one week with his mother Anna-Lena and Lisa. For a son, this is natural. But sometimes he says that he wants them to live together together: Ivan, Ula, Anna-Lena and Lisa. But then Ula explains that mom and Lisa are in love with each other and they want to live in their own apartment. Therefore, they continue to live like this: father's house and mother's house.
Then an article about when homosexuals and lesbians got rights in Sweden, when they were officially allowed to adopt children like any marriage, etc. And information is given where you can read more about this, an Internet address is given. Further the scale is drawn, how many homosexual and lesbian marriages were concluded when it became allowed. All this is adjacent to the text of how bad it is when a woman should marry, have children, raise them and take care of her husband and all relatives. But Sweden has now changed for the better, and do not live with a person if you do not love him. And the rights of women and men are the same, and social status does not depend on whether you are married, divorced, etc. Then in this chapter there is a big article on how to inform children about their parents. Further it is told about old men who lived a very hard life together with each other and having many children.
Any normal person understands that such a panopticon cannot be allowed, and that Russia is the most formidable guardian on the path of this kind of practice, characteristic of a Western defective civilization, embedded in it as a kind of "inferiority gene".
-Who would inevitably give rise to a complete collapse of life, if not for the beneficial centuries-old influence of Russia?
-Exactly. This is an extreme degree of sociopaths, which, however, increases with success in Western society. The higher a person rose in the West, the more he is degenerative. Here is just one example - the famous French actor Alain Delon sued his own son Anthony Delon, for the right to use the brand "A. Delon "for perfumery. Can you imagine that the father not only did not give his son his own name, but even disputes the name of his own son? And what is interesting: how is he, a representative of the public profession, not afraid of public opinion? So it is in Europe in the order of things! And why does he, the old fool, need money for cologne, does he die of hunger ?! At one time, I.Solonevich described a similar situation for the court of a father and son, fishermen, for parts of the lake on which they fished in Germany. But then some fishermen of the early twentieth century, and then Alain Delon himself!
It is obvious to me that not only economic, but in general, fresh, life-affirming ideas from Russia serve the preservation of the life of Western civilization. Russian innovations, Russian philosophy and worldview, and finally, the fear of the Russian invasion - makes these crippled cripples to some extent human. But they always retain the ability to curl up in the complete pathology of complete nonviable lunatics.
- Are you not exaggerating ?!
-These bastards, when they start up in independent mental creativity, generate such squalor that it is ridiculous and scary to watch. Here is the American law - the law !!! - adopted by the legislators, seriously, legitimately, by voting: in Idaho it is forbidden to fish while sitting on a camel. Or other similar examples of American mental activity: in Baltimore, it is not allowed to come to the theater with lions. In New Orleans, crocodiles cannot be tied to hydrants.
In the city of Ottumwa in Iowa, a man cannot wink at a woman if he is not acquainted with her. In the city of Zion in Illinois, it is forbidden to give lighted cigars to cats, dogs and other pets. In Hartford, Connecticut, it is officially forbidden by local lawmakers to cross the road in their arms.
In New York, those who jump off the roofs of buildings face the death penalty (this is the surest way to suicide - if you don't break it - they will burn you in an electric chair.)
Can such people with such laws independently pave the way to the future for human civilization? There is no need to laugh, like many, but to cry. Before us is wildness and ignorance, mental inferiority, sociopathy in its purest form. Naturally, Russophobia also grows out of them: it is terrible to look at its locomotive with a scaffold of civilization. Do you think they would ever go out into space themselves if they did not compete with the Russians?
Russian pressure on these disabled minds manifests itself in two forms: in the form of makeup and in the form of pressure. Both are very fruitful for them. The Russian weakness lies in the fact that the Russians, having built something, immediately break it and begin to build a new one, and less active people receive more material benefits from the built, because they do not break it right away.
- It turns out that actions to protect and support Russians, as a people, always coincide with the protection and support of humanity, universal culture, civilization, and actions hostile to Russians inevitably contain enmity to humanistic ideals?
-That's exactly what happens. It is connected with the Russian
historical
mission that is wider than any ethnism. Let's take the Baltic states or Western Ukraine. What was Russophobia expressed there? That's right, in the marches of the uninhabited SS legionnaires and other Nazi scum. They hate Russians and they are Russophobes, but is their ethnic hatred? Did the Nazis only kill Russians? Fascism fought with world culture and planetary humanity, with the norms of universal morality. Thus, we clearly see that in the Baltic states, and in Ukraine, and by the way, in my Transcaucasia, Russophobia merges irreversibly with misanthropy, with hatred in the most general sense. The stupidity of Russophobia is constitutional, because an intellectually developed person cannot be Russophobe. Take a look - which areas of Ukraine are the most economically developed, the most well-fed? Oriental, where Russophiles live. And what are the most flawed, impoverished, unpromising, subsidized? Western Ukraine, where there are many Russophobes. It turns out, not only Russophobes but also just stupid, because they are not able to establish an economic life and their own life. So I say: these Russophobes and these stupid ones are not different characters, they are the same people.
- What do you think, what is the reason?
-Very simple. People learn, develop the brain, grow spiritually and gradually begin to understand the Russian historical mission. When the Russian doctor, Pirogov, invented anesthesia (anesthesia during operations) - he did not invent it only for Russians. He invented it for everyone. And Gagarin flew into space for all. And Ladygina's bulb not only burns in Russians in houses, and Blinov's tractor not only plows Russian lands, and Sikorsky's helicopters and Zvorykin's televisions ... It's not possible to name all Russian revolutions made in world science - it's a folio, but not an interview. It was the Russian kings who invented detente, disarmament and international arbitration, now embodied in the UN. And if they didn't come up with this, wars would have started hitherto, as in the days of Bismarck ... However, now that Russia has weakened, this is happening. The values ​​of world peace, peace, anti-war initiatives - this is the Russian mission on the planet and without the Russians, there is no one to fulfill it. I say Russophobes usually - well, that you are puffed up, but without the Russians you will drown in your own bloody vomit, because the braking mechanism is organically deprived. Russophobes in the Balkans, for example, are buckets filled with the eyes of political opponents. So Croatian Ustashi acted with Russophilic Serbs. I think it is obvious here that Croat-Russophobes are at the same time opposed to any human civilization, any humane project in which concern for man is contained. I did not come up with this, I just noticed, and I ask you to testify too: just look, HOW ALL, CRUELY TO RUSSIANS, CRUELS ALSO AND TO ALL OTHER PEOPLE, IN GENERAL TO HUMAN.
This is an obvious relationship between Russophobia and spiritual degeneration, the degradation of the individual, and the perniciousness of man-abiding. Even purely biological, Russophobes are some kind of sinister freak show, a kunstkamera of freaks, as if someone had tipped a cornucopia on them with all the injuries and flaws of human nature.
- Apparently, this is inevitable, since Russophobia and hatred of mankind are closing together indissoluble.
-I think yes. That's not the question. The question is what to do to all of us. I think so: live. Live and affirm life. Life-affirmation always comes to the benefit of Russia and the Russians, and the life-affirmation of hundreds of peoples united by the Russian civilization, like springs, should feed the great Russian river ...