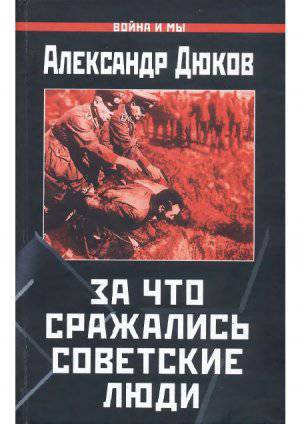 This book should be in every home; every schoolboy should read it. This is a scary persuasive book; Sorry, was released in scanty copies. However, now it is being sold under a copyright title.
"I saw that a person cannot see ... He cannot ...

I saw how a German echelon went down at night and burned down, and in the morning they put all those who worked on the railroad on the rails and let a locomotive along them ...

I saw how people were harnessed ... They had yellow stars on their backs ... And they rode merrily ... They were driven by whips ...

I have seen mothers beaten out of the hands of children with their bayonets. And thrown into the fire. In the well. And the turn didn't reach us with mother ...

I saw a neighbor dog crying. She sat on the ashes of the neighbor house. One ... "
Yura Karpovich, 8 years
"I remember how the hair of the murdered mother burned ... And the little one had diapers near her ... We crawled through them with the elder brother, I held on to his pant leg: first - into the yard, then to the garden, until the evening they lay in the potato In the evening, they crawled into the bushes. And then I burst into tears ... "
Tonya Rudakova, 5 years
"A black German turned a machine gun at us, and I understood what he was going to do now. I didn't even have time to shout and hug the little ones ...

I woke up from my mother's crying. Yes, it seemed to me that I was sleeping. I got up, I see: mom is digging a hole and crying. She had her back to me, but I did not have the strength to call her, I had enough strength, just to look at her. Mom straightened out to rest, turned her head towards me and how would scream: "Innochka!" She rushed to me, grabbed me in her arms. He holds me in one hand and feels the other with me: what if somebody else is alive? No, they were cold ...

When I was treated, my mother and I counted nine bullet wounds. I learned to count. There are two bullets in one shoulder and two bullets in the other. It will be four. There are two bullets in one leg and two bullets in the other. It will be already eight, and there is a wound on the neck. It will be nine. "
Inna Starovoytova, 6 years
"We have six people in the hut: grandmother, mother, elder sister, I and two younger brothers. Six people ... They saw out of the window, as they went to the neighbors, ran in the hall with the youngest brother, closed the hook. on the chest and sit near the mother.

Hook weak, German immediately pulled off. Crossed the threshold and made a turn. I did not have time to make out, is he old or young? We all fell, I fell for the chest ...

The first time I regained consciousness when I heard something dripping on me ... It drips and drips like water. He raised his head: mother's blood drips, mother lies dead. I crawled under the bed, everything was covered in blood ... I am in blood, as in water ... Wet ...

Consciousness came back when he heard a terrible female voice ... A cry hung and hung in the air. Someone shouted so that, it seemed to me, he did not stop. Crawled on this scream like a thread, and crawled to the collective farm garage. I do not see anyone ... A cry from somewhere out of the ground is coming ...

I could not get up, crawled up to the pit and leaned down ... A complete pit of people ... These were all Smolensk refugees, they lived in a school. Semey twenty. All lay in the pit, and a wounded girl was rising and falling upstairs. And screamed. I looked back: now where to crawl? The whole village was already burning ... And no one was alive ... This girl alone ... I fell to her ... I don't know how much I was lying ...

I hear - the girl is dead. And push, and call - does not respond. I alone am alive, and they are all dead. The sun is warm, from the warm blood of the steam goes. Head is spinning..."
Leonid Sivakov, 6 years
"Anna Liza Roostert ran up to us yesterday afternoon. She was very angry. They had a Russian girl hanged herself in a pigsty. Our Polish workers said that Frau Roostert beat and cursed the Russian. She died with us, probably in a moment of despair. We Frau Roostert was comforted, because you can get a new Russian worker for a cheap price ... "
From a letter to Ober-Corporal Rudolf Lammermeyer
"HOUSE, DON'T GORNY! »NINA RACHITSKY - 7 YEARS
"I remember excerpts, sometimes very brightly. As the Germans arrived on motorcycles ... I still had two little brothers - four and two years. We hid with them under the bed and sat there all day. The officer with glasses, I was very strange that the fascist was wearing glasses, lived with a batman in one half of the house, and we were in the other. My brother, the smallest, caught a cold and coughed. The next morning the officer comes to our half and tells his mother that if the kinder cry, do not let him sleep at night, he is his "pouf-pouf" - and points at his gun. At night, as soon as his brother coughs t or cry, the mother grabs him in a blanket, runs out and shakes it until it goes to sleep or rest.
They took everything from us, we were starving. We were not allowed into the kitchen, they only boiled it for themselves. A little brother, he heard the smell of pea soup and crawled across the floor to that smell. Five minutes later there was a terrible squeal of his brother. He was doused with boiling water in the kitchen, doused for what he asked for to eat.
And he was so hungry that he would approach his mother: "Let's cook my duckling ...". The duckling was his favorite toy, he did not give it to anyone, and then he says: "We will weld the duckling, and we will all be full…"
Retreating, they set fire to our house on the last day. Mom stood, looked at the fire, and she had no tears. And the three of us ran and shouted: "House, do not burn! House, do not burn! ". They didn't manage to take anything out of the house, I just grabbed my primer ... "