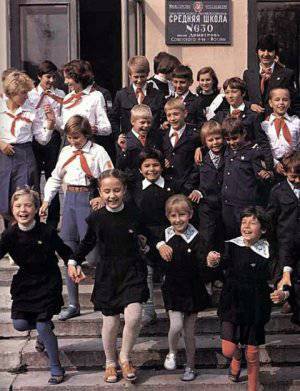 If you were a child in 60, 70, or 80, looking back, it's hard to believe that we managed to live to this day.
In childhood, we drove cars without seat belts and airbags.
Riding in a cart drawn by a horse on a warm summer day was an ineffable pleasure. Our cots were painted in bright colors with high lead content. There were no secret lids on the medicine bottles, the doors were often not locked, and the cabinets were never locked.
We drank water from a column on the corner, not from plastic bottles.
No one could have imagined riding a bike in a helmet. Horror.
For hours we were making carts and scooters from boards and bearings from the landfill, and when we first flew from the mountain, we remembered that we had forgotten to attach the brakes.
After we drove into the thorny bushes several times, we dealt with this problem. We left the house in the morning and played all day, returning when the street lights were lit, where they were. All day no one could find out where we are. There were no mobile phones! It is hard to imagine.
We cut arms and legs, broke bones and beat out teeth, and no one sued anyone. Happened all.
Only we were to blame, and no one else. Remember? We fought to the blood and went bruised, getting used to not paying attention to it.
We ate cakes, ice cream, drank lemonade, but no one got fat, because we rushed and played all the time. Several people drank from one bottle, and no one died of it. We did not have gaming consoles, computers, 165 satellite TV channels, CDs, cell phones, the Internet, we rushed to watch a cartoon with the whole crowd in the nearest house: there were no video players either!
But we had friends. We left the house and found them. We rode greats, made matches on spring streams, sat on a bench, on a fence or in a schoolyard and chatted about what we wanted.
When we needed someone, we knocked on the door, rang the bell, or just stopped by and saw them. Remember? Without demand! Yourself!
Alone in this cruel and dangerous world! Without security! How did we survive?
We invented games with sticks and cans, we stole apples in the gardens and ate cherries with stones, and the bones did not germinate in our stomach.
Everyone has ever signed up for football, hockey or volleyball, but not all were in the team. Those who did not fall learned to cope with frustration. Some students were not as clever as others, so they remained for the second year. Benchmarks and exams were not subdivided into 10 levels, and grades included theoretically 5 points, and 3 points in fact.
At recess, we poured water on each other from old reusable syringes!
Our actions were our own. We were ready for the consequences.
Hiding was not for anyone. The concept that you can pay off the cops or retreat from the army, almost did not exist. Parents of those years usually took the side of the law - can you imagine !?
This generation has created a huge number of people who can risk, solve problems and create something that was not there before, simply did not exist.
We had freedom of choice, the right to risk and failure, responsibility, and somehow we just learned how to use it all. If you are one of this generation, I congratulate you. We were lucky that our childhood and youth ended before the government bought freedom from young people in exchange for "commercials", "mobile phones", a factory of stars and cool crackers ...
With their general consent ... For their own good ...
In fact, there are not seven wonders of the world in the world, but much more. Simply, we are accustomed to them and sometimes do not even notice. Well, isn't that a miracle the first Soviet aftershave tool? Remember? Pieces of the newspaper?
And such a miracle as tuning the car "Moskvich-412"? Remember?
5-penny coins around the perimeter of the windshield, fur wheel, epoxy handle gearbox with a rose and, of course, a police cap on the rear window.
And the gum from the pants - it's also a miracle! After all, she keeps both panties and tights and mittens perfectly!
Pie with jam - well, isn't it a miracle? You can never guess which side of the jam will come out!
Another inexplicable miracle - please raise your hands, those who had a normal teacher of labor ... and not an alien?
And such a miracle, like a string bag with meat behind a window leaf? Remember: getting to get - dumplings fell!
But this wonderful mother's divorce: "I'm buying you now, but this is for your birthday" ?!
Or this magic grandmother phrase goodbye: "Just return the banks!"
Do you remember the Dnepr refrigerator, with such a handle? It's a one-armed bandit! Pull the handle - banks fall out.
And by the way, what is still lying in the refrigerators on the side door?
No, not eggs. And not ketchup. On the side door there are ... medicines!
Free medicine is also a miracle. The doctor is one, and the queue two - one for coupons, and the second by appointment. And the third was also - "I will only ask!"
Yes, how many more of them, these wonders of the world ...
A small window from the kitchen to the bathroom - what is there to watch, explain?
Shoe spoon-horse ...
Tooth powder - brushes both teeth and silver ...
Manneken Pis on the toilet door ...
TV "Ruby" - you take passatizhi and tyn-tyn-tyn!
Anchorage ... remember?
Milk in triangular packs!
And you say: "Seven Wonders of the World!"
We used to do a lot of things such that now it would not even come to mind. Moreover, if you today at least once do what you did all the time, they will not understand you, but they can accept you as a madman.
Well, for example, remember, machines with soda water. There was still a faceted glass - one for all. Today, no one would even think of drinking from a common glass! (Today it will be stolen five seconds after installing the machine, exactly three seconds before the machine itself is dragged off ...) And before that, everyone drank from these glasses ...
The usual thing! And no one was afraid to catch some infection ... By the way, these glasses were used for their business by local drunks. And imagine, just imagine this - they RETURNED the glass on the place! Do not believe? And then it was - a common thing!
And people hanging a sheet on the wall, turning off the lights and mumbling something under their breath in the dark? Sect? Not! Earlier in each house there was a ceremony, which was called - hold your breath - filmstrip! Remember this miracle ?! Who is running the projector of filmstrips now?
Smoke brings down, acrid smell throughout the apartment. This tablet with the letters. What do you think? Indian great priest Aramonetrigal? In fact, it is you-gi. Millions of Soviet children burned postcards to mothers on 8 Martha: "Mommy, congratulations on International Women's Day. I wish you a peaceful sky above your head, and a bicycle for your son. "
And everyone was sitting in the bathroom, and on the lowered toilet seat, and in the dark - and the luminaries there were only a red lantern ... Guess? .. They printed photos. All our life in these black-and-white photographs printed by our own hands, and not by the soulless uncle of Kodak. Well, you remember.
Yes, we were like that, but we became like that:
1. By mistake, you type your system access password in the microwave.
2. You have a list of 15 numbers to contact your family, which consists of 3 people.
3. You send an e-mail to your colleague that is sitting in the next room.
4. You have lost contact with your friends or family because they do not have an email address.
5. After work, you go back home and answer the phone as if you were still at work.
7. You fall into a state of panic if you left the house without a mobile phone, and you return for it.
8. You wake up in the morning and the first thing you do is connect to the Internet, even before you drink coffee.
9. You tilt your head to the side to smile: -)
10. Now you are reading this text, you agree with him and smile.
11. Worse: you already know to whom you will forward this message.
12. You are too passionate to notice that the 6 number is not in this list.
13. It took you only a second to run through the message again and make sure that the 6 numbers really aren't there.