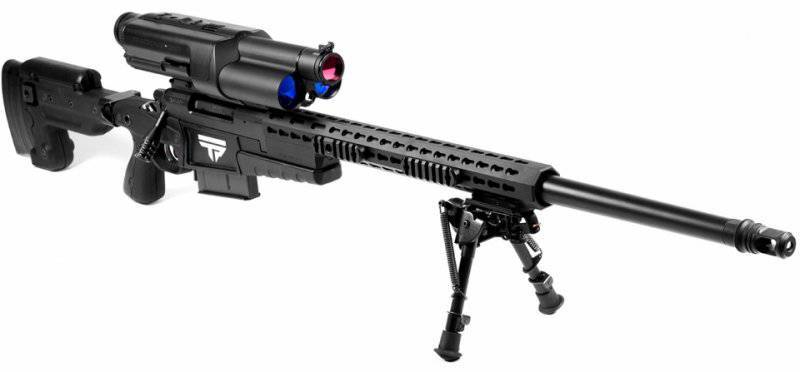 We have already written about a computerized telescopic sight developed by Texan startup TrackingPoint. And now, when the rifle, equipped with it, is sold with might and main, we will tell in detail what it offers to its customers
weapon
price of 22,5 thousand dollars.
The idea of ​​precision-guided firearms (PGF) came in 2009 in the year to John McHale, at that time, to the vice president of Remington Defense, when he was hunting Thompson mini-gazels in Tanzania.
Being a technically savvy person, McHale set out to create a "smart" sight that would smooth the shooter's mistakes, such as incorrect aiming, pulling the trigger, improperly chosen shot time. Thus, the device would allow accurate shooting regardless of the level of training.

The prototype of the sight, commissioned by McHale by engineer John Lufer, made it easy to hit a target the size of a volleyball with 450 yards (411,48 m). In July, 2010, the technology provided the ability to hit a moving target already from 1000 yards (914,4 meters). In February, 2011 John McHale founded TrackingPoint to commercialize smart weapons.
The rifle began to be sold in the USA in May 2013. Today it is available in three versions: 1 mm XS8,6 with 35-zoom effective range up to 1200 yards (1097,28 meter); The XS2 mm 7,62 "lightweight" model with 30 multiple zoom, offering an excellent compromise of size and effective range of shooting (up to 1000 yards); lightweight and compact XSUMNUMX caliber 3 mm with 7,62 multiple zoom, allowing you to hit a target up to 30 yards (850 meter).
The shooting algorithm is simple. Seeing the target to be hit in the sight, the shooter assigns a tag to it by pressing the button. The fact that the tag assignment took place will be visible by the red dot, which will be marked with the object. Next, the arrow needs to combine the blue graphic crosshair in the sight with a red dot. To do this, by pressing and holding the trigger (it will work in Guided Trigger mode), you need to wait until the crosshair, having aligned with the dot-tag, also turns red. After that, a shot will sound.
The decision to shoot is made by a rifle based on the following factors: data from a laser rangefinder; user pre-entered wind direction and speed information; pointing angle and GPS coordinates; gyroscopic stability; initial bullet speed; Magnus effect; Doppler radar data; air density; barrel length and some others.
In addition to their outstanding skills, each of the rifles can make a real show out of the shooting process, streaming video, voice, and various data to smartphones and tablets on Android and iOS.