Being in a hostile environment, Israel will never give up its nuclear sword.
Perhaps not a single topic about Israel is shrouded in such a mist of secrets and omissions as the question of possessing a nuclear
weapons
This country, which remains outside the framework of the Treaty on the Non-Proliferation of Nuclear Weapons (NPT), opened for signature in 1968. In their statements, Israeli officials never confirm, but do not deny that Israel has nuclear weapons, and information about its nuclear weapons and plans for their possible use remains closed, not officially recognized and isolated from other events in the life of the country.
At the same time, the overwhelming majority of experts of the international community are convinced that Israel has nuclear weapons. Anyone's doubts were finally dispelled on October 5 1986, when the newspaper The Sunday Times of London published an interview with a former employee of the Israeli atomic research center in Dimona Mordechai Vanunu, in which he spoke about the nuclear weapons program in Israel, accompanying his interview with photographs taken on the territory of the atomic center in Dimona.
This article covers aspects related to Israel's nuclear program, its nuclear weapons and its nuclear strategy.
Nuclear program
Israel's nuclear program was launched in the 1952 year, when the Atomic Energy Commission was established, headed by Ernst David Bergmann, a specialist in organic chemistry (he is considered the "father" of the Israeli nuclear program). The scientific and technical cooperation of Israel with its friendly countries played an important role in the formation and development of this program. On a large scale, it was carried out with France and the United States.
Especially closely in the development of nuclear weapons, the Israelis collaborated with France. In 1950 – 1960, Israeli specialists participated in the program to build a French nuclear bomb and the Israeli side received data obtained during France's nuclear testing in the Sahara desert in 1960 – 1964. In addition, France helped Israel create a manufacturing base for weapons-grade plutonium production. According to the secret French-Israeli agreement signed in 1956, the French built in Dimona (Negev desert, 120 kilometers southeast of the city of Tel Aviv) a heavy-water IRR-2 reactor on natural uranium with an initial electrical capacity of 26 MW. This reactor was commissioned in 1963-m and upgraded in 70-s: according to estimates, its electrical capacity increased to 75 – 150 MW. As a consequence, weapon-grade plutonium production could increase from 7 – 8 to 20 – 40 kilograms per year.
Since the physical launch of the IRR-2 reactor, Israel has taken an important step in the implementation of its military nuclear program. The nuclear research center Negev (Negev Nuclear Research Center - NNRC) was formed around this reactor, where the main work on the production of fissile materials and products from them for nuclear warheads is carried out. In this atomic center, whose facilities are mostly located underground, in addition to the IRR-2 reactor, there is an industrial radiochemical plant for the separation of plutonium from fuel irradiated in the reactor, an enterprise for the purification and processing of uranium ore, an experimental cascade of gas centrifuges for the separation of uranium isotopes, factory installations for the production of metallic uranium and plutonium, as well as fuel (fuel rods) for nuclear reactors, a complex for the production of heavy water (tritium), lithium-6 and lithium deuteride, a number of research aboratory, including laser enrichment of uranium and the magnetic method for the separation of uranium isotopes.
There are various expert estimates of the amount of weapons-grade plutonium produced in Israel. Of these, the data of the Stockholm International Peace Research Institute (SIPRI) are most trusted, according to which, as of 2011, Israel could have produced 690 – 950 kilograms of weapons-grade plutonium in Israel. Moreover, according to SIPRI, the production of weapons-grade plutonium in the country is still ongoing, which indirectly indicates Tel Aviv's intention to increase the Israeli nuclear potential.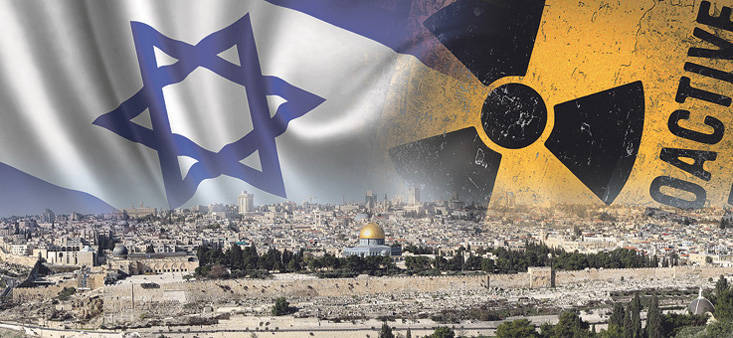 Regarding the uranium reserves in Israel, they are estimated to be sufficient for their own needs. Already in 1972, this country no longer needed foreign supplies of uranium raw materials, since the phosphate fertilizer industry could annually produce as a by-product from 40 to 50 tons of uranium oxide, which doubled the annual demand of the IRR-2 reactor. By the beginning of the 90-s, production of uranium oxide in Israel was brought to 100 tons per year.
At the same time, according to SIPRI, there is currently no industrial production of highly enriched uranium (HEU) in Israel. Consequently, there is no production of nuclear munitions based on HEU. The required amount of HEU needed to produce fuel for the light-water reactor IRR-1 (which will be discussed below) is accumulated in the NNRC, where, as already mentioned, there are relevant experimental and laboratory facilities. It should also be borne in mind that in order to ensure the operation of the IRR-1 reactor in 1960 – 1966, the United States delivered 50 kilograms of HEU to Israel.
The start of US-Israeli nuclear cooperation was launched in 1955. The United States agreed to build in the Nahal-Sorek (20 kilometers south of Tel Aviv) a research light-water pool-type IRR-1 reactor 5 MW, launched in June 1960, as well as organize training of Israeli specialists in national laboratories in Ok - Ridge and Argone. During 1955 – 1960 years, Israeli specialists trained 56 in these laboratories.
Due to its low power, the IRR-1 reactor could hardly be used as a weapon-grade plutonium accumulator. At the same time, it was at this reactor that Israeli experts gained experience in handling HEU. It is also important that a complex of buildings was built around the IRR-1 reactor, which housed laboratories and grew a research center, where various research in the field of nuclear science and technology, including military ones, is being conducted. In particular, it is assumed that it is in this center that the research and design development of nuclear weapons is carried out. The nuclear ammunition assembly plant is located elsewhere - in Iodefat (130 kilometers northeast of Tel Aviv).
With regard to the cooperation of Israel with other countries in the field of military use of nuclear energy should be noted the recorded fact of such joint work in the 70-s with South Africa and Taiwan. Moreover, cooperation between Israel and South Africa in creating nuclear weapons looks more than revealing. Back in 1977, Newsweek magazine, citing the opinion of a number of experts from the American intelligence community, explicitly stated that the alleged South African atomic bomb was an Israeli nuclear device. 22 September 1979, exactly on 1.00 GMT, sensors on board the American VELA satellite 6911 recorded two flashes of light in the Indian Ocean near the Prince Edward Islands belonging to South Africa. The most obvious explanation is that nuclear tests took place. The list of suspects in their conduct quickly narrowed to South Africa and Israel.
A political decision by the Israeli leadership to build nuclear weapons was made in 1955, and the corresponding program began to develop rapidly after the so-called Suez crisis in the fall of 1956. To this, Tel Aviv was then pushed by the threat of the use of nuclear weapons against Israel, which was voiced in a speech by the Chairman of the Council of Ministers of the USSR Nikolai Bulganin.
According to the Rosatom Institute of Strategic Stability (ISS), the first Israeli nuclear munitions could be manufactured in 1967 – 1968, and the American research center Global Security claims that even during the so-called six-day war 1967, Israel had two atomic bombs.
Since then, the production of nuclear ammunition in Israel has been steadily increasing, and their nomenclature has been expanding: nuclear warheads of the same capacity have been added to the previously produced atomic bombs with 20 kilotons of kilotons.
Available expert assessments of the Israeli nuclear arsenal lie in a wide range. Thus, SIPRI believes that the Israelis possess approximately 80 assembled nuclear weapons: 50 warheads for missiles and 30 bombs for
aviation
. At the ISS of Rosatom, it is assumed that in total in the nuclear arsenal of this country there are from 130 to 200 ammunition. There are more maximalist estimates, according to which, by the end of the 90s, Israel had 400 ammunition, including air bombs, ballistic missile warheads, large-caliber artillery shells and mines.
It seems that under the conditions of the existing uncertainty with regard to Israel's nuclear arsenal, its most reasoned estimate may be that based on calculations of the use of weapons-grade plutonium stocks accumulated in the country for the production of nuclear weapons.
It is generally recognized that for the manufacture of one nuclear charge is enough five kilograms of weapons-grade plutonium. Based on this premise, it is easy to calculate that with the use of all Israel's stockpiles of weapons-grade plutonium (2011 – 690 kilograms) in Israel, 950 – 138 nuclear weapons could have been produced.
In fact, it was unlikely that all available weapons-grade plutonium stocks were consumed for the production of nuclear ammunition in Israel. It can be assumed, by analogy with the practice of other de jure unrecognized nuclear states, that Tel Aviv left up to a quarter of its stockpile of weapons-grade plutonium in reserve for unforeseen needs. Based on this, by the beginning of the 2012 of the year in Israel's nuclear arsenal there could be from 100 to 140 ammunition. It is quite reasonable that their nomenclature corresponds to the composition of the Israeli nuclear forces (they will be discussed below). At the same time, it can be argued with great certainty that Israel does not have nuclear artillery shells and nuclear mines. Information about the presence of such ammunition had never been confirmed.
In view of the above, the conclusion follows: Israel has created a full-fledged research and production base for the nuclear industry, which allows not only to maintain, but also to increase its nuclear potential. At the same time, Tel Aviv's interest in the development of thermonuclear weapons cannot be ruled out, but on this path, the need to conduct full-scale nuclear tests seems to be an insurmountable obstacle. Israel signed the Comprehensive Nuclear-Test-Ban Treaty in September 1996, although it has not ratified it yet. Therefore, it is unlikely that Tel Aviv will decide to conduct nuclear tests without extreme need.
Nuclear weapons
An expert analysis of the structure of the Israeli armed forces shows that the country has a nuclear triad based on dual-purpose carriers, which are tactical aircraft, mobile missile systems and diesel-electric submarines.
Of the aircraft in service with the Israeli Air Force as carriers of atomic bombs, US-made tactical fighters F-4, F-15 and F-16 can be used, as well as the A-4 attack aircraft, supplied by the United States, which, however, are now kept in storage mode .
The tactical fighter F-4 has a range of 1250 kilometers (without refueling in the air). Its maximum flight speed is 2350 kilometers per hour (at an altitude of 12 000 meters), and the practical ceiling is 21 000 meters. He is able to carry one atomic bomb.
The tactical fighter F-15 (F-15I in the version modified in Israel) has a combat range of 1650 kilometers (without refueling in the air). Its maximum flight speed is 2650 kilometers per hour (at an altitude of 11 000 meters), and the practical ceiling is 18 000 meters. He is able to carry one atomic bomb.
The tactical fighter F-16 (F-16I in the version modified in Israel) has a combat range of 1500 kilometers (without refueling in the air). Its maximum flight speed is 2100 kilometers per hour (at an altitude of 11 000 meters), and the practical ceiling is 18 000 meters. He is able to carry one atomic bomb.
Attack A-4 has a range 1200 kilometers (without refueling in the air). Its maximum flight speed is 1000 kilometers per hour (at an altitude of 5700 meters), and the practical ceiling is 10 500 meters. He is able to carry one atomic bomb.
Of the total fleet of tactical fighters F-4, F-15 and F-16, which the Israeli Air Force has, to perform nuclear tasks, a total of 40 to 50 aircraft have been certified. The number of A-4 attack aircraft certified for nuclear missions does not exceed 8 – 10 units.
At the beginning of the 2012, information appeared that Israeli tactical fighters of the F-15I and F-16I versions were capable of having air-to-air Popey nuclear cruise missiles. If this information is reliable, then the combat capabilities of the aviation component of Israel's nuclear triad have increased significantly, since the range of the Popey missiles can exceed 1000 kilometers.
In addition to the aircraft in service with the Israeli Air Force, mobile missile systems include solid-propellant ballistic missiles Jericho I and Jericho II, which can be equipped with warheads in both conventional and nuclear equipment.
Jericho I single-stage short-range ballistic missile (BRMD) was put into service in the 1972 year. The French rocket development firm Marcel Dassault took an active part in its development. This rocket has a launch mass of 6,7 tons and has a firing range of up to 500 kilometers with a mass of the head of about 1000 kilograms. Shooting accuracy (circular deviation) - about 500 meters.
The two-stage medium-range ballistic missile (MRSD) Jericho II was put into service in the 2002 year. It has a starting mass of about 14 tons and has a range of 1500 – 1800 kilometers with a mass of 750 – 1000 kilograms. Accuracy of shooting (circular deviation) - 800 meters.
According to estimates, the Israeli Air Force has a total of up to 150 BRMD Jericho I and from 50 to 90 BRSD Jericho II. The number of mobile launchers for these missiles can be 30 – 40 units (18 – 24 for Jericho I and 12 – 16 for Jericho II). In peacetime, these launchers are not deployed, they are located in specially equipped underground structures at the Kfar Zakhariya missile base (38 kilometers south of Tel Aviv).
With regard to the promising development of ballistic missiles of increased range, then in Israel, experimental work is underway to create a three-stage solid-fuel missile Jericho III. Her first flight test was conducted in 2008 year, and the second - in November 2011. The firing range of this missile can exceed 4000 kilometers with a mass of 1000 – 1300 kilograms. The adoption of the Jericho III rocket is expected in 2015 – 2016.
The Shavit space launch vehicle can be considered a potential long-range delivery vehicle. This three-stage solid-fuel rocket was created using American technology. With it, the Israelis launched five spacecraft weighing about 150 kilograms each into low near-earth orbits (in September 1988, April 1990, April 1995, May 2002, and June 2007). Three launches of spacecraft, conducted on September 1994-th, January 1998-th and September 2004-th, were unsuccessful.
According to experts of the Lawrence National Laboratory (Livermore, USA), the Shavit launch vehicle can be relatively easily modified into a combat missile capable of delivering a payload of 500 kilograms over a distance of 7800 kilometers. However, it is hardly possible to consider this launch vehicle as an effective means of delivering a nuclear weapon (it is located on a bulky ground launch device and has a very significant preparation time for launch). At the same time, the constructive and technological solutions achieved during the creation of the Shavit launch vehicle may well be used in the development of combat missiles with a range of 5000 kilometers and more.
Test and combat training launches of combat ballistic missiles and launching spacecraft into near-earth orbits Israel carries out from the Palmahim rocket test range located in 22 kilometers south-west of Tel Aviv. In addition, for carrying out test and combat training launches of combat ballistic missiles a towed offshore platform is used, which is located in the Mediterranean.
The sea component of the country's nuclear triad consists of German-made Dolphin diesel-electric submarines with cruise missiles, which can be equipped with warheads in both conventional and nuclear equipment.
The Israeli Navy has three submarines of the Dolphin class, which were delivered from Germany to 1998 – 1999 and are equipped with missile systems (each launch boat has launch containers to launch cruise missiles from under water). Reliable data on the type of cruise missiles with which these boats are armed is not available. According to some sources, these are modernized by the Israelis American Sub Harpoon cruise missiles with a launch range of up to 10 kilometers, while others are the Israeli-developed Popey Turbo missiles created on the basis of an Air-to-Earth cruise missile. Popey Turbo rocket launch range can reach 600 kilometers.
In 2011 – 2012, the Federal Republic of Germany delivered to Israel two more submarines of the Dolphin class, which, after being equipped with rocket weapons, complete the test cycle before entering the Navy (approximately this event can take place at the end of 2013).
Currently, the sixth Dolphin class submarine for Israel is being built in the Federal Republic of Germany at the Howaldtswerke-Deutsche Werft AG shipyard near the city of Kiel. Moreover, the German government in 2011 approved a subsidy in the amount of 135 million euros - one third of the total price - for the purchase of this boat by Tel Aviv. Its transfer to Israel is possible in 2014.
Conclusion: Israel now has a wide range of non-strategic means of delivering nuclear weapons and a solid arsenal of regional standards. In building up nuclear potential, emphasis has been placed on the development of the marine component of nuclear forces, which has the highest survivability. This is considered to be extremely important for Israel, since it is very vulnerable to an attack with the use of weapons of mass destruction (affected by the small size of the country).
Nuclear strategy
The presence of nuclear forces in Israel implies that it also has a nuclear strategy. True, she never declared. However, an analysis of the statements made by Israeli officials suggests that this strategy is based on the following basic principles:
Israel's nuclear arsenal is intended primarily to deter potential adversaries. It seems obvious that the huge geopolitical and demographic (and potentially military) advantages of the Arab and Muslim countries surrounding Israel are regarded in Tel Aviv as an imperative of its reliance on nuclear weapons, which is a guarantee of security;

Tel Aviv regards nuclear weapons as a weapon of last resort. It can be applied first in the event of an armed attack on a country if the very existence of Israel as a state is put at risk;

in the event of a nuclear strike on Israel (or a strike using other types of weapons of mass destruction), the "surviving" nuclear arsenal of the latter will be used without hesitation against the aggressor;

Without a radical change in the military-strategic situation in the region (and in the world) at the official level, Israel will continue to keep silent about its nuclear weapons. It seems that this policy has a certain military-political resource, which Tel Aviv is not going to lose;

Israel is making every effort to prevent the emergence of a real possibility of creating a nuclear weapon by a potential adversary. At the same time, the use of means of force is not excluded, even if the norms of international law are violated.

By and large, now and for the foreseeable future, Tel Aviv has no incentive to abandon nuclear weapons, since they are in a hostile environment. Only two states of the Middle East signed a peace treaty with Israel - Egypt in 1979 and Jordan in 1994. The remaining countries of this region have not yet recognized the sovereignty of Israel, and some of them, in particular Iran, have denied it the right to exist as a state.

Based on what has been said, "anonymous" Israel's nuclear arsenal in the foreseeable future will remain an important component of the military-strategic balance in the Middle East, a significant apple of discord between Tel Aviv's relations with other states of the region and the largest factor for the proliferation of nuclear weapons in the Middle East and other regions.