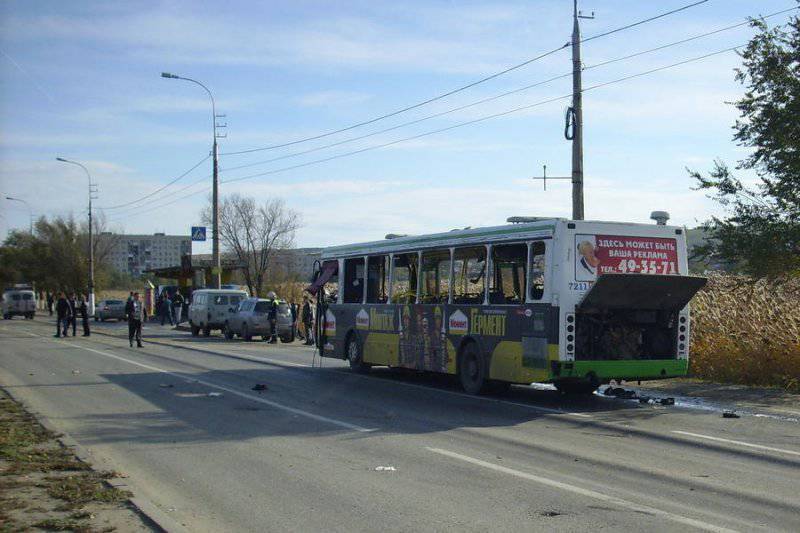 These thoughts have long been spinning in my head. I think not only in mine, so I will not pretend to originality. But when yesterday it exploded in my hometown and the infernal whistle literally overwhelmed everyone and I understood that I should speak at least.
Studying
news
involuntarily, you begin to recall the revelations of John the theologian - not a day goes by that somewhere in the world cars with explosives do not fly up into the air, regular "martyrs" and "hot tabs" do not work, or just ordinary people who have not gone crazy have missed the trunks. In endless disputes on information networks and all kinds of talk shows, people and all kinds of "eyewitnesses and experts" share their impressions, are horrified, express sympathy or call "all heavenly punishment" on the heads of people "waging war with civilians" ... What a long way to go for examples ...
Yesterday's news and discussion
. Naturally, there are eternal questions: "Who is to blame and what to do?" It will take some time and the passions will subside, bury the dead and cancel mourning. Until the next explosion. After all, to prevent a terrorist attack (especially if it is a lone terrorist attack) is almost impossible. What to do? To walk constantly under the sword of Damocles possible loss? It's probably even worse than just "falling under the hand" - people go crazy and no one will pay them compensation "as if they suffered from the terrorist act"
Probably and probably "I will be a bit", but this is what we almost never think about trying to "find the extreme" to the best of our ability ... And what if all of us are guilty in part?
Let's think about why the last year's 20 years curve of terrorism inevitably and inevitably climbs up. Quite often, regardless of the action or inaction of the authorities. The presence or any marked conflicts in society (remember Breivik, remember the wave of "computer shootings in schools"). It seems that "mom, we are all seriously ill, mom, I know we all went crazy ..." (c) And apparently this is not just an impression. The number of people inadequate on our streets is overwhelming beyond all reasonable limits. On the one hand, gushing over the edge aggressiveness but often complete infantilism and inability to predict the situation even for the next five minutes. What is it? Objective laws of social development? Or the "genetic defect" of humanity. I deliberately generalize, because if you look closely, we will see a similar picture with a greater or lesser degree of severity throughout the world. It seems that a virus (I immediately recall World War Z for some reason) covers the world - but unlike the "screen versions" it appeared not from the "third world countries" - but to the contrary, it affects primarily the most technologically developed countries. But with medical infections, mankind is poorly able to fight. Why does the "T virus" continue to creep away? But the fact is that the virus is "INFORMATION" - and it multiplies and spreads with our "joyful help."
В
stories
human society terrorism as a phenomenon has always been present. And as a means of achieving certain goals (of a military, political and economic nature) and as a mental illness leading individuals to spurts of unmotivated aggression (on religious ideological and other grounds). And individuals professing terrorism as an idea and as a method have always been ... In the end, Gassan al Sabbah if you look no less cool than the notorious Bin Laden - regardless of the fact that his order is not something that airliners but even firearms
weapons
there was no ... So, why is it now that terror has not only become an extremely popular method of "achieving a goal", but has generally become a problem # XXUMX? After all, not only in an increase in the number of corpses that a single-person affair who is capable of "piling on"?
Any phenomenon has a cause and a consequence. Let's try to postulate the main causes of "T syndrome"
1) Terrorism as a method of achieving any (political or other) goals. First of all, it is blackmail. De facto, a terrorist is not capable of causing any serious critical damage — even the fall of the "twin towers" ​​compared to losses from domestic fires or car accidents is practically nothing ... And this blackmail is not direct. Please note - extremely rarely objects of terrorist attacks are really critical objects. After all, they are protected and have a regime - in fact, no matter how cynical it sounds, but the destruction of the WTO doesn't affect the life of the city itself - it is not electricity, not water supply. This blackmail is primarily fear. Thereby the irrational fear of senseless and inevitable death.
2) Terrorism as a method to become famous. Modern Herostratus syndrome. Virtually all "unmotivated" executions, if we dig, are based on this. Get your "moment of glory" as unconscious (and often absolutely conscious) the driving force of the most terrible crimes ... And how crazy it sounds but
trick on Mamayev Kurgan
and the shooting of Breivik is essentially a phenomenon of the same order.
All the rest is a variation of these fundamental reasons.
So what then combines a bearded Wahhabi with a hysterical teenager who has replayed a counterstrike?
Media (including the Internet) - it is they who justify the bombing of a suicide bomber on the Volgograd bus and the severed head of a kitten laid out on YouTube ... In World War Z, the zombivirus instantly spreads around the world because the global world is connected
aviation
. "T virus" is spreading rapidly over the network ... And not in the sense of any Wahhabi and other extremist sites ... And in the form of quite official news feeds. Our heated discussions with you, facebook and youtube ...
The main goal of "T syndrome" - like any other virus - is the fastest and all-inclusive spread. And this task is successfully solved for him.
What to do with it? I do not know. Back in the era of the Iron Curtain? Block Internet and satellite TV? Enter censorship? After all, an epidemic is often the only means of quarantine. As far as it is realizable (more precisely not realizable), I think it is clear to everyone.
There is truth, another means, fantastic, or rather not a means, a ghostly hope for him ... It is to stop reacting to the "information virus" - to produce antibodies of logic, reason, common sense. What would be clear - blackmail will not succeed, it will not be possible to become famous. Completely, of course, we don't win the "T virus", there will always be a nourishing environment for it among low spirits and just people with a weakened mind ... But harm can and should be reduced ... At least for a start, stop using this "informational occasion" to inflate "sracha in kammentah", invoking all "kar from heaven" on the heads of "black, red, gray-brownish ..." - and not at all because someone there "does not deserve" but because in fact all these splashes of pain, anger, rage, we feed the "virus T". Create a nutrient medium. The same media will look less to speculate on the topic if it ceases to give them "ratings" ...
It is clear that this is also a wish "in favor of the poor" ... But try to at least think about it.