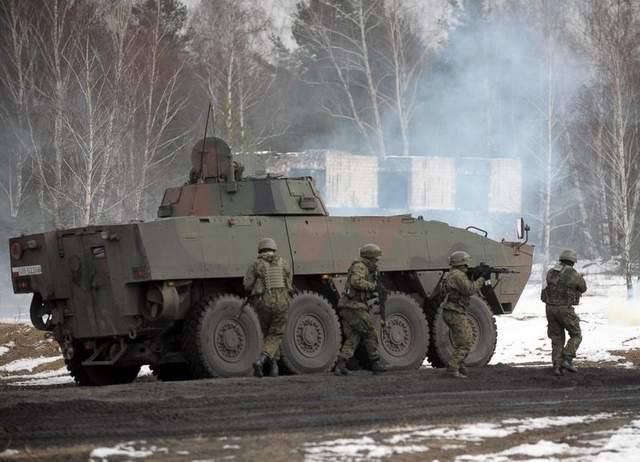 Poland reorients the costs of supporting international military operations, for example, in Afghanistan and Iraq, to ​​the development of mobility and firepower of the ground forces, which is reflected in the modernization program of the country's armed forces up to 2022 in the amount of 139 billion zlotys (44,7 billion US dollars) , reports Defense News 20 October.
15 August, speaking at the Day of Polish Armed Forces, President Bronislaw Komorowski (Bronislaw Komorowski) said that the government is heading towards a reorientation of military priorities in favor of defense policy that does not exceed Polish capabilities, Polish interests and Polish needs. Local analysts conclude that henceforth, arms purchases will be aimed at strengthening national defense.
Ministry of Defense intends to purchase about 120 more
tanks
German-made Leopard 2, according to the local daily Gazeta Wyborcza. These tanks are purchased in addition to the already delivered 128 Leopard 2A4. The amount of the new contract, which should be signed in the near future, is estimated at approximately 200 million euros ($ 270 million).
But the country's financial capacity to modernize the armed forces is limited, most of the funds will go to the development of the military industry. The Defense Ministry's budget for 2014 is likely to be lower than in the current year, but the cuts will not affect the level of technical modernization costs, the fundamentals of which are reflected in the 10-year program. The government should annually allocate for defense needs at least 1,95% of the country's GDP, but it is not yet clear whether this level will be maintained.
Under the program for 2013-2022, the military department plans to allocate more funds for the purchase of combat and transport vehicles to increase the firepower and mobility of the army.
In order to increase mobility during the 2014-2018 period, the army purchases 886 high-performance transport vehicles. By the year 2018, 307 armored Rosomak modular vehicles manufactured by the national company WZMS will also be purchased under license from Finnish Patria. Today, the company has supplied about 570 eight-wheeled vehicles for the Polish armed forces.
The strike power will be enhanced by the purchase of a Krab 155 self-propelled howitzer and a 120 mm self-propelled mortar Rak manufactured by the local defense company HSW. Last year, the Ministry of Defense acquired 24 howitzers, another 98 will be purchased before 2025. From 2014 to 2018, several dozen self-propelled mortars will also be procured from this company.
At the same time, consolidation of the fragmented military industry is under way under one wing, which was announced in September by Prime Minister Donald Tusk. According to the plans, the Polish Armaments Group is being created, which will include WZMS, HSW, Polish Defense Holding, as well as other small manufacturers.