Internet, e-mail, mobile phone conversations are technologies that managed to be christened by three whales of information freedom. Every person in our country with a device connected to the Network (the Internet or cellular network) can share almost any information with other people. Only three directions are prohibited: child porn, drug propaganda and calls for suicide. These prohibitions are regulated for Internet sites by relatively recently adopted amendments to the law "On Information, Information Technologies and Information Security". These amendments (or rather rumors about censorship on the Internet, which turned out to be too exaggerated) were regarded by many in Russia as an attempt to stifle freedom of speech in the country. However, the amendments introduced, no normal person (even suffering from acute attacks of freedom of speech), they just do not hurt.
However, the other day came information that again makes us think not so much about freedom of speech (freedom of speech in general is a loose concept ...), but rather about the observance of the norms of the Russian Constitution, if only because if there is a Constitution in the state, then by definition it must be observed . We are talking about, to put it mildly, some inconsistency of 2, paragraph 23, of the Constitution of the Russian Federation and the draft order of the Ministry of Communications and Mass Communications, which (the order) this ministry agreed with the Federal Security Service of the country. According to this project, 1 will be installed by Russian Internet service providers in July on 2014, which will allow special services to get direct access to users' activities. Special equipment will allow saving data for at least 12 hours and transmit this data for analysis to the relevant departments of the competent authorities. In such a situation, special services can get access to IP addresses, mobile numbers, email addresses in any mail services that users are currently working with, user data from Skype, ICQ, Google Talk, etc. In addition, special services will be able to determine the so-called IMEI-code (international identifier for mobile devices). The document contains a proposal to prohibit the use of anonymizing programs that allow users to surf the Web incognito or under other network data.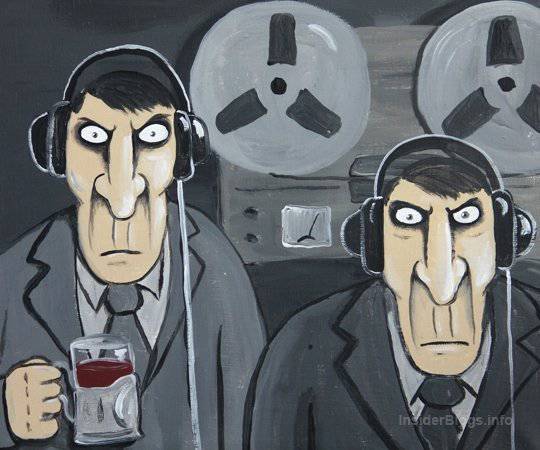 Now that same 23-i (p.2) article of the Constitution of the Russian Federation:
Everyone has the right to confidentiality of correspondence, telephone conversations, postal, telegraph and other communications. Restriction of this right is allowed only on the basis of a court decision.
The key phrase here is "based on a court decision". If the mentioned document (order of the Ministry of Communications and Mass Media, agreed with the FSB) passes through the Ministry of Justice, then it turns out that the special services do not need appeals to the court - everything will be done promptly.
On the one hand, everything looks quite reasonable: if a particular IP address is used to conduct hacker attacks on important resources, fraudulent work is being done from a mobile phone, extremist information is published on a certain site, then employees of competent authorities have the opportunity to take distributors of this information (scammers, hackers, terrorist emissaries and others) "for the gills" without unnecessary bureaucratic red tape. But on the other hand, how will such an order differ from the documents on the basis of which, for example, the US Agency for National Security (sensationally in recent months, the NSA) works. We (ordinary citizens of Russia), and together with us and representatives of the authorities, were outraged and continue to be outraged by the fact of total surveillance, arranged for Internet users and mobile phone owners around the world by representatives of the NSA. We even (not all, but many) applauded the act of Edward Snowden, who decided to give publicity to what the CIA is doing, what plans are being hatched in the NSA, how the "all-seeing eye" tries to see the activity of hundreds of millions of users in different countries of the world. And then, it turns out, some kind of incident. Only, you know, Snowden Sr., who flew to Russia last week to see his son, said that Russia is probably the only place in the world where you can feel safe (his son, at least) when suddenly the talk begins in the style of "the NSA has long been doing, and the FSB is worse?"
Honestly, I would not even like to see the face of this Edward Snowden at that moment when he learned (learned) that in Russia the special services decided to follow the example of their American colleagues ...
Although one should not forget that the initiative with this very ambiguous order of the Ministry of Communications and Mass Media is not a novelty. Did Snowden know about this? - another question. At this point in our country, something similar is already in operation, hidden under the abbreviation SORM (System of Technical Means for Ensuring the Functions of Operational Search Activities). There are two such systems in Russia: SORM-1 (telephone tapping, either with or without judicial sanction, quote: "in exceptional cases") and SORM-2 (system for logging user access to the Internet). Both systems formally began to operate from the beginning of 2000's.
What was the use of these SORMs? The fact is, each telecom operator (provider) had to provide itself with fairly expensive equipment, with which it was possible to save user data and transmit vast amounts of information to special services. Large players on the Internet and cellular market "pulled" the purchase of such equipment, but for small players it turned out to be a little expensive for money players, and even with the required amount, security forces did not always allow small companies to conduct their work. As a result, it turned out that large players survived on the market, and they connected to SORM. For a start, this is about the question of fair competition, and only then about such lofty matters as the Constitution, "human rights", the fifth-tenth ...
A small lyrical digression from the topic.
Analyzing the information about the "new" order of the Ministry of Communications, you come to the conclusion about how naive we are. When buying a mobile phone or computer, using it to exchange information through cellular communication systems or the Internet, for some reason we believe that all our activities in these networks are strictly confidential. By filling in various forms on the sites, we believe the inscriptions that all the information we left will be 100 times protected and no one (except the honestly honest employees of this organization) will use it at all, and even more so for mercenary purposes. Then we wonder why some strange calls from "banks" come to our mobile phones with an appeal to urgently "restore a blocked card", for which we need urgently (certainly urgently) to transfer all funds from our card to some other ... where do scammers know our names, how do they know that they are calling our phone ... And yet you need to be surprised not this, but why, if SORM-1 and SORM-2 systems in Russia are more than 10 years old, everything these mobile and internet scammers continue to "cut money us "on the naive citizens left without a penny gullible pensioners use various sites for extremist propaganda, with a focus on specific user names. Why, when contacting the competent authorities, they just shrug their shoulders: they say, of course, we will consider the appeal, but we can hardly catch the telephone fraudster. Only in rare cases, the activity leads to a result. If it comes to that, then, SORM, where are you? (I hope Edward Snowden does not read this ...)
Lyrical digression ended. It's time to go back directly to the topic and summarize.
So, if there is SORM, which at one time already "established" the connection between the special services and large providers (operators), then why did it take to adopt the next acts of this type? If you believe the data from RussiaToday (and there is every reason to believe this data), then the new order aims to use new equipment to store and transmit data about the activity of Internet users and mobile networks. It can be assumed that this equipment is unlikely to be cheap, as companies will need to store and send to the special services real mountains of information at an acceptable speed. If the equipment is really expensive, then it is very likely that it will be able to be purchased (unless the state helps them, of course) by providers and mobile operators. So, some other group can go to the bottom. Again, more to the issue of healthy competition than about anything else. That is, if the state does not help with money, then there will be trouble with competition on the Internet and mobile market — maybe it's a document that says: fewer companies are easier to control. And if the state helps with money, then a paradoxical situation will turn out: the Russians themselves will pay the intelligence services the possibility of extended control over every computer or phone owner, that is, they themselves will sponsor that same constitutional violation ... But there are few such constitutional violations we have already sponsored without knowing it ...
Or, maybe, another resolution will be issued on urgent amendments to the Constitution to increase the safety of citizens. Although this is unlikely, because, as we found out, there will be more business than security here ...