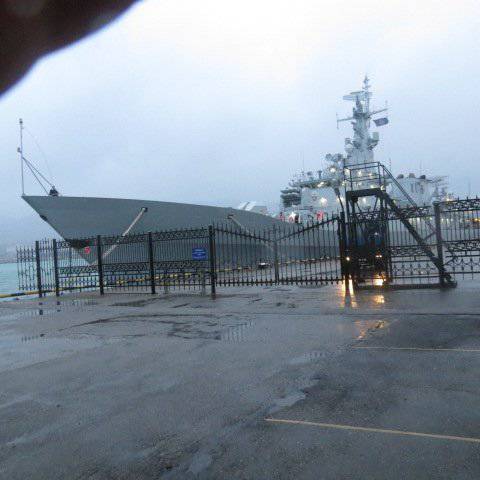 The Pakistani Navy frigate Aslat, under the command of 1st Rank Captain Akhmat Fakuk, arrived today on a friendly business visit to the port of Novorossiysk. This was reported by ITAR-TASS Head of the Information Support Department of the Black Sea
fleet
1st rank captain Vyacheslav Trukhachev.
"For the first time, Pakistani sailors visit the Russian port," he stressed.
The purpose of the visit is the development of naval cooperation between Russia and Pakistan. "This friendly approach of the Pakistani frigate Aslat is a new step in bilateral cooperation between Russia and Pakistan. In response, Russian ships will also have the opportunity to enter the ports of Pakistan," Admiral Khan Hasan Bin, commander of the Pakistan Navy, said.
"We are proud that it was our ship and crew that were given the honorable right to be the first to make a business visit to the Russian port of Novorossiysk," said frigate commander Ahmat Fakuk.
The guests were met by the deputy commander of the naval base / naval base / Novorossiysk, captain of the 1 rank Gennady Mikheev, and wished them a successful stay in the Russian city.
The program includes a visit to the head of the city and the commander of the naval base, meetings of Pakistani and Russian sailors on board the ship and on the sports grounds of the city, where they will hold a friendly futsal match and try their strength in tug-of-war.
In addition, representatives of the Aslat crew will take part in laying wreaths at the memorial complex on Heroes' Square, visit the cruiser-museum Mikhail Kutuzov, the memorial complex Malaya Zemlya. Will make excursions around the city and its resort places. The Pakistani warship itself will be open to the locals.
The frigate's visit to Novorossiysk will end on October 20.
The Aslat is an F-22P type frigate. The ship was built entirely at a Pakistani shipyard and entered the Pakistan Navy 3 September 2013.