In the Greek port of Pylos, where the auxiliary ship of the Black Sea is located with a business call
fleet
"KIL-158", events were held dedicated to the 186th anniversary of the Navarino naval battle. In addition to the Russian sailors, crews of the frigate of the Greek Navy Canaris and the corvette of the French Navy Commandant Duceng took part in them.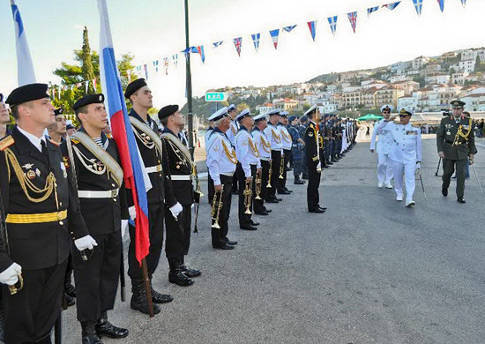 The festivities began with the removal of the national flags of Greece, Great Britain, Russia and France from the mayor's office of Pylos and their rise to the Square of the Three Admirals.
Solemn prayer in the church of the Most Holy Theotokos was held by the Metropolitan of Messinia Chrysostom, after which the Black Sea sailors took part in the ceremony of laying wreaths at the monument to the Three Admirals who commanded allied squadrons during the Battle of Navarino.
A company of the Guard of Honor from a separate brigade of marines and the orchestra of the Black Sea Fleet took part in the parade that was held after this parade.
Then the Russian delegation and guests of the holiday crossed the boat to the island of Sfaktiriya, which became the resting place of Russian sailors who died for the independence of Greece.
Yevgeny Yurkov, Counselor-Envoy of the Russian Embassy in Greece, Colonel Gennady Mozhayev, Military Attache at the Russian Embassy in Greece, commander of the march, captain 1, rank Andrei Paliy, representatives of the Pylos City Hall and the Greek Navy laid wreaths at the burial site of Russian sailors who died at Navarin.
The parking of the Russian vessel in Pylos is extended to October 23. All this time, "KIL-158" will be open to the locals and visitors to the city.