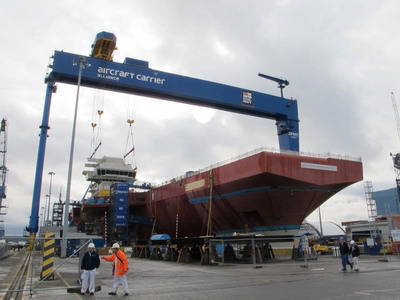 On Tuesday, the needy British troops began searching for buyers for their only remaining aircraft carrier, noting that offers from companies, charities, and trust funds would be considered.
Aging, battered in battles HMS Illustrious - 210 meters in length and 22 thousands of tons in displacement - one of the most famous symbols of the naval forces of Britain. It transported weapons during the Gulf War and was used in the evacuation of British citizens from Sierra Leone.
On Tuesday, a spokeswoman for the UK Department of Defense said that bidders did not have to be British, but the buyer would have to leave part or all of the ship in the UK in order to preserve cultural heritage. How big this "part" should be is not specified.
The attitude of the British Navy to Illustrious is significantly different from the treatment of its brothers-aircraft carriers HMS Ark Royal and HMS Invincible, which were put up for auction in 2011, and later sold for scrap.
The "Industrial Day", during which the proposals for the future use of the ship will be discussed, will take place next year, and the final decision will be made at the end of 2014, when the aircraft carrier will be withdrawn from service.
The aircraft carrier belongs to the Invincible type, built in 1970-x and 1980-x. Currently, a consortium led by British Aerospace, the largest aerospace company in the UK, is building two new aircraft carriers such as the Queen Elizabeth. Sea trials will begin in 2017 year. Until then, Britain will not have any existing aircraft carrier.
Amid massive cuts in military spending, the replacement of aircraft carriers ignited controversy. The previous Labor government in 2007 gave the green light to the construction of new ships, but costing and stopping the process is preventing the implementation of the program.