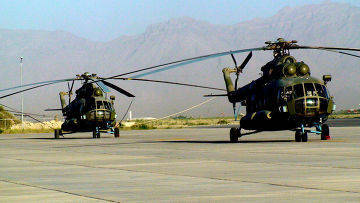 The military partnership between Russia and China, which flourished after the collapse of the Soviet Union and the end of the ideology's dominance over the arms export policy, has been undergoing stagnation over the past few years. The reasons for this crisis are the actions of the Chinese authorities on unauthorized copying of products of the Russian military industry, unlicensed or duplicate production of Chinese counterparts, as well as large-scale modification of equipment purchased from Russia and changes in original spare parts, ammunition and equipment.
The reason for this is the active measures of Beijing aimed at the development of domestic industry and defense self-sufficiency. Now that less than ten years have passed, such measures have become an obstacle to the development of the defense partnership of the two countries, and Russia is not too willing to sell China the modernized weapons.
New round of cooperation between Moscow and Beijing in gold 90-e
Military cooperation between the two countries began in the early years of the Cold War. Then Stalin generously issued a decree granting some of the Russian
weapons
and military technology. The result of this friendly gesture was not only the appearance in China of a large number of light and heavy weapons of Russian production. China got the opportunity to lay the foundations of its own military industry and achieve significant success in it. So, thanks to Soviet engineering, due to the production of Mig-17, Mig-19, Mig-21, Il-14, Tu-4 and Tu-16 aircraft, Romeo class submarines,
tanks
T-54, various artillery mounts and armored personnel carriers, Chinese military industry was created, which remained faithful to its foreign founders. However, the crisis that erupted inside the communist camp in the 60s of the last century led to a confrontation between the USSR and China. Both states have become sworn enemies, ready to start a military confrontation just about. This disagreement had negative consequences for communist China. The People's Liberation Army of China lost modern Soviet weapons and, having no other technological resources, did not make any notable successes in the 70-80s, although it made a lot of efforts.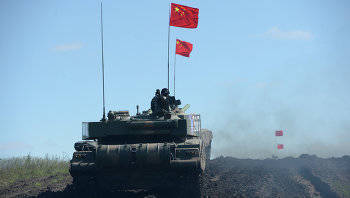 The number of weapons and military technologies procured from countries such as France, Italy, and the United States in those decades was extremely small, and its supplies were stopped following the armed suppression of student demonstrations on Tiananmen Square in 1989 and the introduction of sanctions against the PRC. At that time, the army of communist China, despite the large number of personnel and weapons, had many technical problems that negatively affected the balance of power between the PRC and its opponents. So, in 1979, the war with Vietnam ended in vain due to its air superiority. Extremely reserved, China began to behave with India, equipped with modern fighters of Russian, French and British production. The confrontation with Taiwan turned out to be unpromising. The reason for this was the high risk of the outbreak of hostilities with the United States or with its allies - Japan and South Korea. If China still relied on its first and second generation F-6 and F-7 fighters (Chinese counterparts of the Soviet MiG-19 and MiG-21), then its neighbors have already received the most advanced weapons in the world.
The collapse of the Soviet Union was a high point for China. The period of hostility in relations with Moscow ended, and she was ready to sell Beijing a large batch of weapons. Now Russia did not look at arms exports through the prism of ideology, regarding it as an exclusively commercial enterprise. Not having access to modern military technology for decades, China, with its backward industry and poorly equipped army, feverishly began to buy weapons from Russia.
In 1992, China placed an order for 78 Su-27s. This treaty launched China's military industry, thereby increasing the fighting capacity of the People's Liberation Army. In fact, it was thanks to the receipt of the Flanker family of fighters (generation Su-27 and subsequent samples) that China's military power made a real breakthrough. Acquisition of 12 Kilo-class submarines, the S-300 anti-aircraft missile system (namely, China became its first foreign buyer), an airspace tracking radar, 26 Ka-27 and Ka-28 helicopters, 25 Il-76 transport aircraft and Il-78 tanker aircraft, 11 Tu-154 passenger aircraft, 338 Mi-8/17 helicopters and a large number
aviation
shells made China the largest importer of Russian weapons. Then, after the signing of an agreement for the supply of 100 Su-30 aircraft, the PRC became the largest buyer of these aircraft, receiving them even when there was clearly not enough of this type of equipment in the armament of Russian aircrafts.
However, joint projects for the production of weapons within the Middle Kingdom itself became a much more significant aspect of military cooperation between Russia and China. Thus, the licensed production of Su-27 under the name Shenyang J-11 number of 200 pieces using Russian engines and spare parts was established. A project to create KJ-2000 aircraft with an aircraft radio detection and guidance system (AWACS) based on IL-76 has been launched. The delivery of engines for Chinese aircraft, such as Hongdu's JL-8 jet-based combat training aircraft, has begun. More than 190 of such aircraft have already entered service with the Chinese air force and, probably, China will order at least 400 of these machines. The PRC also received engines for more 270 fighter-bomber Chengdu J-10. Motors were also ordered for more than a hundred of the same FC-1 aircraft. Their last batch ordered by Pakistan consisted of 250 machines.
Chengdu FC-1 airplanes (Pakistani designation JF-17 Thunder) are multi-purpose fighter-bombers with Russian engines, produced in China on the order of Pakistan. On the whole, the PRC military industry achieved incredible success precisely thanks to its reliance on Russian technology.
Chinese betrayal
Despite such warm relations, since 2004, Russia has begun to notice that China is violating joint treaties and not respecting the ownership of Russian military products. The real rage of Moscow has caused the unlicensed production of aircraft Shenyang J-11 (Chinese counterparts Su-27). Chinese engineers copied the available samples of these Russian aircraft, providing them with Chinese engines, radars and weapons. Having put their own desired parameters into the new model, the Chinese actually violated the existing agreements with Russia. The subsequent actions of China in the unauthorized and again unlicensed production of the Su-27 ship model called the Su-33 infuriated Russia even more. Having received this model from Ukraine, the Chinese started to create the Su-33 clone under their own name Shenyang J-15 without permission. In addition, by developing its submarine production, China tried to manufacture Russian-made products and improve them. He did the same with weapons for air defense. By investing heavily in the production of aircraft engines, China sought to achieve greater independence from Russia. The complex of these measures and Beijing's conviction of the need for a step-by-step rejection of the import of Russian weapons led to Moscow losing confidence in its partner.
Since then, and for at least six years now, Russia has refrained from selling military products to China equipped with the latest technology. It, of course, continues to supply aircraft engines to its Asian neighbor, but at the same time refuses to provide its high-tech developments for its use, selling them to China's rivals in the region. This problem hinders the aspirations of the Chinese to buy Russian weapons.
New needs of China and the crisis of military cooperation with Russia
China now intends to purchase 10 or IL-30 aircraft and eight IL-76 units from Russia, or, according to other sources, and is also awaiting the appearance of improved IL-78 models to purchase more 476 such machines. In addition, China is showing interest in the masterpiece of the Russian aviation engineering Mi-60, importing 17 helicopters of this model last year. Meanwhile, a few months ago, Beijing's attempt to place an order for the purchase of weapons failed. In particular, China expressed a desire to purchase Su-50 fighter-bombers (slightly less than 35 units), Lada-class submarines (new Russian submarine models replacing the Kilo class), Onyx anti-ship missiles (the export name was Yakhont) and some other types of defense weapons, but Russia rejected this proposal. The Russian side continues to insist that the Chinese violate copyrights, and demands the resumption of payment of damages for unauthorized reproduction of the Su-30 and Su-27 models under the Chinese name J-33 and J-11.
This means that Russia does not trust China and does not consider it a reliable strategic partner in military cooperation. Probably for this reason, while offering to buy their most modern weapons to China's competitors, India and Vietnam, Moscow refuses to sell it to Beijing. Currently, together with Indian colleagues, Russian specialists are working to improve the fifth-generation fighter Sukhoi T-50. By upgrading their own fifth-generation fighter J-20, Chinese engineers are unlikely to get the opportunity to familiarize themselves with the technical content of the Russian model. The same can be said about Lada-class diesel submarines, Shark nuclear submarines exported to India, Yakhont anti-ship missiles, modern C-300 anti-aircraft missile systems, the newest Su-35 fighter-bombers MIG-35 and many other types of Russian weapons. China is showing an increased interest in the Tu-22 bombers and the Tu-160 tactical bombers, however, given the position of the Russians and their negative experience of working with their Chinese counterparts, the Celestial Empire will hardly receive these planes.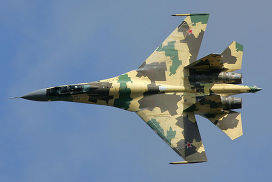 China's aspiration to achieve independence from Russia in terms of military technologies was not fully realized, because its plan to build Chinese engines for J-10 and J-15 failed. In most other cases, Chinese-made engines also do not have high performance Russian counterparts. In other words, China, as before, urgently needs cooperation with Russia.
conclusions
Russia, of course, will continue to supply China with certain types of defense weapons, because the profits from these deals are very high. China, in turn, really needs Russia. This is especially true of the production of aircraft engines. Despite the fact that in order to reduce its dependence on its northern neighbor, China invests significant capital in its own production and relies on other producing countries, such as Ukraine, it still needs technical cooperation with Russia.
At the same time, distrust of China due to its unauthorized copying and copyright infringement on Russian developments is explained by Russia's fear that it could become its competitor in the global arms market. To this should be added the close cooperation of Russia with India and Vietnam, which seek to reduce China's influence, as well as its distrust of its Asian neighbor, which increases with the growth of its power. All this makes the military cooperation between Moscow and Beijing unpromising.