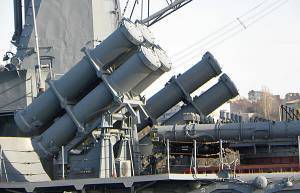 Starting next year, Russia will start delivering the Uran-E shipborne attack missile systems (KRK) ordered by Azerbaijan.
Baku in 2010 made an order of the Russian Tactical Missiles Corporation in the amount of 75 million dollars, the implementation of which will start from the end of this year. These CRCs will be included in the naval armament of the Azerbaijani Navy, APA reports.
At present, only Russian and Turkmen warships are armed in the Caspian Sea with Uran-E complexes. In 2010, along with Azerbaijan, URK-E was also ordered by Turkmenistan (for 79,8 million dollars) and Kazakhstan (for 30 million dollars). The first shipment of the Turkmen order was delivered in 2011-2012. Ashgabat for 2014 year additionally ordered this weapon for about 40 million dollars.
The Uran missile system with an anti-ship cruise missile of type X-35 significantly increases the strike power of surface ships. With a significant (8-16 missiles) ammunition and a small launch interval, a massive use of missiles is provided with almost simultaneous approach to the target at extremely low altitude. KRK "Uran-E" can be used at sea state with a force of 5-6 points.