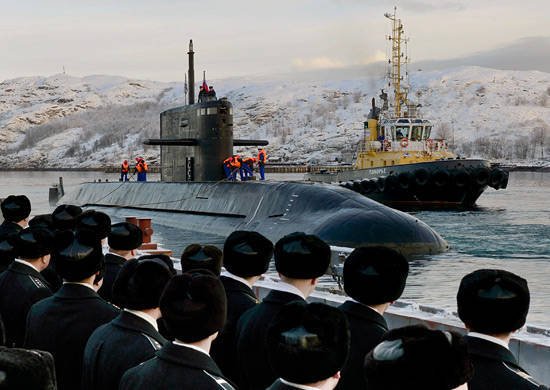 Today, the lead diesel-electric submarine (DEPL) "St. Petersburg" of project 677 arrived at the main base of Kola
flotilla
the diverse forces of the Northern Fleet (SF) for the further implementation of the test program.
In the city of Polyarny, at the berth of the connection of the diesel submarines of the Northern Fleet, a ceremonial meeting of diesel-electric submarines "St. Petersburg" was held.
Due to difficult hydrometeorological conditions in the Norwegian and Barents Seas, the transition of the St. Petersburg diesel-electric submarine from the Baltic Fleet to the Northern Sea lasted about three weeks. During the transition, the crew of a diesel-electric submarine overcame more than 1900 nautical miles.
In the near future, the crew of the St. Petersburg submarine will have to start working on a number of complex tests in the waters of the Barents Sea, including the deepwater ones.
The head boat "St. Petersburg" series of non-nuclear ships of the project 677 was laid on the stocks of the "Admiralty Shipyards" in December 1997. In April 2010, the boat was accepted into the Russian Navy for trial operation.
Submarine displacement - 1765 tons, length - 67 meters, width - 7 meters, underwater speed - 21 knot, depth - more than 300 meters, autonomy - 45 days. The submarine is equipped with six 533-mm torpedo tubes.
A feature of the 677 series of boats is the combination of small size and low noise level with powerful torpedo and torpedo-rocket armament. Boats of this series can counteract both underwater and surface ships, and are designed to protect naval bases, the sea coast and sea communications. In 2013, the Admiralteisky shipyards resumed the serial construction of the diesel submarines Sevastopol and Kronstadt of the 677 project.