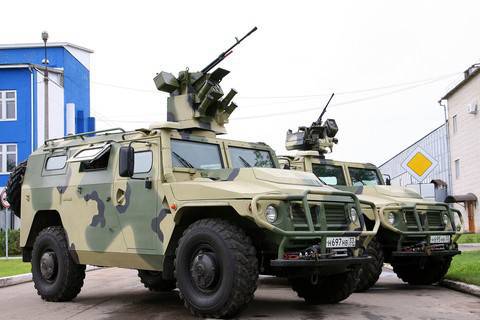 LTD "
Weapons
workshops "(Schelkovo) together with the KEMZ plant (Kovrov) created a new version of the Tiger multipurpose armored car with various versions of combat modules. The first demonstration of the new version of the Tiger-M2 took place in August this year at the "Innovation Day" of the Ministry of Defense. Visitors to the exhibition were presented with an option with a remotely controlled combat module. As an informed source told Rosinformburo, the fire of a combat module can be controlled by an operator from a range of up to 200 m using an external remote control.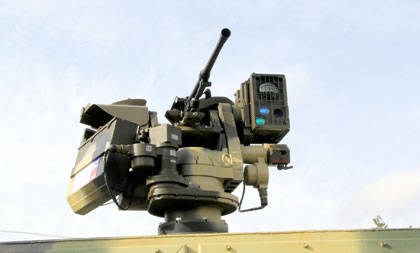 The combat module can be equipped with a 7,62-mm PKTM machine gun, 12,7-mm Kord machine gun or an 40-mm Balkan automatic grenade launcher. For foreign customers, a version with the combat module HITROLE Light of the Italian company Oto Melara has been developed. In the Italian army, such modules are equipped with light armored vehicles Iveco LMV.
The standard Italian combat module is usually armed with an 7,62-mm Belgian machine gun M265. According to the source, he had to deal with this machine gun, and he noted its low reliability. The platform of the combat module is stabilized and provides high accuracy of shooting at targets in motion and from a place.
According to the "Military Informant", the module has a circular rotation, and the weapon can be guided by elevation in the range from -20 to + 70 degrees. To control the firing, the gunner uses a flat display, two control joysticks, a day zoom with smooth zoom, an uncooled thermal imaging camera and a laser rangefinder.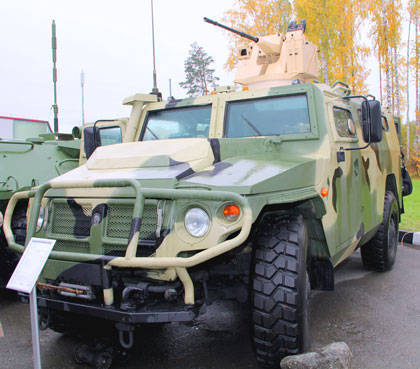 The Russian version of "Tiger-M2" is created in accordance with the requirements of the technical specifications. Unlike the Italian module, it must be protected and ensure the operability of the weapon in the absence of power supply. The last requirement is not met by any combat module of foreign production.
Variations of the "Tiger" with various combat modules were demonstrated at the arms exhibition in Nizhny Tagil. According to the source, the Russian version can be demanded for equipping special forces for conducting reconnaissance, guard and curfew service, and solving other special tasks.