Films about the war in our country are of great interest. Despite the epoch, who is at the helm of the country, what trends are manifested in society, military films attract attention. At the same time, the audience's interest in the old
military movie
, which today may look like a benchmark for art cinematography.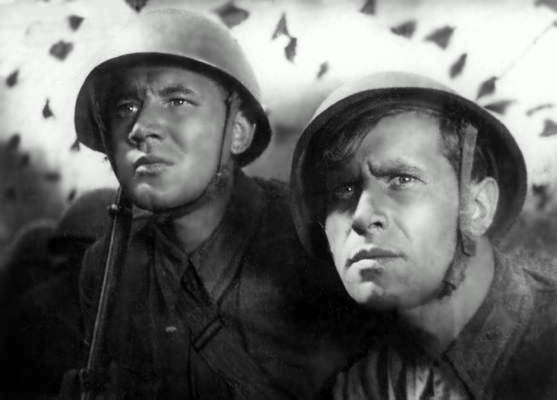 A separate section of domestic cinematography - films about the Great Patriotic. These are dozens of wonderful tapes that over the years of their existence have been watched by literally billions of viewers of different generations. Even during the war itself, Soviet cinematography made feature films on the subject of the war with Nazi Germany. From 1941 to 1945, about three dozen paintings were rolled out, many of which today seem naive and unreliable. But accuracy and documentary in these films was not the main thing. The main goal of the director is to give the spirit of the army through artistry, creating even excessively grotesque images depicting the enemy in an ironic form.
But in the war years there were also real cinematographic masterpieces, which are still evaluated by film critics as outstanding tapes. One of these tapes is "Two Fighters", released in the midst of the war - in 1943. The director of the film is Leonid Lukov, who at the time of the creation of the film was awarded the Stalin Prize for the film "Big Life". Director Lukov was so committed to his work that even death found Leonid Davydovich at work. He made the film "Believe me, people."
The criticism of the film "Two Fighters" has been warm for decades, so to speak. But during perestroika, shedding mud and this wonderful film began. In 1990, an article entitled "Without War ..." appeared in "Soviet Culture", in which the author decided to debunk the directors of the military era, stating that in the film "Two Fighters" and in others, "everything was lying" and they "did not resemble it ( war) nothing. In all likelihood, the author of this article, Alexei Simonov, considered himself to be the one who revealed the truth to the Soviet people. Here are just the film "Two Fighters" and now viewers of different generations are watching with interest, but about "true criticism" of Alexei Simonov, if anyone remembers this film, then with obvious irony.