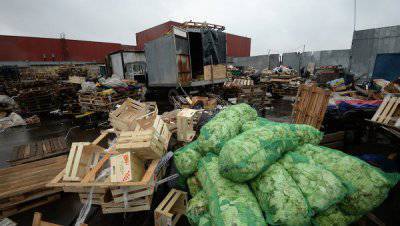 After the murder in the metropolitan area Biryulyovo in Moscow began the speeches of people who are concerned about unintelligible migration policy. The most massive demonstrations took place last weekend, triggering a real wave of discussion of the situation with illegal migration not only in the capital, but throughout Russia. People are outraged by the fact that the authorities ignore their fears, and often do everything to smooth out all sharp corners, not at all as many would like.
Today the court imposed a temporary ban on the work of the very vegetable base, around which a large-scale scandal broke out. The work was suspended for a period of three months. This decision did not suit many. The residents of Biryulyovo demanded the final closure of the vegetable base, which has recently become a real breeding ground for ethnic crime in Moscow. The number of illegal migrants working on this base, which is owned by Magomed Tolboev, amounts to hundreds or even thousands.
After the decision was made to temporarily close the base in Biryulyovo, hundreds of trucks began to transport goods to other warehouses. At the entrances to one of these warehouses (near Dolgoprudny), a real traffic collapse was formed, which could not be easily eliminated by the traffic police, who began to regulate traffic where it was absolutely necessary.
At the same Dolgoprudnensky vegetable warehouse, law enforcement officers conducted an operation in cooperation with the FMS. And there are dozens of violations of immigration laws.
Migration is a painful subject. Recently, several large markets in which unauthorized trade was conducted were closed in the capital alone. Traded here all sorts of goods: from such clothes and shoes to such goods as
moth guard
. At the same time, trade was most often in the hands of representatives of diasporas.
After the markets closed, the situation did not improve. Obviously, it will not become better even after the suspension of the work of the Biryuli vegetable base. We need to start high-quality legislative work that will help to cope with the uncontrolled influx of foreign migrants. And besides this, it is necessary to conduct a tough fight against corruption, which has been talked about for a long time, but the results of the struggle are still isolated.