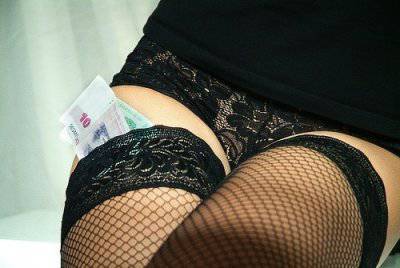 The amazing situation described just now in a very respectable
The Telegraph
, is so simple that it does not need any interpretations.
Everything is extremely transparent: a certain German (not an emigrant), a pretty girl 25 years old, having lost her job as a programmer, got registered at the labor exchange. Rather, in the center of employment, as it is now supposed to call. She took shape as a programmer, but just in case indicated that she also has the qualifications of "waiter, barman, hall manager" and is ready to work in a cafe or bar seven days a week and on night shifts. After that, having received the right to unemployment benefits, she began to wait for vacancies.
I waited a long time. But she waited. A year later, a referral letter came from the employment center: they say, there is an employer who has studied your "profile" (application) and is interested in your services. Phone number attached. However, when the delighted girl called the cherished phone, it turned out that the "interested firm" was not really a bar or a restaurant, but the most ordinary brothel, where she was offered a vacancy of a "sex worker". That is, prostitutes.
Naturally, the indignant German interrupted the conversation, reporting everything to the employment center - and soon found in the mailbox a notification that from such or such a number her unemployment benefit decreased by 50% due to the refusal of the first job referral. And then, perhaps, completely deprived of benefits.
Naturally, the girl went to court - and found out that there is no reason to sue. For the employment center did not violate any laws, but, on the contrary, acted strictly in accordance with them. Since after the legalization of prostitution in 2002 by the Bundestag, the intimate sphere of activity was entered in the register of official "professions and crafts", and the owners of legal brothels now, being obliged to pay taxes and health insurance of employees, got access to the official databases of employment centers. In this connection, as a result of the "welfare reforms" carried out by Frau Merkel's cabinet, now every woman younger than 55 years old, who hasn't waited for a job in her specialty for a year, is obliged to go where she is sent, even if she is a prostitute, otherwise she is denied the right to allowance.
Meanwhile, unemployment in Germany is growing, having exceeded 4,5 million, which, after 1950, has never happened before, and employment centers firmly admit that "no official profession is shameful." So the choice of our waitress and her companions in misfortune is small: either pushing her legs apart, or starving on the street. The third is actually not given.
"There is nothing in the law that protects women from forced labor in the sex industry," said Merhild Garveg, a lawyer from Hamburg specializing in such cases. - According to the new rules, the work of a prostitute is no longer amoral, and therefore, abandoning the workplace means losing the right to benefits in full compliance with the law. From the point of view of the law, an employer who is looking for a prostitute of one sex or another is no different from an employer who is looking for a dentist or nurse, and attempts by employment centers to somehow alleviate the situation threaten the centers themselves. "
By the way, that's all right. All works are good, any work is honorable, and if a girl, having come for an interview, refuses to undress, play with a vibrator or give a sex session to determine her qualifications by the employer, she is not right and deserves a penalty. And exactly the same deserves a penalty, or even worse, the head of the employment center, who refuses to place advertisements for his brothels in his office or does not allow legalized banders and pimps to rummage through their data base, selecting suitable candidates.
"Why should I be allowed to go to the lists if I pay taxes, like all entrepreneurs?" - Some Tatyana Ulyanova, the owner of a three-star brothel in the center of Berlin, is surprised, and no one can argue that she is right. How no one can prevent her colleague Ulrich Kuperkuha, the brothel keeper in Goerlitz (former GDR), through the court to receive very substantial compensation due to the refusal of the local employment center to "convince" unemployed women that his establishment is no worse than a hospital or bar.
In general, as Frau Garweg mentioned above is sad to say, "the government's policy is clearly aimed at compelling women to engage in legal prostitution as part of a program to tackle the problem of employment. From the point of view of the authorities, it does not matter at all whether the woman herself wants it or not, whether she is married or not, whether her husband or boyfriend agrees to it or not, is the main thing that "official sex services" are not equal to prostitution, and prevent development this trend seems to be impossible. "
Well, that's all.
It only remains to add that this article was not published yesterday or even the day before yesterday, but already in the distant 2005. And since then, having received a referral to a brothel, the overwhelming majority of girls no longer even try to kick, but go where they are sent, and work, by whom they will say. Fortunately, after a wide propaganda campaign organized by the authorities, "prostitution on a voucher" ceased to be considered something shameful, in the eyes of the society having equated with something like a special type of massage.
And if anyone wants to chat, as the evil Bolsheviks issued decrees on the socialization of women - a step forward.