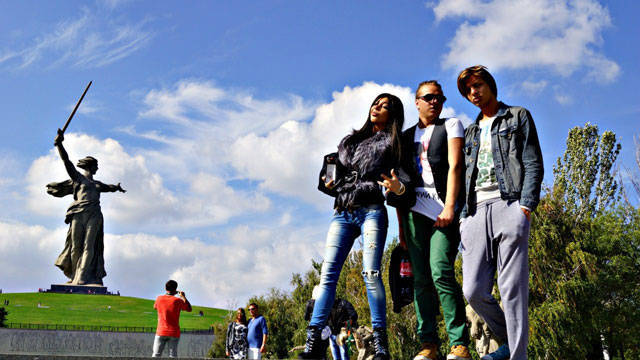 In Volgograd, it was decided that a photo shoot of the scandalous freak singer Alena Piskun, which she and her friends had staged at Mamayev Kurgan and the Motherland Sculpture, is not a criminal offense. October 18 will consider the materials of this case, and Piskun should arrive at one of the Volgograd police departments. But even if she does not appear, the case will be considered without her.
However, it is already known that it is planned to attract it under the administrative article "Petty hooliganism". This was reported to ITAR-TASS by the representative of the Volgograd Department of the Interior Ministry Anton Kornaukhov.
The punishment for this article provides for a fine in the amount of 500 to 1000 rubles - less than lunch at an average eatery. The maximum penalty that can be given for this article is 15 days. If she is given such a punishment, then bloggers from different regions of Russia, as well as residents of Volgograd, outraged by the trick of the freak-singer, have already offered the option: send Piskun to wash the station toilets.
After all, it was precisely the place where they needed to relieve a little need, Piskun and her friends were looking at Mamayev Kurgan, taking pictures of themselves against the background of shrines in unambiguous poses and accompanying their actions with obscene jokes. Then Piskun posted these photos and videos on the Internet - on her VKontakte page. State Duma deputies, outraged by these shots, compared the outburst of Piskun and her friends with the behavior of animals.
Alena Piskun is a freak-singer, known among a certain part of Internet users by vulgar videos, in which sexual themes are strictly exploited. He is touring nightclubs, performing his "songs", in which most of the foul language occupies.