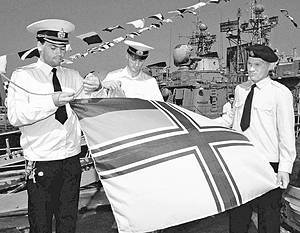 The Cabinet of Ministers of Ukraine decided to write off nine ships that are part of the country's naval forces, due to their technical unsuitability, said Ukrainian Defense Minister Pavel Lebedev.
"It was decided to write off nine ships that are more than 20 years old and that are in technically unusable condition," said Lebedev, reports Zn.ua.
The minister added that one of these ships is a combat one, 1977 of the year of release, the rest are boats and vessels.
Earlier it was reported that Kiev planned to write off the base minesweeper Melitopol, diving vessel Volnogorsk, dry cargo barge Bryanka, raid boats Konotop and RK-1935, hydrographic boat MGC-1694, raid boat Ritm -450 ", the sea boat" Ostrog ", the loading tanker" Bakhmach "and the transport of weapons" Dzhankoy ".
Note that in 1997, when the partition of the Black Sea
fleet
of the former USSR, the Ukrainian Navy transferred 43 warships, 132 ships and boats, 12 aircraft and 30 helicopters.
To date, the Ukrainian Navy includes more than 25 warships and boats, more than 50 support vessels and about 30 units
aviation
techniques.