To discuss the personal opinions of other people, and even more so, of people, as they say, outsiders, is ambiguous. It is clear that it's personal and personal opinion in order to remain, perhaps, reserved, inviolable. However, when a person expresses a personal opinion live on the media, and even with certain complaints about an attempt to establish objective truth in a given issue, one can afford to discuss such an opinion. And in a certain context, you even need ...
Why is this all ...
The other day, a radio station Ekho Moskvy, a radio station that calls itself independent (from the state) but manages to join Gazprom-Media holding, spoke on a lady by the name of Evgenia Albats, editor-in-chief of a loud and hinting magazine. titled "The New Times" and concurrently the author and presenter of the "Full Albats" project on the mentioned radio. In an interview with Alexei Venediktov (Echo's chief editor), Evgenia Markovna delved into the topic of CIS problems, rivalry with China and broadcast information for which people in less tolerant societies are simply beaten.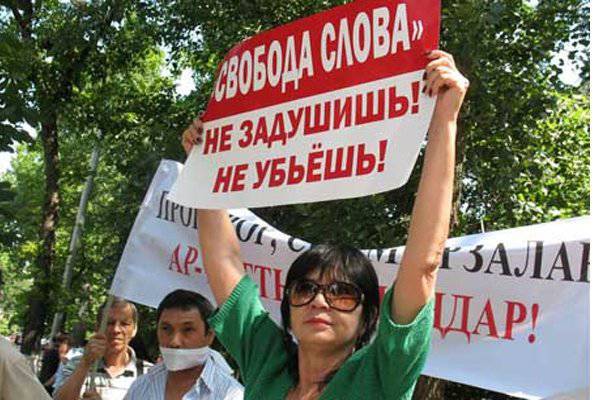 So that our readers do not think that the words of Yevgenia Albats were pulled out of some third-party context, we present several points from the dialogue of the interlocutors on the radio station Ekho Moskvy in the program Special Opinion.
Albats:
We have appeared in the CIS such a serious contender, like China, which is included in a number of republics, and very seriously included.
Venediktov:
With money. Influence.
Albats:
Investment. Huge purchases of gas and oil fields, investment in enterprises and so on. We are now in the next issue doing a big main topic about this, because we have been doing this for a long time. And this competition ... Here, quietly, China is doing all this without a cry, without a reminder that they are a great empire, without everything else. Quietly he entered.
Venediktov:
Well, maybe God bless him? Well, he entered and entered, and let him take what is called. Or how?
Albats:
Well, it seems to me, yes. From my point of view, this is the reality that exists, and it must be reckoned with.
Venediktov:
Fight or reckon?
Albats:
Considering it because we cannot fight China is already understandable.
Venediktov (and again - author's comment):
And so, maybe, God be with him, and let him take it?
Albats:
So no, I also think that God is with him, let him take it. I do not see any problem. I, frankly, do not see a particular problem and if Russia is divided along the Ural Range. I think it is inevitable ...
The opinion, as you can see, is really special ... They talked in such a way that even the regular listeners of Echo were clearly confused by the ideas of Evgenia Markovna, according to which she was not at all opposed to the part of Russia beyond the Urals that would go to China (or or another).
We present a few comments of the radio listeners "Echo of Moscow".
Sebarrow:
Comment on the stream of consciousness of this person - do not respect yourself. I'm talking about Albats of course.
Emeljanov2:
After this broadcast in any other country
история
Albats as a politician, and she undoubtedly positions herself as a politician, would immediately end.
And enchanting:
Mister tu_8:
And I do not mind, Ms. Albats, if your s ... zu is divided along the line that divides it in half.
If we go back to the statements of Mrs. Albats about the "inevitable" division of Russia, then such statements smell, if not extremism, then explicit agreement with the actions of, in fact, any person (any state) who (who) will take steps to territorial division of the Russian Federation. If it happened on the air, for example, of an American radio station, then the competent structures might well be interested in the words of Evgenia Markovna. There and for more modest reasons, people are accustomed to "process."
But while everyone can "blurt out" what he wants, he can cut his "truth-womb", shouting at all angles about freedom of speech, tolerance and free-thinking.
By the way, Evgenia Albats is not alone in her thoughts about the "inevitable" division of Russia. Often, there are people who broadcast on the air of various mass media their thoughts that Russia "needs something territorially to someone" or that the territorial integrity of Russia is a temporary matter.
In 2011, the Russian director Alexander Sokurov, apparently, was greatly impressed by the receipt of the Japanese order, and therefore, when it came to the Kuril Islands, he said:
Probably, you need to give the beautiful people to the Japanese people.
In an interview with Neva24, Sokurov, after expressing his thoughts about the Kuriles, said:
This is not my first time talking about it. And I say this as a person, not as a statesman. I understand that this is a complex issue and that it is connected with the whole system of treaties of the Second World War. I understand everything well. But I think that there are things that are too important for Russia, for living with our great neighbors, such unique peoples. There are strategic tasks, not tactical ones. I am still a historian by first education, so I understand something about this. This opinion is not a state person, thank God, this opinion is just a citizen of Russia who would like a peaceful situation on the borders of the country and around the country in general.
"... I speak as a person, and not as a statesman" - this is already the miracle pearl of the director, following the logic of which "to live with our great neighbors" we need to be sure to territorially please them. Without transfer of territories, you understand, there is no life with neighbors. I wonder how many square meters of his personal living space does Sokurov give to his neighbors, so that he "has a peaceful atmosphere" with them? ..
In 2012, the idea of ​​transferring the southern islands of the Kuril ridge was expressed by such a gentleman as Lev Ponomarev:
We had to give, I still think so now, otherwise we will never move the issue of negotiations off the ground. As for the northern Kurile Islands, I think that it is necessary to apply to some kind of international jurisdiction.
Sergey Medvedev (journalist, professor at the HSE and, especially "nice", winner of the FSB award):
The Arctic must be saved, it should be an international reserve, and not the territory of Russia's sovereignty.
This post Sergey was noted in the microblog, and then the same idea decided to convey to the audience all the same "Echo of Moscow". But again, not all (as in the case of Albats), the audience accepted the idea of ​​Sergey with applause. Microblog readers and listeners to the above-mentioned radio suggested that Sergei Medvedev initially make an international reserve from Alaska ...
There are other people who openly argue that Russia's territory is too large and that some of them can even be abandoned ... As an example, writer and journalist Yulia Latynina, who likes to speculate about the possible secession of the North Caucasus.
Such is the freedom of speech - the freedom to say what they please, without worrying about the consequences of statements in the style of verbal diarrhea ...