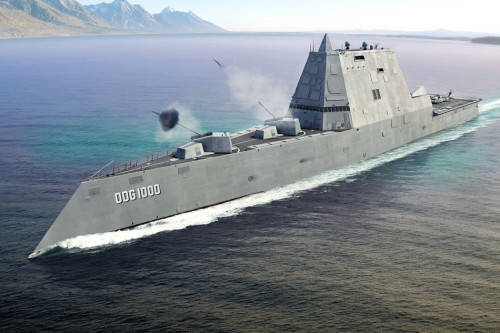 October 19, the newest US destroyer DDG-1000 Zumwalt will be launched, the event will be a "technology holiday," mil.news.sina.com.cn reported today.
Currently, this ship is the largest in the world in its class (15000 t), originally planned as a replacement for destroyers of the type "Arly Burk" and cruisers "Ticonderoga". The final design of the ship was approved in 2005 year, thanks to the highest degree of automation, the crew of the ship will be only 140 people. With ships of this class, the US Navy pin their hopes on maintaining dominance in the Pacific Ocean. The creation of DDG-1000 will further increase the technological gap of the United States from the navy of other countries of the world.
The use of revolutionary technology dramatically increased the cost of the ship. Initially, the price for one destroyer was estimated at 3,8 billion, but this price increased to "stunning" 7 billion (with the cost of the ships being replaced is only 1,2 billion per unit). As a result, the US Navy reduced the number of ships planned for construction from 32 to 7, then this number was reduced to three.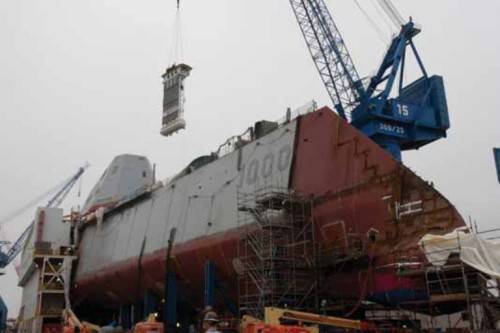 The command of the US Navy emphasizes that the Zumwalt class destroyers will be as powerful ships as the battleships of the Second World War were at one time. In the construction of the ship, the principle of maximum module availability has been applied. Recent advances in stealth will allow this ship to have a radio contrast comparable to a "small fishing boat." The ship's hull and superstructure are enclosed with radio-absorbing materials about one inch thick (1 inch is equal to 2,54 cm - approx. "VP"), the number of protruding antennas is reduced to a minimum.
The destroyer has a powerful radar potential capable of detecting low-flying enemy anti-ship missiles and even terrorist boats at long distances. The ship is equipped with ultra-long-range cruise missiles for strikes against ground and other targets from vertical launch installations. Two newest guns are capable of shooting at a distance of 150 km, but this is not the limit. The fixtures were developed by BAE Systems, the 12 m long barrels have 5000 shot survivability, the maximum range of 370 km, and within 30 minutes they can launch 600 shells along the coast of the enemy. The power plant is capable of generating 75 MW of energy, which is enough to equip the ship with promising high-energy laser systems
weapons
.
Destroyers will become a kind of platform for testing new naval technologies to create warships of future generations.