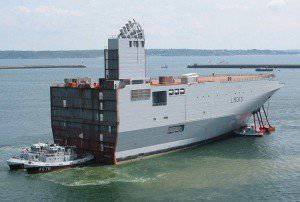 This, of course, will be about "Mistral". Here we must make a small digression. I am very upset by people who think patterns. There is such a "wise thought" that all weapons should be made in Russia. The thought is certainly correct, but it is a pattern. After all, even better is the idea that all "goods" should be domestic.
Personally, my opinion is that it is necessary to "use to the maximum" foreign experience and best practices in all spheres of life. But you can not act on the pattern that the West - means the best. These thoughts seem to be simple. But they are very difficult, not only for the majority of the people, but also for many "big" bosses.
Serdyukov scolded for his commitment to "the best world models." Shoigu is praised for supporting domestic producers. And I have to suffer, because it is difficult for people to think with their brains.
Frankly, I liked the position of Serdyukov. It is a pity, of course, that he was killed by "misunderstandings" with women and money. But, here's the question with "Mistral" to hang it is not necessary. There was a clear order from Medvedev that by such a date ships should be bought.
Well, that bought. And why they bought it, why it was so expensive and what they bought, apparently only Medvedev knows. And for such words "cast in granite", if we had a "climate" softer, he would have to answer. And if we had a "climate" more rigorous, he would have already been engaged in the procurement of firewood and clearing snow from Siberia.
Well, we have some information. And we will dissect it. "Mistral" is already under construction, but "stuffing" about its filling is still not abating. This is only possible in our country. To build a ship in the West, but to "secret" its "insides" from its own citizens. I am already silent about the explanations of his "necessity" by our "military". After all, the muffled muttering of some "admirals" does not pull at all.
There is such a thing - "the concept of combat use." No wonder they say that "the generals are preparing for the last war." But not taking into account the experience, you can only "theoretically" prepare for a future war. Here again the "game of patterns" ©. The experience "written in blood" is priceless. But even if it is not "reworked" creatively, then it can be greatly "discounted".
So, we do not have our own tactics, or the strategy of using the Mistral. Therefore, we decided together with the ship to "acquire" and Western "conceptual approaches" to the use of landing ships. By the way, according to the old Soviet habit, as always, we always come up with the name of the classes and types of ships.
In the West, too, is not so simple. But, since the US is the trendsetter, we will be "equal" to them. So, the UDC builds its own US as "normal" warships. In this we were very similar to them. Therefore, the plans of the USSR and was "military" UDC type "Kremenchug" (project 11780). In "Europe", they are building "civilian" UDC, which are designed to perform "peacekeeping" operations. Roughly speaking - for the war with the "Papuans". That is, civilian ferries are built and "decorated" with a pair of "guns". Therefore, for me, it is better to call them landing-helicopter dockships (DVKD), although many do not agree with this.
I wonder what kind of colony Russia is going to conquer and pacify? Offered, the city of Kathmandu. I do not know where it is, but it sounds beautiful. So I want to send those who bought Mistral "in Kathmandu."
In general, our fleet is in a very deplorable position. We need so much money to "swell" into its development, that it becomes even a pity. But to finance the French shipyards, we are always ready. After all, we urgently need UDC. Although the Navy had not even dreamed of building it even in plans before 3000, but "the big bear is more visible to him."
On the other hand, the Mistral is a universal ship, it is both a command post and a hospital. And indeed, although there are no normal ship connections, but I still want to command. Therefore, they will collect from all the fleets on the ship, they will call the squadron, and then the admiral on the white "ship". And if it breaks, then we will have two of them. One in reserve. They wanted three in reserve, but failed.
Of course, we really need amphibious ships, which is why we were allowed to use needles, one of our best BDKs of the Ivan Rogov type (1174 project) - Mitrofan Moskalenko. But to modernize it was ten times cheaper than "French buns".
But the "Rhino" is a real fighting ship. Which, to the last screw made and "suffered" in our country. Which can land landing on the "mistralnom" and directly coming to the shore. May support the landing "fire." That something, and nashpigovyvat
weapons
any military "pot" we already have in the genes. Yes, he has fewer helicopters, but for the price of the Mistral, you can build several Rhinos.
A little about the "fuel problem" Mistral. Modern ships use dozens of different "lubricants". All of them are designed for specific mechanisms and materials. Any modern car enthusiast knows that only "recommended" oils can be used in a car. And this is not only a "marketing" move, but also studies on the compatibility of these materials with the mechanisms of the machine. What can I say about our fuel and lubricants (fuel and lubricants). The French did not even have the idea of ​​"sharpening" their engines under the "Zhiguli" oil. It's rather difficult to imagine that our fleet will switch to an "imported" supply of fuel and lubricants. And so as not to get up twice, but there are hundreds of different mechanisms on the ship and the failure of even the most insignificant of them will be a serious problem. After all, even our "analogs" will not necessarily be suitable for passport data, technological features, dimensions, organization of repair and maintenance work, and more "millions" of differences. And if there are no analogues? Any minor breakdown will grow into a huge problem. Is it not easier to immediately disassemble the second Mistral for parts? But here they are not joking - this is a military "steamer".
About use in "cold waters". Imagine that the designers, before starting to design the ship, are interested in, and where it will "go." And if there is no one to bomb in the tundra, then the designers do not consider it necessary to install stoves and take care of the ice chipping scrap. Even if we manage to persuade the designers to "weld" excess protection from the ice on the hull, then solving the heating system in hundreds of latrines is much harder. And still it will be necessary to redesign all the ventilation, and better the whole ship ...
The ship is pretty slow. For this, thanks to the unified electric power installation (EEEU), which is very expensive to maintain and completely unknown to our
fleet
. Inspection and maintenance of the electric motors of this installation is possible only at the docks. And finding them free for large ships is quite difficult.
Highways were designed for use by the French fleet. Okay, we will change the "concept" to a more "advanced" one, but what to do with the organizational structure of the marines? Also adapt to the French? Can we immediately accept NATO standards? how many
tanks
technicians have. What is its weight and dimensions should be.
Is there anything good in this ship? Of course have. We will have a comfortable means of delivering our marines and "bosses" to remote "theaters of military operations." Supporting them with the presence of helicopters. We can "demonstrate the flag" to everyone, evacuate people from "disaster zones", and also treat them immediately.
Another advantage is that we now know for sure that the French have weak ships. It is necessary to bring to the ship a barrel of "Zhiguli" oil, as he immediately closes.
I do not want to "croak", but the fate of these ships will be sad. As long as the young ones, maybe they run off to the Mediterranean, they flaunt themselves at parades, catch half of the pirates and engage in exercises with NATO ships. Well, then, quietly write off "folk" billions and let them go to needles. If only there was no war.