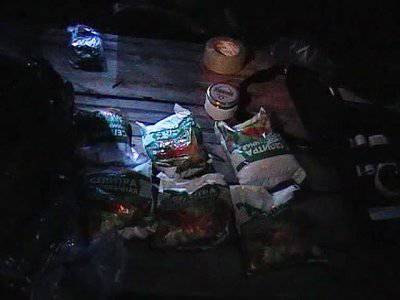 In the Kirov region, two alleged terrorists were detained who were preparing to undermine a chemical
weapons
. The components that the militants found would be enough for an explosion equivalent to 10 kilograms of TNT.
The terrorist attack on the Maradykovo proving ground in the immediate vicinity of the village of Mirny could have killed hundreds of people. The warehouse of chemical weapons located here is the second largest in Russia. At one time there were almost seven thousand tons of toxic substances in this repository: this is about eighteen percent of all chemical weapons in the country. The attack on the site "Maradykovsky" attackers have been preparing since September. The power of the charger was ten kilograms of TNT.
"According to preliminary data, the purpose of the commission of this terrorist act was to influence decision-making by state authorities and international organizations," said Andrey Vasilkov, senior assistant to the head of the Investigative Committee of the Investigative Committee of the RF for the Kirov region.
Thanks to the coordinated actions of the special services, the attack was averted, and its failed performers were detained. Both are natives of the North Caucasus, one is nineteen years old, the other is twenty-one. According to investigators, they are Wahhabis and have arrived in the Kirov region from Moscow.
The attackers were going to activate an improvised explosive device, the details of which were discovered by investigators in the cache. His suspects staged in one of the abandoned houses in Kotelnich. In addition, they found passports, extremist literature and maps of the Maradykovo district.
A criminal case has already been opened against the malefactors under the article "Preparation for a terrorist act." In addition, one of the suspects during the arrest resisted the security forces. Another criminal case has been initiated against him. Today, the question of the arrest of intruders. Conducted investigative actions that establish all the circumstances of the crime.