October 17 marks 90 since the birth of Vladimir Utkin, an outstanding scientist and designer of rocket and space technology.
Now the media post a lot of materials about the genius scientist, his activities at the leading enterprises of the rocket and space industry. But not much is known about the personal life, character, family of this outstanding person. We appealed to the daughter of Vladimir Fedorovich - Natalia Sitnikova with a request to tell about her famous father.
- I know that in the city of Kasimov, in the homeland of Vladimir Fedorovich, there is a museum of the Utkin brothers ...
- Kasimov is an old, beautiful city of regional significance. The museum was opened there during the lifetime of his father. That was in 1998, when his 75 anniversary was celebrated. And his younger brother Alexey Fyodorovich that year turned 70 years. The museum is located in Kasimov school number 2, where he studied and graduated from Vladimir Fedorovich in 1941. It still has documents about his studies. Later, in 2002, in the year of the 850 anniversary of Kasimov, a memorial was opened near the school: the layout of the Zenit launch vehicle (as Vladimir Fedorovich dreamed of) and the bas-relief of the academician were installed. Zenit was the latest development under the leadership of my father in Yuzhnoye Design Bureau in Dnepropetrovsk.
- Has any of your relatives remained in the Ryazan region?
"The village where my parents built a house for their family in 25 was located in 1994 kilometers from Kasimov. In the same village was the father's parental home, and nearby, in the neighboring village, my mom's parent's house still stands. There are many relatives in the vicinity of Kasimov. By the way, in the village of Lashma, where the house is located, a bust of VF Utkin is also installed.
- Your mom and dad were from the same village?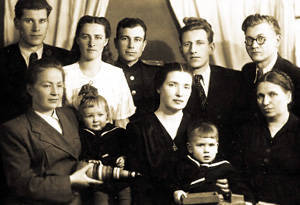 - Not. They were born in different villages located close to each other. Their fathers were friends. Mom and dad knew each other from an early age, because they were in the same school. Mom was very beautiful. When, after the war, the father appeared in his native village, the first person he met there was she. This is destiny. At the time of their meeting, my mother graduated from an industrial college in Kasimov. My grandmother, her mother, raised four children alone, but managed to give them all a secondary special education. Then my mother went to study in Moscow, and her father went to Leningrad. They began to correspond. Four years later they were married, and mother moved to her father in Leningrad. And there I was already born.
- What do you think, why such a nugget like your father, Vladimir Fedorovich, appeared in Ryazan?
- Largely due to constant work. His father was a congenital intellectual, despite the fact that he was descended from peasants. There are people who do not need to instill intelligence, it is inherent in them. My grandfather, Fyodor Dementievich, graduated from a two-year school, worked at a sawmill, eventually became a planner at a cast iron foundry. For those times it was a solid position. From infancy my grandfather offered my father and his brothers something to make, developing their mind. The brothers were fond of aircraft modeling. When the first cameras appeared, Nikolai Fedorovich, the elder brother, made a camera from almost nothing. The brothers' inquisitive mind was constantly evolving, life itself was pushing them towards design. Traction to knowledge also laid a good teacher in school. His father recalled Boris Vasilievich Oskin, a schoolteacher in mathematics and physics, who instilled in him a love for these subjects. Utkins father died early (my father was then 17 years old), and the younger brothers all the time were drawn for their elder brother Nikolay. And when he moved to Leningrad, enrolling in Voenmeh, the younger brothers went after him, and then transported his mother.
- How was your fate and the fate of your cousins?
- The eldest son of Nikolai Fedorovich - Vladimir teaches in Voenmekh, he is a candidate of technical sciences. As in his time, Nikolai Fyodorovich was a role model for his younger brothers, so our cousin elder brother Vladimir became an example for us. My other cousins ​​graduated from the Leningrad Polytechnic Institute. I studied at the Faculty of Physics and Technology of Dnepropetrovsk State University. First, she worked in the design bureau, then at the university, in a research laboratory, taught, defended her thesis. Having moved to Moscow, I did not long work at MIHM (Moscow Institute of Chemical Engineering), but soon my life changed and I had to do other activities. Now I am the director of the Museum of Rocket and Space Engineering named after Academician V.F. Utkin, opened on the territory of OJSC "Rosobschemash Corporation". The museum was created on the initiative of the corporation's general director A. V. Usenkov.
- Why did you follow in the footsteps of your father?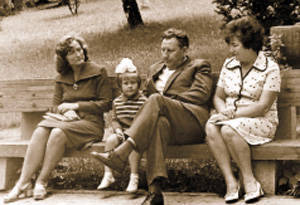 - Vladimir Fedorovich loved the equipment, liked to understand everything himself, to the extent that he repaired the receivers, broken household appliances.
As a child I dreamed of becoming a doctor, I studied in all subjects exactly, very well. And in the ninth grade, we had very good teachers in mathematics and physics. And for me, these items have become the most interesting. Some people liked poetry, and I liked mathematics. Father was pleased. I wanted to learn something technical. By the tenth grade, I already understood what my dad was doing, and thought it was very interesting. And the word "rocket" at that time sounded still quite romantic.
- Vladimir Fedorovich engaged in your upbringing, because he was such a busy man?
- What is education? If an adult says to do this and that, then often the child starts doing the opposite. My father did everything himself with pleasure and interest, so everyone was dragged after him. He spoke in a quiet, calm voice, never raised it. My daughters ask me now, how did he do it?
Somehow Vladimir Fedorovich received a prize in the amount of two thousand rubles. In those days it was a lot of money. And then she and her mother learned that in Ryazan they planned to build a monument to a woman-mother. After consulting, my parents listed two thousand rubles for this monument. Unfortunately, the project did not take place ... My parents were not rich people, they just had such upbringing. Earned money was spent on theaters, concerts, books, records. Parents had and still have a large library. Mum and dad lived in perfect harmony and understood each other perfectly. They were very protective of each other. The feeling of his constant concern for his mother, even in small things, was always present in their relationship. This was the best education!
- Did your father feel his importance, his weight in society?
- He was a lump, rock, in the sense that he was very reliable, obligatory, solid and wise. Never attributed to myself something alone. He understood that the team was behind him, he understood that there is continuity in the enterprise: one chief designer made a start, another one continues. He was a man who did not boast of what he had achieved. He was not indifferent to the awards and knew their price.
- Why Vladimir Fedorovich moved from Dnepropetrovsk to Korolev?
- When parents lived in Ukraine, they were all the time pulling here, to Russia. Previously, they could not move, because papa had been working intensively, in recent years, rocket complexes have surrendered one after another. And then times have changed. You can not name any one reason for their move to Russia. Mom always dreamed of Moscow, since she had all her relatives here, and Vladimir Fedorovich has all her relatives in St. Petersburg. In Ukraine, we had no relatives.

Having moved to Korolev in the 1990 year, for 10 years, the father headed the Central Research Institute of Mechanical Engineering. He took part in restructuring the management of the country's rocket and space industry under new economic conditions, headed the institute for the formation of the project of the Federal Space Program of Russia (which was developed in our country for the first time), headed the Coordination Scientific and Technical Council of the Russian Aviation and Space Agency sciences in research and experiments at the Mir station and the ISS RS, that is, his new life in Korolev was bright and intense.
Help "MIC"Utkin Vladimir Fedorovich (1923 – 2000)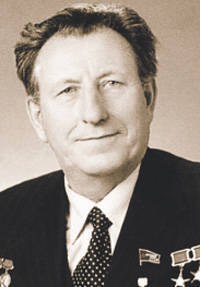 Russian scientist, designer and organizer of work in the field of rocket and space technology.
Member of the Academy of Sciences of the USSR, the Russian Academy of Sciences, the National Academy of Sciences of Ukraine, the International Academy of Cosmonautics, President of the Tsiolkovsky Russian Academy of Cosmonautics, twice Hero of Socialist Labor, laureate of the Lenin and State Prizes, holder of the highest combat and labor awards of the USSR, deputy Supreme Soviet of the USSR four convocations, a veteran of World War II.
General Designer, Yuzhnoye Design Bureau, Dnepropetrovsk (1971 – 1990), General Director, Central Research Institute of Mechanical Engineering, Korolev, Moscow Region (1990 – 2000).
Author of more than 200 scientific papers and many inventions. Under the leadership of Vladimir Fedorovich Utkin, strategic mine and mobile missile complexes and space vehicles were created.
Vladimir Utkin is an active participant in international cooperation in the exploration and exploration of outer space (Intercosmos, ISS, etc.).