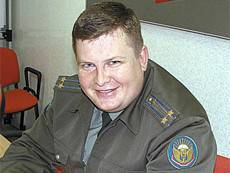 A real man can only become a paratrooper. To go all the way from a young boy to a professional warrior-paratrooper, years of hard work and exhausting workouts are needed. Withstand the load can not everyone, so not all are paratroopers with a capital letter. One of those who not only went all the way from a young cadet to a hero, but also carries the proud title of a paratrooper, this is Igor Potapov.
Igor Potapov, modest in character, does not like loud epithets and his inner strength is manifested in this, he is not interested in flattery, he perfectly understands who he is. Igor Potapov dreamed of becoming a paratrooper from childhood, and in many respects the decisive role was played by the fact that his father was an airborne officer. He grew up in the army and she became his native place, Igor did not feel any inconvenience during his travels to various military camps, he understood that it was necessary. A huge role in choosing the life path of Igor Potapov was played by transferring his father to a permanent place of service in Ryazan. To live in the city, on the territory of which the famous military school of the Airborne Forces is located and not to become a paratrooper, was unacceptable for a young guy. He began preparing for admission to the school at the age of fourteen and by the time he passed the first exams, Igor was ready not only for knowledge, but also for excellent physical training. After graduating from the military school, he arrived at the station of permanent service in the 137-th regiment of the Airborne Forces with new epaulets.
Igor Potapov recollects with his smile about his first day in the combat regiment: "I remember how I wanted to test myself in action. Distributed, arrived in the regiment, and the commander to me: "On the May holidays, rest." And I can not wait, I say: "I'm only from vacation." And he: "This is your first and last weekend on 2-3." How he turned out to be right ... ".
Since the end of the school, four months have passed and the regiment in which Igor Potapov was serving was transferred to a new location in Dagestan. What was called a permanent place of deployment, in fact, was not. The regiment was in constant motion and officers found out about their location only from the map. During one of these crossings, the young lieutenant, while navigating the map, realized that they were in Chechnya. It was in Chechnya that a terrible event occurred, which in the life of Igor Potapov became a certain feature between the past and the future.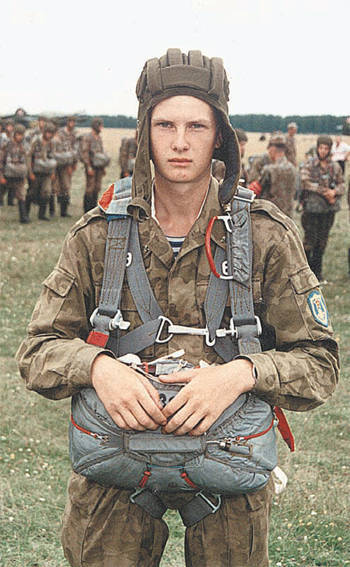 Life from a new sheet
The event that turned Igor Potapov's life upside, happened on December 18 1999 of the year in 12 15 hours of minutes. He remembers everything. And the rupture of the projectile and how his entire body was bleeding, which was torn to pieces by hundreds of fragments and how quickly he was taken to the hospital and transferred to doctors. He remembers sympathy in the eyes of doctors, who understood that the injuries were too serious and that his life no longer depended on their talent, but only on the body's ability to fight. But he survived. According to Igor, the most terrible thing was that when he came to himself after the operation, he realized that his legs had been amputated. At that moment, emotions exceeded the officer's composure and everything that fell under his hands flew into the walls, but, despite such a terrible diagnosis, he was able to pull himself together and become stronger than fear and pain.
Igor reasoned: "It's impossible to fix anything. We must live like this. It was a shame that 21 year. I thought it would have happened in 40, well in 30 ... And then 21! Nothing had time. But what's the point of despair? Feet no longer return. We must learn to live without them. "
From the moment of injury to recovery, a year has passed. During this time, the young officer was treated in several hospitals. As soon as Igor was able to move independently with the help of artificial limbs, he returned to service. For nine months Igor served in the territory of Yugoslavia, and it was there that he received an offer to continue his service as a teacher from the leadership of his native school.
Igor accepted the proposal without hesitation. Staff work was for him more penal servitude than a favorite affair, but here the opportunity to work with young cadets to whom he would be able to transfer his knowledge. At present, Igor Ivanovich Potapov is a lieutenant colonel of the Airborne Forces and a teacher of the Higher Ryazan Airborne School. He teaches control theory in the military. Most of the cadets know that their teacher has no legs. But do not ask unnecessary and inappropriate questions.
Those who do not know Igor personally, or when they do not believe that a young and strong man walking down the street is actually an invalid who does not have legs. Igor was able to defeat the disease. On this subject, he even likes to joke, especially when everyone around him complains that their legs are cold, he replies with a smile that he does not care about such problems. Igor Potapov not only learned to walk and even dance, he was able to conquer in himself a feeling of hopelessness, and this is the lot of only strong-willed people.
Igor is married and has a beautiful son Danil. According to the father, Danilo is only two years old, but if he decides in the future to link his life with the army, he will not be in his way. All questions from friends and comrades about how Igor would have become a paratrooper, if he knew about what was going to happen, he would answer shortly - he would, and would not regret anything.